From the Tuscan Sun to Tallahassee
Author Frances Mayes' Visit Viewed as a 'Homecoming'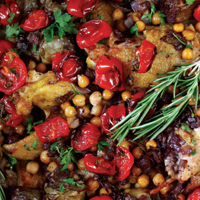 Photo courtesy The Crown Publishing Group, Random House, Inc.
Cooking and eating Tuscan-style meals like this hearty chicken dish can be a pleasure for all the senses, says author Frances Mayes.
Writer Frances Mayes, whose life in Tuscany over the past 20 years has fueled a trilogy of memoirs, a movie, two photos-and-text books, a line of home furnishings and, most recently, a cookbook, is coming to Tallahassee the first weekend in February for a pair of fundraising events at Goodwood Museum and Gardens.
Although the author of "Under the Tuscan Sun," "Bella Tuscany" and "Every Day in Tuscany" divides her time between homes in Hillsborough, N.C., and Italy, she is no stranger to this part of the world. She's a native of Fitzgerald, Ga., a couple of hours northeast of Tallahassee, and she got her bachelor's degree at the University of Florida, after attending a women's college in Virginia for two years.
"I've written about the similarities between where I grew up and Tuscany. There are many, and not least is my feeling for la casa aperta, the open house," Mayes said. "How wonderful to be able to live inside and outside, to dine outdoors many, many days of the year and to feel at home in nature. That open house idea also connects to the sense of hospitality still so prevalent in the South."
Andy McLeod, Goodwood's executive director, sees Mayes' visit as a chance to reinforce those connections. "With her roots in the area, we see this as a bit of a homecoming and we're very pleased to welcome Frances Mayes 'home' to Tallahassee. It's a chance for people in our region to benefit from her experience with fine food, with Italy and with the literary world."
It's also good for Goodwood, the historic home built in the 1840s whose grounds, maintained circa 1900, provide an urban oasis just minutes from downtown Tallahassee. Although the property evokes the wealth and elegance of Goodwood's heydays, its financial health is far from robust, and Mayes' visit is expected to be a major fundraiser. Her experiences dovetail nicely with Goodwood's mission of education and historic preservation; she and her husband restored Bramasole, a 200-year-old villa in Tuscany, and they just moved into a house built in 1806 with extensive gardens that "need revision."
"All my books about living in Tuscany focus on gardens," Mayes said. "I love visiting gardens and also writing about them. In my book, 'A Year in the World,' I write about a grand trip I took around the gardens in England, Wales and Scotland. I'm very interested in seeing Goodwood."
Mayes' visit had its genesis in the travels of another gardener/foodie/lover of historic homes, Rose Rodriguez, the information services manager at Tall Timbers Research Station & Land Conservancy. Rodriguez read the Tuscan trilogy before and during a vacation in Italy in 2011. She recognized the connections and emailed the address listed on Mayes' blog to inquire about the possibility of a visit. It took a series of emails with Mayes and her agent over several months, but ultimately Goodwood was added as a stop on her tour to promote her latest book, "The Tuscan Sun Cookbook: Recipes From Our Italian Kitchen," co-authored by her husband, Edward Mayes.
"We've been fortunate to cook with Tuscan friends all these years and to pull up our chairs at their tables. We just wanted to share the bounty," Mayes said. "I love Thai, Mexican, French, Portuguese food, but for day-to-day eating pleasure, I find the Tuscan food is my favorite."
A collection of her favorite Tuscan recipes, the cookbook includes Tuscan ribs, which she said she frequently makes for guests. She recommends the roasted veal shank for holiday feasts. Locale notwithstanding, what's her favorite food? "I'm a true-blue Southerner and love the fresh, luscious taste of melons. When the weather is hot, there's nothing better."
Mayes grew up at what she calls "an abundant table. Everyone was talking about the next meal as they ate the one in front of them." Things aren't so different in Italy, she said, where food is the culture. She shared the Tuscan expression mangia bene, stare bene, which translates to "eat well, be well."
"It's fun to make a joyful noise in the kitchen — music, pots rattling, good talk, the cork popping open," she said. "I hope that the ease and pleasure of the Italian kitchen reflect from the pages."
Recipes from 'The Tuscan Sun Cookbook'
Chicken with Artichokes, Sun–Dried Tomatoes and Chickpeas (serves 6)
» 5 tablespoons extra-virgin olive oil
» 1 yellow onion, chopped
» 3 chicken breasts, halved, skin on
» 1 teaspoon salt
» ½ teaspoon pepper
» ½ cup red wine
» ¼ cup chopped flat-leaf parsley
» 2 cups cooked chickpeas
» 2 14-ounce cans water-packed artichoke hearts, drained
» ½ cup sun-dried tomatoes, slivered, or 1 cup sliced oven-roasted tomatoes
» ¼ cup fresh thyme or fresh marjoram leaves or
2 tablespoons dried
» ½ cup black or green olives, pitted
Directions: Preheat the oven to 350 degrees F. Over medium-low heat, in a large, enameled ovenproof pot with a lid, heat 1 tablespoon of the olive oil. Saute the onion, and after about 3 minutes, remove it to a medium bowl. Season the chicken breasts with the salt and pepper. Add the remaining 4 tablespoons olive oil to the pot, raise the heat to medium-high, and brown the chicken for 3 minutes per side. Add the wine, bring it quickly to a boil, and then turn the heat off immediately. Combine the onion with the parsley, chickpeas, artichoke hearts, sun-dried tomatoes, thyme and olives. Spread the combined vegetables over the chicken and bake, covered, for 30 to 40 minutes, depending on the size of the pieces, turning the chicken once. Serve right from the pot or transfer to a platter.
Pea and Shallot Bruschette or Crostini
» 4 shallots, minced
» 2 cups peas, shelled
» 2 tablespoons extra-virgin olive oil
» 3 tablespoons chopped mint
» 2 tablespoons mascarpone
» ¼ teaspoon salt
» ¼ teaspoon pepper
» Prepared bruschette or crostini
Directions: In a medium pan over medium heat, mix the shallots with the peas, and sauté in the olive oil until the peas are barely done and the shallots are wilted, about 4 minutes. Stir in the mint, mascarpone, salt and pepper. Chop coarsely in a food processor or by hand, and spoon onto the bread. For bruschetta, grill or broil substantial slices of rustic Tuscan bread, brush with extra-virgin olive oil and sprinkle with salt. If you like, spear a clove of garlic with one side cut and rub the cut side across the bread before adding the olive oil. I usually cut the bruschette in half unless it's being served at the table, because if you're standing up, big bruschette can be unruly. For crostini, cut a long skinny loaf into slices about 1/3 inch thick. Toast them or not, depending on the topping.
From Garden to Table: A Journey with Frances Mayes
On Feb. 1, Frances Mayes will be the guest of honor at a reception in Goodwood Museum and Garden's Main House, followed by dinner in the Carriage House Conference Center. Local chef and caterer Nella Schomburger is overseeing the meal, created from recipes in Mayes' "The Tuscan Sun Cookbook." Tickets are $100 per person, $75 for Goodwood members.
On Feb. 2 at 10:30 a.m., Mayes will talk about her culinary journey from South Georgia to Tuscany, with stops along the way in Florida and California, and how it led to the publication of her cookbook. Following her remarks, she will join local grower Louise Divine of Turkey Hill Farm for "From Farm to Table," a moderated discussion about the Slow Food Movement and how buying, cooking and eating food in season can fit into our everyday lives. Afterward, there will be a book signing and a sampling of antipasti from her cookbook, which will be available for sale. Tickets for the event are $45, $35 for Goodwood members.
Cynthia O'Connell, widow of former University of Florida President Stephen C. O'Connell, is honorary chair of the Frances Mayes weekend of events at Goodwood.
For more information, go to Goodwood's website at goodwoodmuseum.org.