From the Ground Up
From the institute's gardening program yields success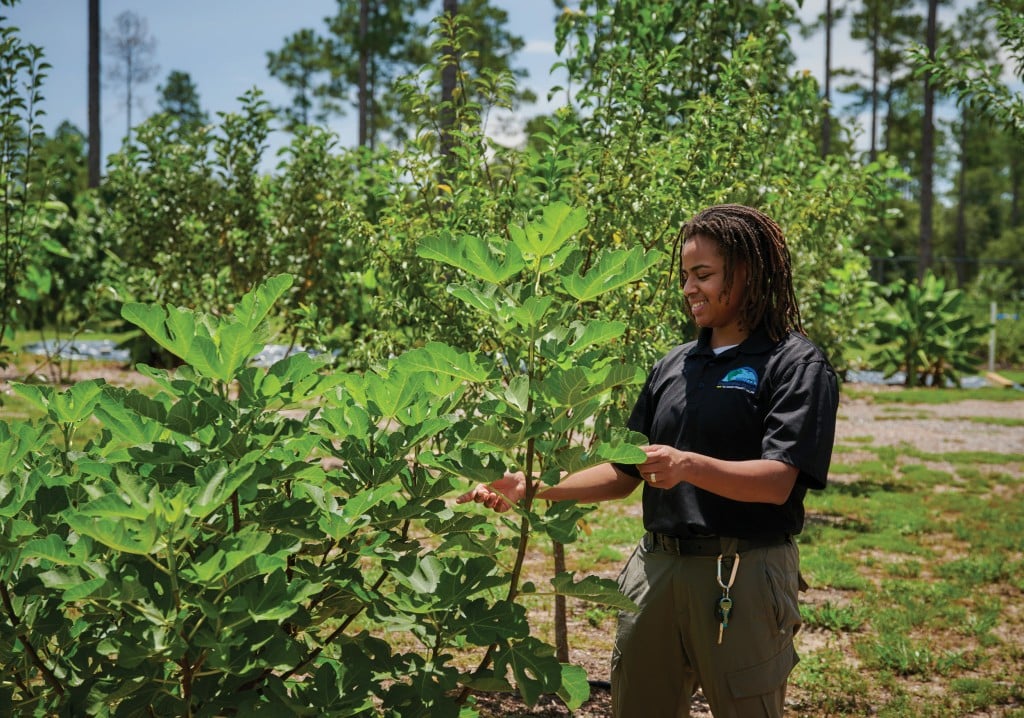 Nineteen hens and a rooster roam about the Wakulla Environmental Institute's demonstration small-plot farm in Crawfordville. They are adept, said WEI executive director Bob Ballard, at catching grasshoppers, an activity that obviates the need for pesticides and provides the birds with a food source rich in protein.
So it is that there are grass-fed beef cows and grasshopper-fed chickens.
"We used to have a problem with grasshoppers; we don't anymore," Ballard said.
Over time, WEI's Urban Farming and Entrepreneurship program, known more familiarly as the One-Acre Eden class, is becoming more self-sufficient — a "closed loop," as WEI associate director Albert Wynn likes to think of it.
"Everything at WEI is about sustainability," Ballard said.
The two-year-old Urban Farming program was intended in the first place to explore whether a family of four could derive sufficient food from one acre.
"On top of that," Ballard said, "so many people these days don't know where food comes from. We wanted to change that, and we wanted people to derive income from a hobby that they could do in their backyards."
As it began to think about teaching students how to grow food, WEI, which is part of Tallahassee Community College, anticipated that it might get a program started as of fall 2022. The City of Tallahassee caused the institute to substantially advance that schedule.
"We were working on soil preparation and didn't even have a fence erected when the city called," Ballard said. "Orchard planting hadn't occurred. Greenhouses had yet to be built. But the city wanted to go right now, and we accommodated them. It's been fun, it's been an interesting ride, but we did not expect to arrive at the success that we've had this quickly."
The urgency resulted from the city's receipt of grant funding for the creation of an urban farming program.
WEI project specialist Alexis Howard explained that the city was interested in partnering with the institute as a way to achieve grant objectives. In addition, she said, the city provides funding that makes it possible for income-eligible Leon County residents to complete the Urban Farming program free of charge. The program also attracts Wakulla County students, who pay tuition. Courses are capped at 30 students.
"The course is a combination of farm tours, workdays and entrepreneurship training," Howard said. "We are partnered with small farms in Jackson, Leon and Wakulla counties. Those farmers provide instruction on a particular topic."
Students visit a farm, listen to a presentation and then tour the farm. Lessons cover subjects including fertilizing, crop rotation, succession planting and insects beneficial and not.
Workdays at the WEI demonstration farm consist of a range of activities: bed preparation, seed germination, composting, pruning, weeding and more. The entrepreneurship program teaches students how to take harvests to market. The partnership with the city provides that students, upon completing the class, are assigned an internship at a participating farm.
Students have included farmers and others with no growing experience. The new initiates, Howard has found, "don't know how hard gardening is until we get to our workdays."
"This morning, Alexis and I were out on the farm," Ballard said. "She was running the mower to run down the last crop, and I was on my hands and knees pulling weeds, and we were pouring sweat. But, you gotta keep up with it, or it will get out of hand in a hurry. It's rewarding, but it's a lot of work, and not everyone is cut out for it."
Students learn, then, that summertime weeding is best accomplished when the sun is low. Fundamentally, too, they learn that growth requires nutrients.
"Especially in Wakulla County, the soil is sand," Wynn said. "It's like planting on a beach. There is great drainage, but we don't have the nutrients we need."
Students, Wynn said, are introduced to "things we can add to the soil to make it wonderful, things you can get for free." Chicken excrement, for example. And compost. WEI is building a bat house at its farm. There are gardeners who swear by bat guano as a superior fertilizer.
Also coming soon, a catfish pond and a system for capturing fish waste for use as fertilizer. That system, Wynn explained, involves a waterfall, holding tanks, thousands of 3M cleaning pads, good bacteria and bad bacteria.
When the fish waste is introduced to gardens, Wynn said, "It's the most amazing thing; you can almost see the plants grow."
Truth is, an acre can produce far more food than a family of four can eat.
"Half of our acre is an orchard with 100 fruit trees," Ballard said. "When they fruit out and you get apples and peaches, you have too much to consume in a short period of time. So we teach students how to can what they have produced. At the end of our last class, we made strawberry and blueberry jelly."
Succession planning, too, makes yields more manageable.
"You don't want to plant all of your cucumbers at the same time," Ballard said. "Plant them in stages so that you have cucumbers — or radishes or peppers — coming up at different times and they are not all ready to harvest at once."
Ballard meets with TCC president Jim Murdaugh every two weeks, and as often as he does, he brings good stuff from the garden.
"I always give him produce not because he asks for it, but because I want to show him what is being harvested at any point in time — eggs, strawberries, blueberries, squash, cucumbers, onions, garlic," Ballard said. "And I bring a couple of bushels for staff at the college. It's like locusts. Within a few minutes, it's all gone. People really enjoy having produce that was picked that day. It just tastes better."
Ballard also said that urban farming students, including many with modest incomes, are allowed to take food from the demonstration garden home. Howard noted that the program had donated baskets of cucumbers and squash to the TCC Food Bank.
To raise a village, it takes a farm.
Ballard offered a favorite farm story.
"We were working to build a hoop house (a greenhouse that looks something like a miniature, transparent Quonset hut), and I was walking with one of the students after class. He turned around and took a picture of the hoop house with his phone. He told me that nobody at home would believe he had built a hoop house unless they saw a picture of it.
"This was such a big deal to this student. It warmed my heart that he was so invested in it."