From The Garden
Newly popular eatery favors a veggie vibe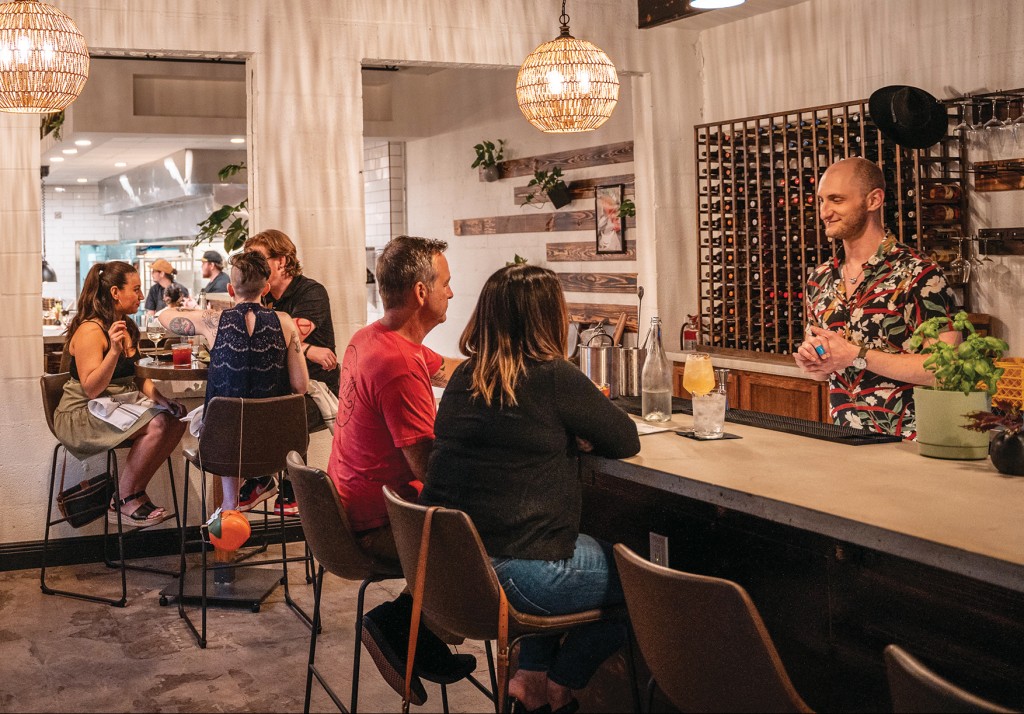 There's something incredibly earthy, wholesome and slightly intriguing about the name "Black Radish." As for the restaurant operating under this simple moniker, those attributes are some of the very things that bring people through their doors. The other factors filling the seats in their dining room are, of course, the most important ones: quality of food, service and — above all — taste. Even for non-vegans and dedicated meat lovers, Black Radish has menu items that can make you believe that all good things come from the garden, proving that meatless does not mean flavorless.
Since their opening in May of 2022, Black Radish is, admittedly, a new face on the Tallahassee food scene. But the track record of its owners, Matt Swezey and Jesse Edmunds in partnership with Seven Hills Hospitality, coupled with the unique concept of offering vegetable-focused sharable dishes and handmade pasta has captured the interest of local foodies. And whether they have a strict vegan diet or simply want to explore the wonders of a meat-free meal, diners have been captivated by the menu offered.
Signature dishes include vegan options like bubble potatoes with vegan smoked paprika aioli and chives and bucatini with lemon cashew cream sauce, peas, garlic crumb and pea tendrils. Popular vegetarian items include spinach tortelloni with ricotta herb filling, blistered grape tomatoes, garlic oil and Parmigiano Reggiano. And, as no great meal is complete without the perfect dessert, their chocolate peanut butter pie offers a delicious finish.
What makes the restaurant such a gem is, first and foremost, its commitment to a vegetable-centric menu. And with that comes a need to up the game when creating flavor profiles and working with the nuances of the ingredients. To that end, there must be a particular skill set in the kitchen, and executive chef/co-owner Matt Swezey possesses those skills as well as a strict view on quality. "With the small exception for one dried pasta, everything is made in-house using as many ingredients from local farms and purveyors as possible," Swezey said, who has worked with Seven Hills Hospitality for nearly five years at Liberty Bar & Restaurant, The Hawthorn Bistro & Bakery, and as the catering chef for the company after working for six years at FSU/Aramark. "We also source our bread and desserts from our sister restaurant, The Hawthorn Bistro & Bakery, so the quality of all of our menu items is maintained at the level we demand."
As dedicated to the concept of vegetable-based eating as they are, however, Black Radish does recognize that not everyone can be swayed to the meat-free side. For these diners, they offer a few sharable meat-based selections to satisfy the desire for a more traditional menu or dinner experience. "While the restaurant is not completely vegan or vegetarian, a large majority of the dishes are," Swezey said. "We're also the only full-service restaurant in Tallahassee with a natural wine-focused bar program."
For anyone not familiar with the term, natural wines are created from organically or biodynamically farmed grapes grown without pesticides, herbicides or other chemicals. It's decidedly in keeping with the ethos at Black Radish, as is the bar menu that includes low-intervention draft cocktails, local beer, and a variety of house-made low- and zero-ABV beverages.
Since its inception, Black Radish has been a project designed, built and finished as a collaboration between Jesse Edmunds, Matthew Swezey and Seven Hills. As such, it is a deeply personal undertaking for the two men. They love the work they are doing, and the restaurant they've created shows that. "Being able to work in an open kitchen with our kitchen team while also getting to interact with customers at the chef's counter is such an incredible aspect of Black Radish and the way we designed things," Swezey said. "We are a restaurant that can fit all needs: We're perfect for a date night, a celebration with family and friends, an after-work hangout for a snack and a glass of wine, or even somewhere to come and sit up at the chef's counter to talk to the chefs."
Swezey expressed their team is fun and energetic. The bar area is perfect for small plates and a glass of wine, and the porch is the ideal escape for a date night under the stars or a more relaxed setting.
"We want guests to feel comfortable to come to Black Radish by themselves, with friends or a large group to eat, drink and have fun," Swezey said.
BLACK RADISH
Located at 1304 N. Monroe St. in Tallahassee. For more information, call (850) 825-1973 or visit blackradishtlh.com.