From Reluctant Sitter to Keeper of the 'Kool-Aid' House
Becoming Mom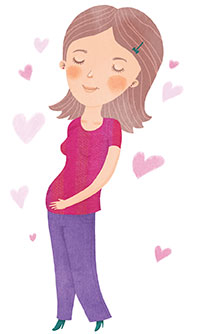 Here's my confession: I wasn't much of a babysitter.
Dependable, responsible and punctual? Absolutely. But my thoughts on babysitting differed greatly from that of my charges, their parents and even my peers. While my girlfriends prattled on tenderly about the little ones they watched, I rolled my eyes. To me, babysitting was all business, baby.
I was the mean babysitter who put kids down to bed on time. Who threatened to call parents when the noise level hit seven. I had no interest in kiddie crafts, playing board games or being their party clown. It wasn't that I hated kids, I just didn't much care for them.
My job was to sit and watch, to keep the kids safe and the house from burning down. For a pre-negotiated fee. While I did my homework.
As a young adult, I continued my apathy toward toddlers and young children. I wouldn't let hostesses seat me next to potential screamers in restaurants. Christmas cards featuring smiling, gap-toothed six-year-olds did nothing for me. Some people don't visit friends with bad dogs. I didn't visit friends with bad kids.
Then I got married — and pregnant. And like the Grinch's Christmas awakening, I felt my own heart grow three sizes that day.
When you slip on a new pair of glasses that you've needed badly for good year, a crisp awareness suddenly presents itself. Incredibly, cute and engaging children were everywhere and I couldn't wait for my own. And now, two boys and many years later, I am a completely different woman.
With motherhood, I found the ability to forgive and even laugh at ridiculous unruliness. As little ones, my sons destroyed public restrooms. (We are so sorry, downtown library.) Cried in the grocery store. Stripped at the beach. Built 6-foot catapults in our backyard. And, along the way, generated a tremendous amount of joy in my heart.
The warmth and love I felt for my own boys grew exponentially over the years and I found myself compelled to save all lost and naughty boys. The young girl who didn't like kids became a young woman who volunteered with the Junior League, taking charge of several programs to benefit children in our area. Who would have thought?
Today I happily run the "Kool-Aid house" — that house in your neighborhood where the kids tend to gather. You'll recognize it by the beat-up basketball hoop at the curb, the pile of shoes on the front porch and the bikes strewn across the front yard. At any given time, I can find three kids on the couch watching TV, three upstairs playing video games and a few in the backyard. And only two of them will be mine. Sometimes I don't know where they all come from, but I am oddly fond of every one.
I keep a basket of snacks on the kitchen table and a drawer in the refrigerator filled with juice boxes and cheese sticks. Kids help themselves and I feel a generosity toward these children that I never could have imagined. Parents call at dinnertime, looking for their kids, laughing and asking if their sons have already eaten with us. Kids cruise our house on Saturday mornings, scouting donuts and bumming rides to soccer games.
There are occasional transgressions that challenge my caring heart, but very few boys make it to my No Way List. As in, "Mom, can Richard come over?" No way. Bullying, anything mean-spirited or sneaking your girlfriend in will get you on The List. Spills, acts of pure stupidity and bad pre-teen jokes are overlooked. House rules for our visitors include good bathroom etiquette, no food upstairs and checking "the pile" on the way out. There are always stray shoes, jerseys and books by our front door. Motherhood has taught me that clear boundaries, plenty of laundry detergent and a tolerant spirit go a long way.
There is an American Indian prayer from the Ute tribe that asks for different virtues — "Earth, teach me caring," for example — as mothers nurture their young. The opportunity to exercise great patience and tolerance with my children each day has been challenging, but I believe it has made me a better and kinder woman. I know the depth of my humor and my capacity to love has grown.
Today when I cross paths with a frazzled mom and her train-flinging toddler in the bookstore, they both get a smile and a wink from me.
Been there, loved that.