From Bungalow to Villa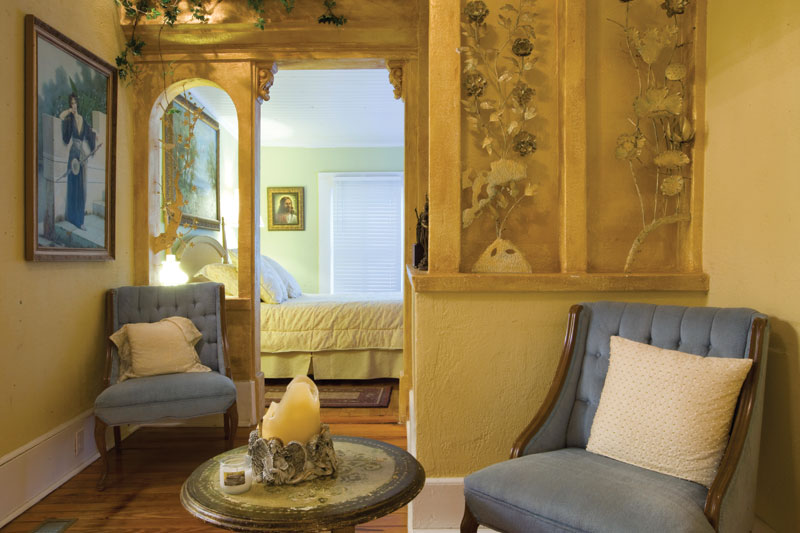 Monticello's Cottage Bed & Breakfast is a slice of Mediterranean-style heavenFrom Bungalow to Villa
By Lazaro Aleman
An unexpected gem in the small, historic community of Monticello just east of Tallahassee is the Cottage Bed and Breakfast/Restaurant – a once-ordinary clapboard house that Martha and Jean Michel Cravanzola have converted over the years into a romantic and enchanting getaway.
Not to mention that it's also a place of exquisite culinary delights for the discriminating of taste.
Guests of the establishment – the register includes such notables as actress Kirstie Alley, of "Cheers" fame; internationally acclaimed virtuoso pianist and retired Florida State University professor Leonidas Lipovetsky; and "Heroes" television star and recording artist Shalim Ortiz – find a unique setting, attractive and restorative, with a distinctive Venetian-style courtyard, ample landscaped grounds, and European-inspired ambiance and hospitality.
Which begs the question: Why a Mediterranean-style retreat in the midst of a small Southern town characterized by quaint houses, Victorian and Greek Revival architecture, Spanish moss-draped trees and Dixie culture? The answer resides with French-born Jean Michel Cravanzola, whose vision, design and physical labor of love is represented in the cottage and restaurant.
A visitor's first view of the compound-like retreat is the enclosed courtyard's outer walls, sequestering the establishment from neighboring residences on a quiet, one-lane street. Just past the decorative gateway, visitors encounter a patio that is both atypical and at the same time reminiscent of an Italianate villa, with its Romanesque arches and columns, flowering shrubs, water fountain, umbrella-shaded tables, old-style lamps and general European air.
It's difficult to imagine that in 1998, when Cravanzola started the renovation, this was a scruffy, weedy front yard. Likewise for the former bungalow's original clapboard and vernacular exterior, particularly its front porch façade, which Cravanzola has transformed – using bricks, plaster, arched windows and other Romanesque touches – into a distinctive Mediterranean semblance.
Entering the well-appointed anteroom – once part of the screened porch – one is struck with a sense of spaciousness, style and artistic cohesiveness that equally defies expectations and underscores the magnitude of the remake. Here, Cravanzola removed a door and opened a wall to allow for expansiveness; there, he enclosed a space or added a partition to give a feeling of privacy.
Throughout the interior, in fact, arches, columns, alcoves and other architectural features are expertly combined with mirrors, artworks, ornaments, furnishings and other visual and decorative devices to foster an illusion of ampleness that belies the actual small quarters of the house. Cravanzola commonly utilizes arches and columns to break up a wall's solidness and permit a calculated view of an adjacent room that is both tantalizingly revealing yet protective of the separateness.
"Everything is open but separate," Cravanzola says of the Venetian and Victorian-inspired design, which he concedes is eclectic and ultimately his own creation.
Overnight guests to the Cottage choose from one of two uniquely designed, decorated and furnished bedrooms, each equipped with all the modern amenities and accessible to private outdoors patios and the general grounds, a gazebo and an outdoor Jacuzzi.
Guests are given their privacy, or if they choose, they can mingle with the Cravanzolas, tour the town's charming shops, or use the Cottage as a base to explore the area's natural wonders or go into nearby Tallahassee and Thomasville, Ga.
All guests, whether overnight or simply there for an evening (the establishment hosts weddings, receptions, small dinner parties and other special affairs), may partake of the exquisite, French-style dinners Martha Cravanzola prepares by reservation, using the finest of ingredients and her husband's Old World family recipes.
"You decide the menu, the time and the date, and when you arrive, the meal is ready," Martha Cravanzola says. "We've been told by several guests that we are better than Emeril's in Orlando and New Orleans."
Each dinner – complete with salad, dessert and after-dinner coffee – is served in an atmosphere that is intimate, convivial and conducive to enjoyment. The entrées range from chicken breast in a tarragon/cream/cognac sauce to beef Wellington. Dessert might be a fresh lemon tart, a chocolate cake with hazelnut mocha butter cream, or even a pineapple meringue cake.
"Our most popular choices are our jerk-maple salmon and our ancho chile-seared steak, as well as our pasta Cravanzola and Moroccan chicken," Martha Cravanzola says.
"Fine wines are available by the glass or the bottle."
Dinner, by reservation only, begins at $29, not including tax, tip or alcoholic beverages. The restaurant can seat two to 24 inside and many more alfresco on the patio.
"The food is excellent," says Peter Harris, president and executive officer of ADG Inc., a Tallahassee-based lobbying firm. "Martha and Jean Michel are very caring, meticulous people, and their place is beautiful. They really take care of their guests. We've stayed there weekends and taken our kids and friends and will do so again."
Another Cottage aficionado is Marsha Cantrell, assistant to Florida Chief Financial Officer Alex Sink.
"The hospitality that Martha and Jean Michel showered on us would turn the crown heads of royalty," Cantrell says. "The food was perfectly prepared and tastefully served; the meal was four stars. Anyone seeking an elegant facility for celebrating a special occasion would be well advised to contact the Cottage."
The Alabama-born Martha and irrepressible Jean Michel Cravanzola met in a bookstore in Delray Beach in 1998. She was a rate adjuster for an insurance company and he a self-described artist/businessman who had done well in jewelry and clothing manufacturing.
"He told me on the very first day that he was going to marry me," Martha Cravanzola shares.
The rest, as they say, is history.
At the time, Martha Cravanzola already owned the Monticello house, which she had purchased with the idea of converting it into a bed-and-breakfast and relocating closer to her Southern roots.
"We were not happy with our style of life and wanted to do something different," Jean Michel Cravanzola adds.
His first impression of Monticello and the house did not make for an auspicious beginning. As Cravanzola recalls, the day was cold, gray and sad; the town pretty much deserted ("There was nothing here," as he puts it), and the simple, one-story wood frame house did not particularly inspire confidence.
Spurred by new love and the artist within him, however, he began envisioning how he could transform the place to make it uniquely attractive and yet retain the setting's calm and reflective atmosphere. It was the Cravanzolas' decision from the onset to create a place that would cater to the high end, where excellence would dominate in the choice of foods, beverages and other amenities.
Almost immediately, Jean Michel Cravanzola plunged into the translation of his vision into actual brick-and-mortar construction, an undertaking he has tackled almost single-handedly from the start.
"It takes too long to explain things," he offers for not involving others in the work.
Did he have prior construction experience? Of course not, he laughs; he is an artist by training. He relied on books to show him the way. In the doing, he acquired the necessary building and gardening skills. Not only did he acquire the necessary skills, he will tell you, but he developed his own, special cement – the plaster that forms the basis of all his masonry creations, and that he claims won't crack, can be mixed into any color and can be applied to wood.
Cravanzola will tell you also that when he started – especially constructing arches and columns in the front yard for the envisioned courtyard – not a few of the locals considered him a bit daffy, if not a downright lunatic.
"They thought I was crazy," Cravanzola says.
In time, however, his hard work and the slowly emerging realization of his vision began to convince the naysayers and doubting Thomases that the man wasn't completely crazy and maybe even knew what he was doing.
He will likewise tell you that the first several years were difficult, insofar as the economic viability of the bed-and-breakfast and restaurant.
"We survived, but we didn't make money," Cravanzola says.
Over time, however, word of mouth and discreet advertisement began to pay off in reservations for overnight stays, dinner parties and other special functions. All the while, Cravanzola continued the renovations, a literal work-in-progress that allows guests an interesting view into the process. After 10 years and having reached age 63, however, Cravanzola admits his production is slowing. But he is not stopping by any stretch of the imagination, he quickly adds. Indeed, he will take visitors outside and describe his next project: converting the ample backyard into a veritable Roman garden, complete with multilevel terraces, arches, columns, water fountains and a multitude of flowering trees, shrubs and plants.
"I had never even put a tree in the ground before, and now I will put in a garden," Cravanzola says gleefully.
Prices for the rooms start at $135 (double occupancy) and include a continental breakfast on weekdays and a full breakfast on weekends. For more information on the Cottage Bed and Breakfast/Restaurant, call (850) 342-3541 or visit bedandbreakfast.com/florida-monticello-the cottagebedbreakfast.html
To get there: The Cottage Bed and Breakfast/Restaurant is located 26 miles northeast of Tallahassee. Take Interstate 10 to the U.S. Highway 19 exit (225). Follow the signs to Monticello. Just before you reach the courthouse roundabout, turn left on West Palmer Mill Road. Go through one stop sign to the second house on the left at 295 W. Palmer Mill Road.