From Baghdad to Boardroom
FSU's New Program Teaches Disabled Vets the Pen That Writes the Checks is Mightier Than the Sword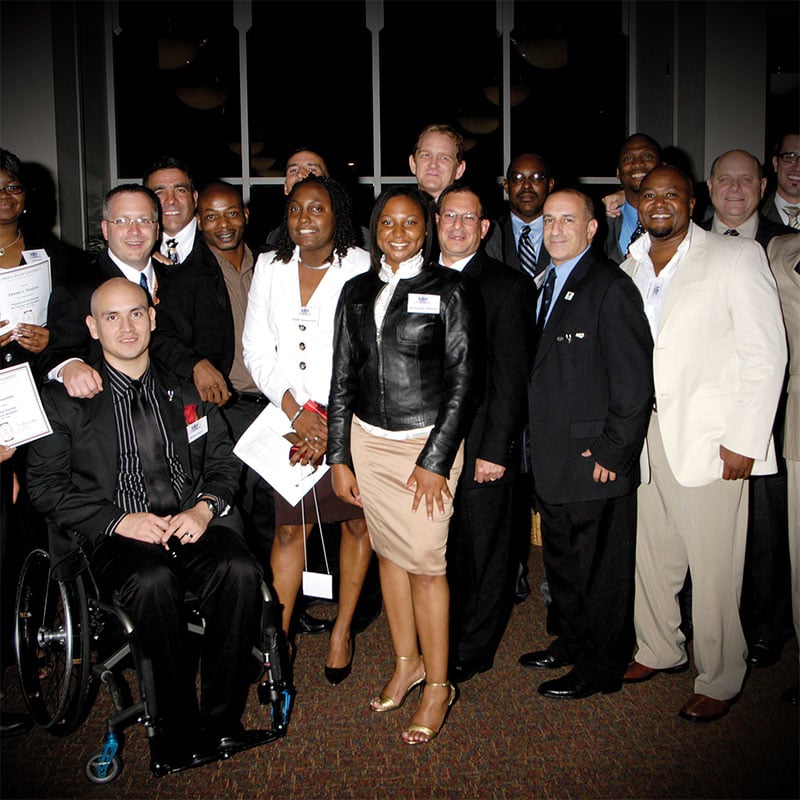 For new military recruits, boot camp is a rigorous regimen that transforms them from civilians to soldiers. Although valued in the long run, most recruits are happy when it's over.
So why are 19 military veterans so eager to get into one particular boot camp at Florida State University?
For starters, drill sergeants aren't screaming in their faces. Nor are they expected to spit-shine boots or answer every request with a "Yes, sir!" — although it's a nice gesture. Instead, the Entrepreneurship Boot Camp for Veterans with Disabilities is a nine-day crash course held at FSU and four other colleges around the United States, designed to help participants get business ventures up off the ground.
Dressed for success and armed with portable laptops, the members of the FSU boot camp look more like a gathering of boardroom executives than former soldiers.
They listen attentively at one session as speaker Barbara Lay explains the importance of a good presentation, urging them to be confident and remember to practice presentations beforehand. These presentations are what the veterans will use to pitch their ideas to investors interested in their business plans. As they discuss their plans — ranging from opening a pizza shop to starting up youth outreach programs — constructive criticism improves one veteran's stutter and another's lack of enthusiasm.
These men and women don't look like the grizzled soldiers of Hollywood films but more like everyday people trying to get ahead. They carry themselves with dignity and purpose, despite a limp or the need for a cane, and show that they are serious about the desire to make their dreams become reality. The boot camp program came to Florida State in 2008 after program director Randy Blass, 48, saw the program at Syracuse University in 2007 when he was a guest speaker there. Blass served 25 years in the Air Force, obtaining the rank of lieutenant colonel before he retired in 2006, so he understands what it is to leave the military and re-enter the civilian world. The entrepreneurship program is ideal for veterans, he said, because "it gives veterans a feeling of self-sufficiency that traditional employment does not. Veterans feel disenfranchised after leaving the military, and entrepreneurship give them a chance to sustain their lives."
Blass said the idea of the program is not to give veterans a cut-and-dried version of what they should do, but instead is designed to give them "a better lifestyle, a way of being." He promises that the boot camp is "not just a V.A. program and not just a helpful way to find jobs."
Program Director Randy Blass
courtesy Florida State University College of Business
Just as military boot camp provides the basics of being a soldier, the Entrepreneurial Bootcamp for Veterans with Disabilities (EBV) gives veterans pertinent information they will need to successfully run a business. The course consists of nine intense days of residency at one of the five universities participating in the program, as well as online discussion and assessment exercises beforehand and 12 months of ongoing support and mentorship afterward. Participants are provided everything from lodging to transportation to and from their boot camp. Blass said the program is not called "boot camp" for nothing. Veterans are expected to work hard in the program, even though the strain is mental rather than physical. The basic requirements for admission are separation from active service after 2001 with a service-connected disability and a demonstrated interest in entrepreneurship and business. A résumé and two letters of recommendation are also required, but what the program is really looking for are people who are enthusiastic about their business venture.
There is no deadline for applications — the program works on a first-come, first-served basis. However, space is limited. Funding is provided by private donations, including local businesses and interested philanthropists. Donations are extremely important; the cost for each veteran participating in the program at FSU was $5,000 in 2008. In 2007, the Whitman School of Management at Syracuse University began the program as a way to help disabled veterans get back on their feet. The program was designed for veterans who want to become entrepreneurs but lack the know-how and connections needed to run a successful business.
After a successful first year, the EBV Consortium of Schools was launched, a national partnership that also included the Anderson School of Management at the University of California Los Angeles, FSU's College of Business and the Mays Business School at Texas A&M University. The Krannert School of Management at Purdue University joined the consortium in 2009.
At FSU, the 2009 class includes representatives from each of the four services and students came from 12 different states, from California to Florida. Although the program is still new to FSU, graduates are already going on to bigger and better things. Harry LeBoeuf, 53, was a student in the 2008 boot camp program at FSU. After serving in the Air Force for 28 years, LeBoeuf retired at the rank of colonel. With a track record ranging from Operation Desert Storm to being stationed in Germany, LeBoeuf was the superior officer of 1,200 soldiers. After leaving the military, he struggled with internal injuries, but he said, "I go on despite it. I use it to motivate me to do better." He heard about the boot camp program through a military veteran organization and applied with the intention of starting a business financial consulting firm.
"The EBV helped me to focus and gave me confidence. It clarified my mind and helped me to be realistic," LeBoeuf said. He now runs Bull Financial LLC out of Crestview, where he assists businesses with money management.
"Everyone at FSU and in Tallahassee made me feel so at home that I want to go back and continue my education there" to earn a Ph.D., LeBoeuf said. He spoke at the 2009 boot camp graduation ceremony, where he told participants what life would be like after the program ended.
"When you finish the program, you're gung-ho and think you're going to be Donald Trump, but you need to have realistic expectations," he warned. "The program helps to give you a spirit of perseverance, because it's hard work running your own business." Both Blass and LeBoeuf agree serving in the military is a great asset for new entrepreneurs.
"The military instills the ambition needed to succeed. Entrepreneurs and military folks are a good fit," LeBoeuf said. "(The military) instills aggressiveness needed to run a business."
With 5 percent of small businesses in the United States owned by veterans, this seems to be true. Entrepreneurship offers a certain degree of freedom in which you're your own boss, and this is especially beneficial to veterans. They possess problem-solving skills that other startups may lack through their experience in the military, where at times they may have needed to use cunning and innovation to get out of tight situations.
J.R. Martinez
Dominique Gheesling
"They have an understanding of self discipline and social skills in trust, integrity and networking," said Blass. "I tell them to bring their military experience and use it." Every day, American soldiers in Iraq and other parts of the world work tirelessly to make this world safer for future generations. Since the terrorist attacks of Sept. 11, 2001, more than 40,000 soldiers have suffered from injuries, both physical and mental. Many return with little to no skills to use in the civilian world and are unable to adapt to life with a disability. The ones who do attempt to go into business on their own are often passed over because of their lack of experience or education. For disabled veterans especially, traditional employment poses a lifelong challenge. Jonathan Hurley, 26, of Tampa, took part in the Entrepreneurial Bootcamp for Veterans with Disabilities program in 2009. He served in Iraq as a sergeant counter-battery officer and suffered shrapnel wounds. When he returned to the United States, none of his military experience translated into the civilian world.
"It was like just getting out of high school," he said.
Hurley heard about the boot camp program through the Marine for Life program while living in Tampa, where he ran his own landscaping and construction company. He entered the boot camp with a plan to start a helicopter business geared toward government and police contract work with a fellow veteran.
Hurley said he found the program extremely helpful, noting that "it takes the questions out of running a business." He is now in the process of completing his bachelor's degree in aviation science at Utah State College and also hopes to pitch his business plan to government contractors. Although they have put down their guns, the veterans of the boot camp program are doing a different sort of fighting for America.
"Veterans are concerned after they leave the military with no longer being able to help their country," FSU's Blass said. "I tell them, 'You're helping your country by creating wealth and creating jobs. Help your country by helping build the economy back up to what it once was.'"