Friends from All Corners of the Globe Gather to Honor Marvin Goldstein
A Golden Evening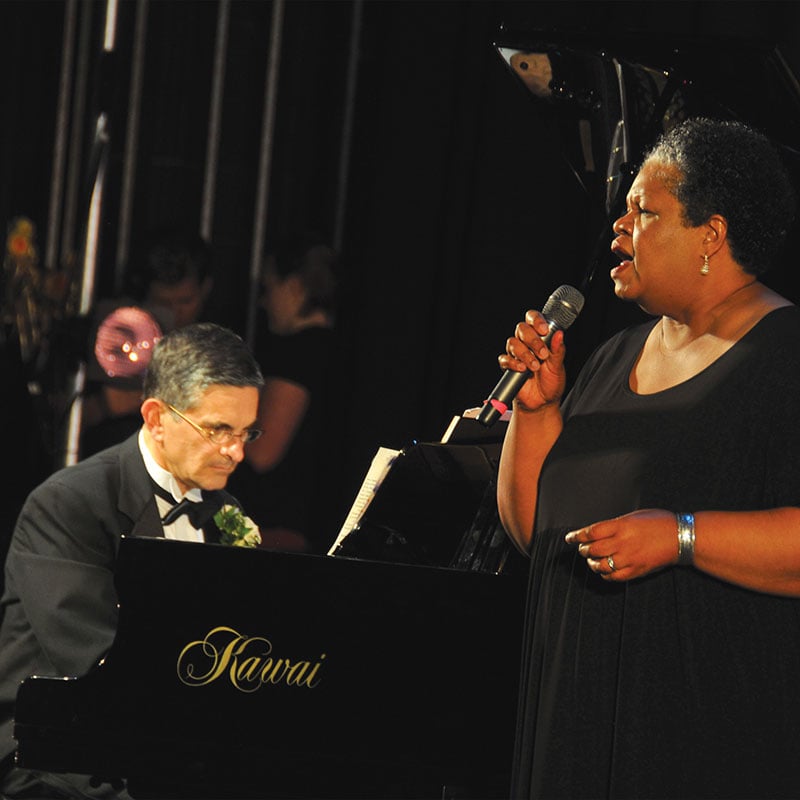 Even before he was a teenager, Marvin Goldstein learned the power of music. Whenever the mischievous Marvin was in trouble with his father, he played "Musetta's Waltz," his father's favorite song from the opera "La Boheme." Invariably, Goldstein weaseled out of whatever punishment he was about to receive.
"Music can change a person's heart and mind. That was a lesson for life I learned at a young age," explains the now 59-year-old Goldstein. For half a century, he has used his musical abilities to do just that.
To celebrate 50 years of professional performances, Goldstein brought together almost two dozen performers he has accompanied or recorded with over the years for a "Gala Evening of Music" in Provo, Utah. In the sold-out Covey Center for the Arts, musicians and singers from around the country and the world performed everything from jazz to opera for an audience of nearly 700 people. The performers came from Peru, Austria, and from coast to coast in the United States.
The musicians traveled these great distances at their own expense for just a few minutes on center stage. Egos were checked at the door as everyone focused on making it a night to remember for Goldstein.
"He could have chosen any number of performers," says singer Jonelle Goddard of California. "I was thrilled to be asked. There was never a question I wouldn't be here tonight."
Tallahassee jazz standout Pam Laws has been performing with Goldstein since the mid-1980s. With admiration in her voice, Laws describes the evening: "As a musician, Marvin has earned the right to perform his music solo, but he chooses to share the stage with other talented individuals. He has always supported, complimented and encouraged me. He always says, 'Yes, you can.'"
Hand-picked by Goldstein, the lineup also reflected many of the goals he has tried to accomplish through his music. Laws represented a pet project dear to Goldstein, his Peace Through Music Foundation.
In 2006, the two traveled to Israel, performing together with Arab and Jewish singers and blending music, cultures and religions. As he had seen with his father many years earlier, Goldstein learned on the tour that "music has power to do great good. It is not always just entertainment. It can transcend cultural divides.
"Music is not the icing on the cake," Goldstein says, "it is the cake."
Goldstein also is passionate about bringing along young singers and talented musicians. He works tirelessly to give fledgling careers a chance to shine. Many of those young voices were honored to be heard in Provo.
Early Musical Years
To understand how the performers arrived in Utah to take part in this showcase of talent, one has to go back more than half a century to Fort Lauderdale, where Marvin Goldstein grew up. The Goldstein home was filled with music. His mother, Bernice, was a professional dancer who taught tap and flamenco. His father, Sanford, was a professional woodworker who loved operas and played the drums.
It was by accident and a little luck that Marvin took up his first musical instrument, the accordion. He threw his name into a hat to win free piano lessons at a bank raffle. He didn't win, but the consolation price was a chance to rent the accordion and take lessons. So at 9 years old, Goldstein took up the accordion and performed his first concert just six months later. Piano was added to his repertoire at 12, and the French horn later in middle school.
Goldstein explains, with a totally straight face: "You can't play the piano and march in a school band, so I took up a more portable instrument, the French horn."
At 18, he was awarded a music scholarship to Tel Aviv University School of Music in Israel. He continued his musical training at the Mozarteum University in Salzburg, Austria.
Through a friend of his mother's who danced with the 1950s variety program "The Jackie Gleason Show," Goldstein had a chance to meet and get some career advice from two Las Vegas success stories, Liberace and Wayne Newton. The meetings were encouraging but didn't lead to the break he was looking for in his fledgling career. Liberace told the then-31-year-old Goldstein, "We know you are qualified to perform with us — matter of fact, you are overqualified. You need a show or career of your own rather than being a backup pianist for the rest of your life." Good news — and flattering — but it was still a hard pill to swallow at the time.
With a native Tallahassee bride, Lenae Robison, by his side and bachelor's and master's degrees in music from Florida State University, Goldstein settled in the capital city while he traveled the globe performing. To supplement his musical career in the early years, he sold real estate and opened a music store.
Many successful and not-so-successful musicians have come and gone in those 50 years while Goldstein is still behind his grand piano, joking that "I'm too old to learn to play any songs that were written in this new millennium."
There are not many places Goldstein hasn't entertained audiences. He has played in Asia, the Middle East, Central America, Europe, the Baltic states, Canada, the South Seas, and back and forth across the United States. Sometimes he is the featured act on cruise ships, and often he records and accompanies others. He performed at the Sydney Opera House with the Tallahassee Winds on French horn under the direction of Bentley Shellahammer.
It is because he so often donates his time and energy to others that so many came to honor Goldstein on his special evening. Once he converted to the Church of Jesus Christ of Latter-day Saints, adding to his earlier upbringing in the Jewish faith, Utah became a second home — if not physically, at least spiritually. So it was Provo where he selected to perform his anniversary concert.
Anniversary Night
"Flying fingers on the keyboard," announced the master of ceremonies for the evening, Kirby Heyborne, a celebrity in his own right in Utah among members of the Mormon church. Praise and teasing of the honoree peppered the remarks and set the tone for the evening. When Heyborne asked the audience, "Who performs 200 times a year, in any location, anywhere he is called and any music?" The audience shot back, "Marvin!" In a good-natured reply, Heyborne responded, "Marvin, get a life."
Gabriela Quezada traveled the farthest, from her native Peru, to sing. A doctor of ophthalmology by profession, Quezada sang "Ju Rame" in Spanish. In broken English but with a dazzling smile, she gushed that "the evening was a once-in-a-lifetime chance to thank Marvin, who is a beautifully talented pianist."
Tallahassee's Laws wowed the audience with her signature scat singing. To wild applause, she hit every note and danced around sounds in familiar songs such as "I've Got Rhythm" and "One-Note Samba." Her rich, husky voice was used again in the finale written by former Tallahasseean Thomas Cook. The FSU graduate co-wrote the music and lyrics to "Sing My Song" with Goldstein.
Elizabeth Landers, also from Tallahassee, was the youngest performer of the evening. At 17, she just graduated from Maclay School — but including her did not surprise Laws.
"Marvin often takes young talent and gives them a bigger stage, a wider audience," Laws says. "He is so generous. This epitomizes the kind of person he is."
The petite young lady (editor's note: and daughter of the author, which in no way impacts her glowing review of Landers' talent) shocked many in the audience with her big voice, belting out "Don't Cry Out Loud." Having fun with the hit Broadway show tune "Mama Mia," she left the audience laughing at the end with a twist on the song by adding "Marvie Mia." After the show, a recent Wakulla High School graduate Caleb Gray, found Landers in the audience and congratulated her on the performance.
"It was so nice to know that so much talent came from Tallahassee and that Marvin brought them all together," he says.
Eighty-six-year-old Georgia Faux, a former actress and a self-described "connoisseur of talent," shared the same thoughts: "Thank you, Marvin, for bringing all this wonderful talent to Provo."
Twenty-three-year-old North Carolina native Sarah Morgann — who sang in French a song made famous by the French chanteuse Edith Piaf — was taken under Goldstein's wing when she was just 14 years old and has now traveled and recorded with him.
The two-and-a-half-hour show was not limited to vocal talent. Florida State University dancer Anna Manja Larcher leaped and pirouetted through a classical ballet piece to Goldstein's accompaniment of "Liebestraum." Two fiddlers, a banjo player and a washboard act had the audience stomping their feet and clapping. Through it all, Goldstein played. The honoree and the workhorse of the evening, Goldstein tickled the ivories, joked and handed out flowers through all 26 acts.
And what would an anniversary party be without gifts? Longtime fan and friend George Kousaleos, founder of the Core Institute of Tallahassee, gave Marvin and the entire ensemble the most relaxing gift of the evening. Kousaleos offered to massage away any pre-act jitters or aching necks from the long plane ride to anyone who could squeeze it into their rehearsal and performance schedule.
"What a pleasure it was for me to meet and hear so many artists who have been a part of Marvin's rich artistic history," Kousaleos says.
As he closed with a medley of patriotic songs he and his wife composed back in the early 1980s, Goldstein said, "I'm not worn out — just warming up." He may be right; although he already has 45 CDs on the market and a dozen piano music books for sale, he is still recording. And he plans to add another book to his repertoire, "Where Words Fail, Music Speaks," which is coming out in the spring of 2010.
After an encore, Goldstein reminded the audience to pre-purchase tickets for his 75th anniversary party just around the corner.