Friends and Cultures Influence Pineappétit's Menu
The island-style restaurant has been part of the food truck scene since 2018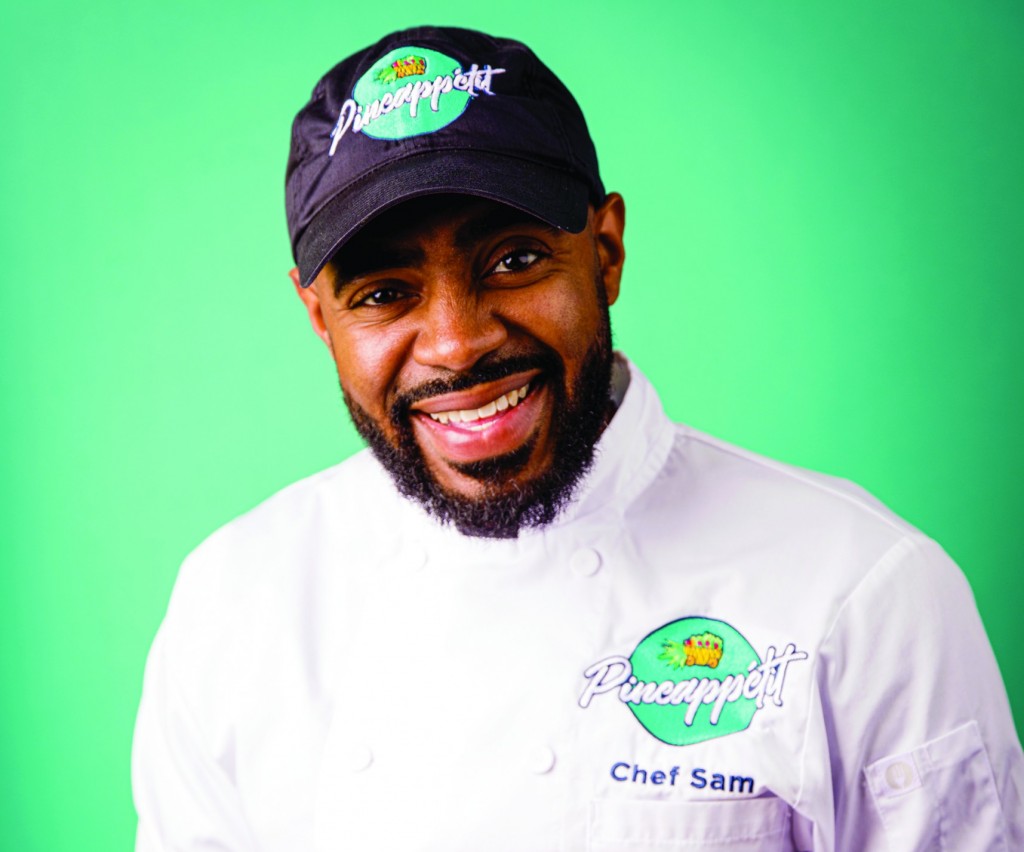 Sam Burgess hasn't attended culinary school, but the budding restaurateur's informal education in the kitchen stretches back to his childhood.
"It wasn't optional — it was mandatory to help in the kitchen growing up," the 28-year-old Burgess said. "But for me, it never felt like a chore."
Rather, the activity was an extension of a family that had a "huge love for food."
Food has since become Burgess' career. He opened Pineappétit at 2037 W. Pensacola St. in Tallahassee this April. A part of the Capital City's food truck scene since 2018, the island-style restaurant serves pasta in jerk alfredo sauce, chicken wings and various stuffed pastries, but the focal point of the menu is its pineapple bowls.
Ranging from $8.50 to $21.50 depending on your choice of protein, the dish consists of a carved-out pineapple heaped with cilantro lime rice, meat, salsa and sauce.
The pineapple bowls predate the business. Burgess recalls seeing a photo of a pineapple with rice and chicken on social media in 2013. He figured he could recreate the dish and put hisown spin on it. The rest of the menu has resulted from experimentation by Burgess and input from trusted friends.
Upon moving from his hometown of Cleveland to Tallahassee to attend Florida A&M, Burgess discovered a taste for foods that were new to him. He had never heard of Haitian cuisine, nor had he eaten Jamaican food.
"Seeing and being exposed to those new things, it makes you curious, like, 'Wow this is what I've been missing out on for 18 years of my life? What more is there to see? What more is there to have?' To this day, I'm still constantly learning, and that's what I love about this career," he said.
Burgess said he is careful to balance his curiosity about cultures with respect for them. The issue of cultural appropriation has created some turmoil in the food industry in recent years.
"You don't want to take something from an original place and not be respectful of it at the same time," Burgess said. "So for me, it's important to learn the right way and the correct way before I recreate something and make it my own."
A fellow food truck owner-turned-restaurateur, Erick Smith, found Burgess' culinary curiosity appealing.
The two men met in September 2018, when Burgess approached Smith while he worked his Smoothie Time food truck. They talked business. Smith said he was impressed by Burgess' desire to learn more about their trade.
"I could tell he was a doer by the way he was out being active gathering information," Smith said. "And then I saw him put it in motion."
Burgess said Smith became something of a role model while he transitioned to his brick-and-mortar restaurant. Smith guesses he and Burgess spoke 40–50 times during that process.
Given utility bills, expanded hours and changes in his dealings with food vendors, Burgess has found that it's almost like he's "started all over again" now that he has a fixed location in addition to his food truck. But he maintains that he wasn't scared investing in a building.
It was a matter of betting on himself.
"These are all different things that were not factored in before with the food truck," Burgess said of his new responsibilities. "But these are all things that I took the time to research and learn before I made this decision to go into this space. … I'm a numbers guy, and to me, the numbers had to add up to make sense."
Pineappétit has grown from four employees to 10, including lead cook La'Ron Vickers.
A Tallahassee native with about a decade of experience working in the food industry, the 28-year-old Vickers said Burgess' restaurant is one that can set itself apart. There aren't many fast-casual eateries serving pasta, Vickers said, never mind the restaurant's signature pineapple bowls.
"I think we have a great clientele already," Vickers said. "People say, 'You eat there once, you definitely want to come back.'"
Burgess thinks his growing customer base is a testament to his food truck strategy. He made it a point to visit as many Tallahassee neighborhoods as possible.
At the restaurant, he has also entertained diners from farther-flung places like Miami and Panama City. "Food is for everyone" is a mantra for him.
"My favorite thing about the place is being in a space where people are comfortable, they enjoy the vibe here, they enjoy not only the food, but the atmosphere and the experience," Burgess said. "That to me is the biggest thing because seeing someone enjoying your food, enjoying what I created, that's what keeps me going."
Pineappétit
Tuesday–Saturday
11:30 a.m.–9 p.m.
Sunday noon–9 p.m.
2037 W. Pensacola St.
(850) 354-8242