Frenchtown Revitalization Comes Through Creative Flair
Colorful and bright driveways draw in visitors to the neighborhood.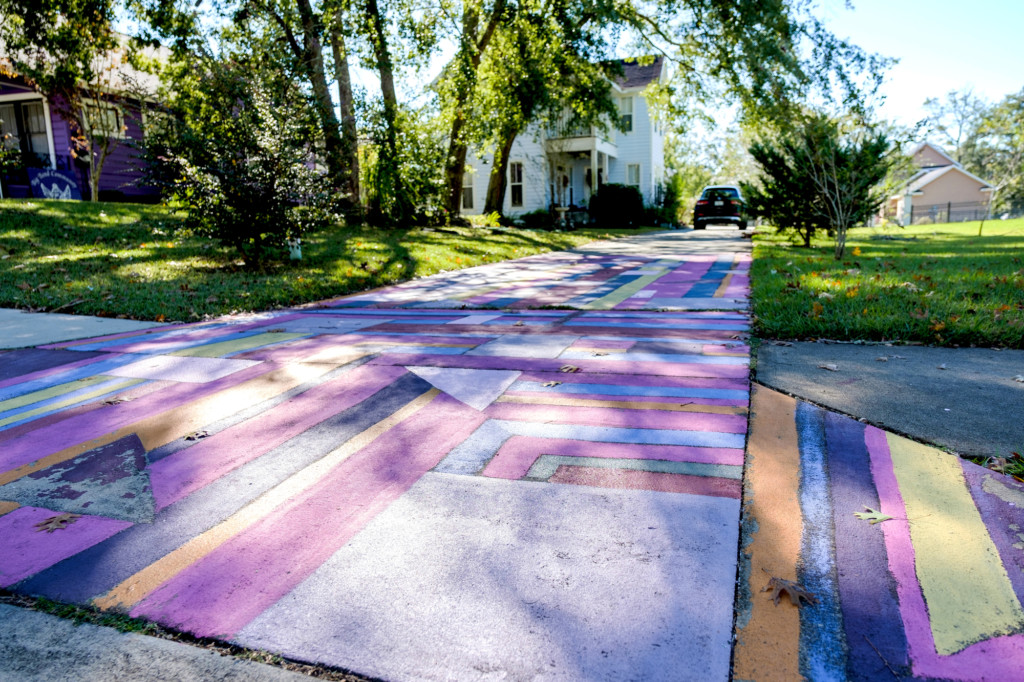 A community-driven wave of shapes and colors is turning heads and attracting visitors to one of Tallahassee's most historic neighborhoods.
Artist and community leader Annie Harris wants the Frenchtown wave to continue, from driveway to driveway and street to street.
Take a walk or a drive along Georgia Street, and you'll see driveways decked out in colorful and creative designs that give you the impression that somebody got the urge to doodle until the cars come home.
"People get out of their car and take pictures," Harris said. "It's kind of cool to watch."
The driveway paintings mark a partnership between Harris' Ash Gallery, on Georgia Street, and Florida State University's Department of Urban and Regional Planning.
Harris said she had talked with students of FSU assistant professor April Jackson about neighborhood revitalization. The students wondered how they could get involved and proposed painting driveways, Harris said.
"And I said, 'Why don't we do mine?' " she said.
Harris said a neighbor wanted the same treatment for her driveway, and before you knew it, five houses on Georgia Street had their driveways painted in catchy colors and designs.
The Paint the Pavement project takes place during the Frenchtown Heritage Artwalk, an event that Harris launched on Georgia Street.
With community members, Harris said, she and students outline a design and ask the homeowner what colors they want. Then they start painting.
For FSU, Jackson said, "It's really meant to be, one, a community-mobilization tool, to promote community building … and a way to get FSU students into the community and become invested in the community."
In 2016, students from the FSU program completed a Better Block project that showed policymakers changes that could help create a more pedestrian-friendly and livable area.
FSU's Jackson said the Department of Urban and Regional planning also worked on projects in the Providence and South City neighborhoods and now is working with the city to develop a neighborhood plan for Griffin Heights.
"We're really trying to develop long-term investments in the neighborhoods that are surrounding FSU," Jackson said.
She added: "We helped the Frenchtown community sort of mobilize on improvements that are important to them."
That includes Paint the Pavement.
As of early November, artist Harris said three homeowners on Carolina Street wanted their driveways painted, and she said she's pushing for more.
"I want people to walk and look and see the change," she said.
One day soon, Harris said, Frenchtown could become known as the neighborhood that has all of the colorful driveways, just as Indianhead Acres has all of the Indian-name streets.
The driveways certainly are getting good reviews.
Menia Chester, owner of Desserts by Latrell Bakery and Catering Company and a consultant for the Frenchtown Heritage Hub, said she thinks the artistic-driveways project "softens the perception of the community."
"I believe that you hear 'Frenchtown,' and people go, 'Oh, Frenchtown,' " Chester said. "But when people drive by and see these, it kind of softens the perception. And it just makes people smile."
For Harris, the drive to revitalize hardly stops there. She said she's also pushing for a neighborhood common area, and she turned the backyard of her gallery into an area where people of all ages can relax, play or gather to hear live music.
She envisions the heart of Frenchtown as a place where "you can just walk the neighborhood and enjoy yourself."