Jonesing for the Perfect Vibe
The Frank Jones Band gets people to their feet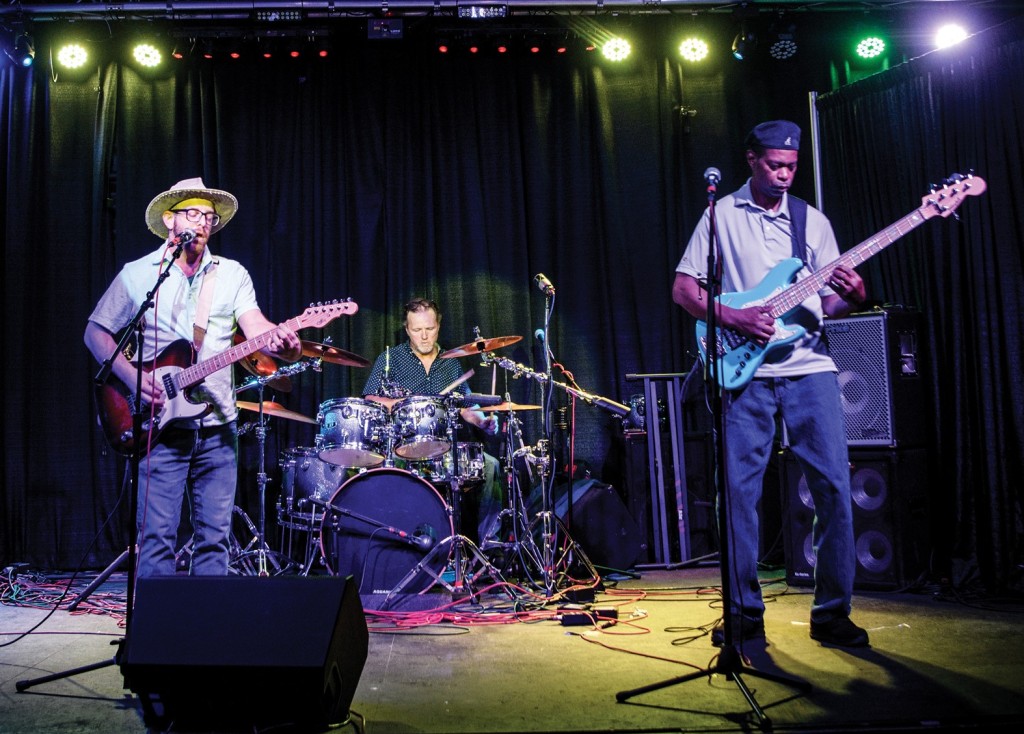 Most of the audience was on its feet, moving like shadows against the bright lights bathing the stage in beams of blazing red, yellow, blue and purple. Students and grandparents alike mingled on the dance floor, inhibitions gone.
Inspiring the crowd was the Frank Jones Band — three musicians playing their rollicking mix of blues, soul, funk and rock 'n' roll at the House of Music, formerly Junction at Monroe, in Tallahassee.
It was a good night.
"If the crowd is feeling it, we feel it too, and it just makes the show even better," said guitarist and singer Frank Jones, who formed the band in 2016. "It's pretty awesome."
When Jones plays his goldtop Epiphone, it's like watching — and hearing — a cascade of liquid notes, lots of them, but each perfectly placed and never showy.
Along with Jones, the band is made up of experienced musicians — drummer Brett Crook and bass player George E. Rodgers III. They're sometimes joined by a piano player or saxophonist, but these three alone bring a big sound and solid musicianship to the region.
"Frank is one of the most talented musicians in town, and he surrounds himself with good talent," said Russ Pangratz, owner of House of Music. "He has a good following."
The band generally performs within 300 to 400 miles of Tallahassee. Locally, aside from House of Music, they've played at venues such as Fire Betty's, Hurricane Grill & Wings and the Bradfordville Blues Club. In April, they performed at Proof Brewing Company and Cascades Park as part of the Word of South festival. And they're often taking gigs in Apalachicola, Panama City, Steinhatchee and other spots along the Gulf.
They theorize that playing beach towns is probably one reason they survived the devastating impact of the pandemic on the music community.
"We were one of the few bands that played the entire time," said Crook. "We went to the coast — Carrabelle and Apalachicola and St. George. They stayed open."
Crook has opened for acts including James Brown and B.B. King, was on tour as a drummer with Grammy-nominated Cedric Burnside and was also in a band that toured with Hootie & the Blowfish.
The Frank Jones Band has built a growing fan base, but the musicians concede it's a tough industry. All three work day jobs in addition to playing music. It's a balancing act that will sound familiar to many local bands — juggling dreams and a passion for music with the reality of earning a dependable living, maybe supporting a family.
"On the weekends, I play music. It's what I love to do," said Rodgers, who has joined performers such as The Commodores, The Strikers, Regina Carter, Donald Byrd, Stephanie Mills, The Crown Heights Affair and Sheila Raye Charles, daughter of the late Ray Charles.
"I'd rather play music full time, but the cash flow ain't there. It's hard to support a family," said Rodgers, who has four children. "This is my love, this is my calling. It's not a job for me."
Rodgers, 60, is a welder. Crook, 56, is a private instructor and marketing manager for an online investment community website. Jones, 34, works for an emergency management consulting firm.
Despite the need for day jobs, they can't shake their lifelong love of performing.
A native of Tallahassee, Jones' musical path changed after a visit to the Bradfordville Blues Club when he was a teen. It turned out that the talented young musician on stage, Rick Lollar, was a friend he hadn't seen since third grade.
"He was awesome," said Jones, who was inspired to advance his own instrumental skills. He would go to the venerable blues club quite often to catch accomplished acts like Damon Fowler, Sarasota Slim (Gene Hardage) and Roosevelt Collier.
At 14, Jones began taking lessons from legendary guitar player and teacher "Missippy James" Stanton, who also taught Lollar and a group of other talented young musicians in Tallahassee.
"Frank was one of those students who had above-average talent for his age," said Stanton. "If there's a natural talent, he seems to have it."
But Jones didn't want to live the life of a touring musician.
"I made a pretty conscious decision all along," he said. "I wanted a family, so I was never really going to go on the road or have that setup as my means of income, to be gone from a family I wanted to support. I managed to keep it pretty low-key."
The only thing about that plan: "I'm not married unfortunately. Looking at it now, it's like, 'Oops, I might have gone and done that.'"
Jones graduated from Lincoln High School and started attending Tallahassee Community College, but "I ran out of money."
He began working at the Florida State University bowling alley fixing bowling machines, then the Department of State and other state agencies before his current job helping cities and counties recoup money after natural disasters.
"Music has still been my primary interest," said Jones, whose influences include Albert Collins, B.B. King, Albert King, The Funky Meters, Clarence Carter, Ray Charles, The Beatles and Edgar Winter.
He played with the local Southern rock band, King Cotton, after high school then decided to start his own band. Jones wrote some of his own songs and recorded an album called First Take.
He started playing with Crook about three years ago. Crook had been a drummer, touring with bands for years though he cut back when his son, now 18, was born. "I decided to stop touring," he said.
Crook grew up in Tallahassee and received his first drum set — "the blue sparkles catalog special" — from Sears when he was a boy.
His mother performed and traveled with a singing sister act, so "she was always supportive," Crook said. He learned the harmonica from his grandfather. His stepfather, Mark Ellerbee, was the original drummer for the Oak Ridge Boys.
Crook left Tallahassee after high school and lived in Los Angeles, Orlando and South Florida, playing most of the time. While touring with Cedric Burnside, "we played at the Lincoln Center in New York City, in the atrium, and it was one of the highlights of my career."
Since Crook moved back to the Capital City seven years ago, he has freelanced with various bands.
"For me, I'm one of the older ones, so I feel blessed every time we get up there and play," he said.
Rodgers expresses a similar sentiment.
Originally from Queens, New York, he started as a drummer, playing in church as a boy. He later was a drummer with an R&B group but was inspired by the band, Earth, Wind & Fire. "When I was 18 or 19, I taught myself to play bass."
His influences include Earth, Wind & Fire's founding member and bassist, Verdine White, and the jazz, R&B and rock bass player, Nathan East.
Rodgers toured with several bands in his career, then moved first from New York to Moultrie, Georgia, where his wife had family, and then to Tallahassee. He's been playing with the Frank Jones Band for a few years.
"I'm playing every weekend with them or other bands," said Rodgers. "If I have a weekend off, I feel lost.
"I love what I do, and I get along with everybody," he said. "A good attitude is right up there with playing ability. That's the name of the game — be a professional.
"If I can get someone to dance, I'm doing my job," added Rodgers.
Talking about their goals, they all share a desire to tour, even if briefly.
"I've always wanted to play in Europe," said Jones.
"This band could definitely do that," added Crook.
Rodgers wants to tour, but said trips have their ups and downs.
"It's exciting at first, but after the first couple weeks you're like enough is enough," said Rodgers, who would like to play in Japan. "Yet, when I see a tour bus, I think, 'Who's in there? It should be me.'"
But playing overseas is only one option. They agree that even a Florida tour would be a boost.
"You have to be hustling to be working all the time," said Jones. "There's the business side to it, and that takes a chunk of time. We try to share as much of that as we can.
"It's a whole lot of work even if you take away the years of practicing and learning your instrument," said Jones. "You have to learn the words to songs, about 30 songs for each show. There's stringing up guitars and batteries and cables, and all that little stuff piles up."
Still, the music is in their blood, and that's what matters to all of them.
"With really great shows, you get so locked in with the music, it's really spiritual," said Jones. "You get that almost out-of-body experience. If we can get to the point where somebody, even if it's only one person, is connected to the music, it's something else."
They connect this night at House of Music. The crowd undulates as the trio render their version of Tyrone Davis' If I Could Turn Back the Hands of Time. For the Frank Jones Band, the time is now.