Foundational Learning
The academic doctor will see you now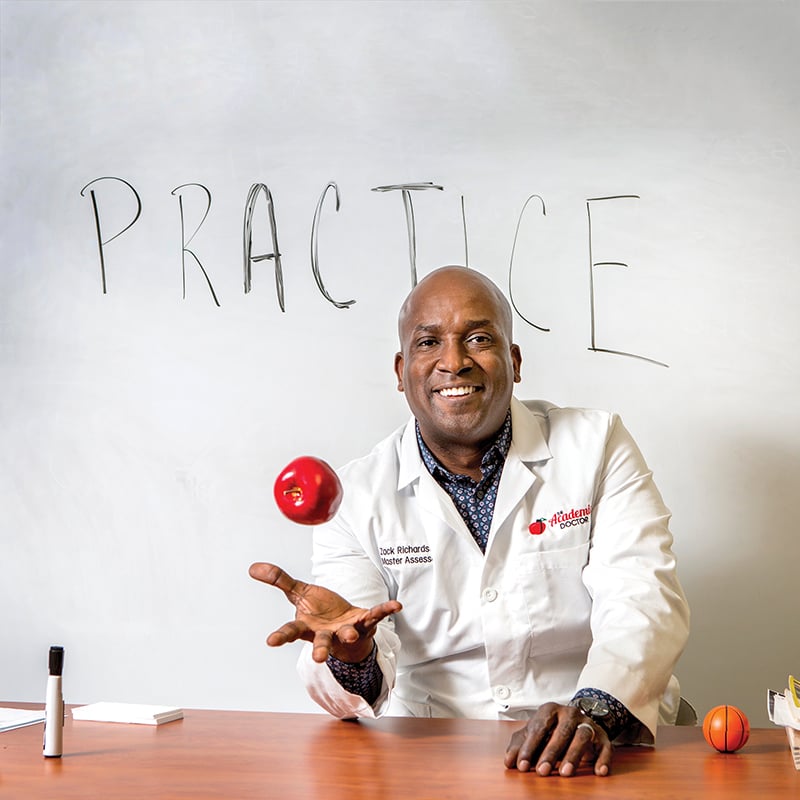 You might think Zack Richardson would have cause to hate the world. He had a bunch of strikes going against him in his youth: His father went to prison for trafficking cocaine and his mother lost her parental rights, so he was put up for adoption. His adoptive mother, a former guardian ad litem, would later die of ovarian cancer, but while she was alive, he learned a great deal about what it means to be an American citizen.
"She always reminded me, 'Zack, you're never going to make excuses and I'm not going to allow you to make excuses for the bad stuff that happened to you,'" Richardson said. "'You have to be a man of belief and strength.' And I really believed her."
It was a long road to get to that point. Richardson, today the director of The Academic Doctor, was diagnosed at an early age with attention deficit hyperactivity disorder and dyslexia. These were big learning disabilities that were hard to overcome. He conquered the former, but even at the age of 46, has to cope with dyslexia. He gives full credit to his adoptive mother who not only encouraged him to read, but put him on a course toward self-reliance and independence.
"I learned to read the Bible, the U.S. Constitution and the Declaration of Independence. That was a ritual in our household," he said. Those three texts combined, helped not only teach him to cope with his learning disability, but they also gave him a firm foundation to stand on.
Later, he graduated from Wilberforce University, a historically black college in Ohio, and then returned to Florida and graduated from the University of South Florida. The world opened up to the young man from St. Petersburg, and all of his experiences had a profound effect on him.
"Going to hell and back will change your whole life. That's how I feel," he said. "It's like an awakening. I was angry, but once I found out that the world has so much to offer, that changed me."
Today, Richardson has traveled and talked and written extensively to help young people realize their potential. He first came to Tallahassee in 2000 as the media specialist for an abstinence project called "It's Great to Wait." Later, he founded Pivotal Point Enterprises to help educate and motivate young people. Through Pivotal Point he established a not-for-profit education and motivational center, The Character Center, in 2003.
The Character Center is located near the main campus of Tallahassee Community College and is based on "academics, behavior and character." In 2015, Richardson decided to create a for-profit academic counseling company he called The Academic Doctor. This office is located around the corner from Capital Regional Medical Center. The Academic Doctor offers academic and tutoring clinics designed to prepare high school kids for college. But for Richardson, there's so much more to it.
"We as a people have to understand who we are as citizens of America, and it starts with your education," he said. "And if you're uneducated, you can't go far. No matter your race, your color, your creed."