Foreign Influence
The Challenges and Rewards of Hosting Exchange Students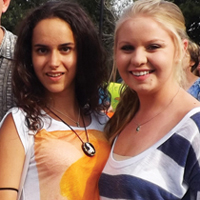 Photo courtesy EF Educational Homestay
The Bruner Family welcoming their exchange students. From left to right: Mom Pat, Karina (from Russia), Dad Weston, Elena (from Spain) and daughter Breanna.
It's easy to be the host family for a foreign "exchange" student. Teenagers from another country are just like the ones in your home right now: They talk in their own language, have their own rules and need to be taught where to put their dirty clothes.
All in all, though, it's a great, fulfilling experience that will change your life and the life of the student. That's one of the perks, according to Susanne Westendick-Spell of Tallahassee. She is site director for EF Educational Homestay, a nonprofit division of EF Intercultural Foundation Inc., which offers programs that foster international understanding through cultural exchange. The program began in 1979 and now brings in students from more than 15 countries for language study programs that run two to eight weeks each summer.
As a recruiter, Westendick-Spell does a lot of outreach into schools and churches to find students whose families might be interested in hosting a foreign student in this program.
Once the prospective family says they're interested, they are interviewed at home and given an application and their references are checked. Meanwhile, the students themselves will get online and complete their own application. Once those applications are collected, the matching process begins. Applications aren't randomly sent to the families; the hosts take an active role in the selection process.
Once the families and students are matched up, they can begin communicating with each other. "They can start emailing the student, and we encourage our students to email back to the families," she said. "A lot of times, of course, they'll go on Facebook and before you know it, they really know their students before the student even arrives. It's really neat."
Host families are given a handbook that specifies expectations, how to communicate with the student, how to set the house rules and so on. Hosts also must attend an orientation before the student arrives.
The students fly in to Orlando on different flights during the day of their arrival. This process may take several hours. The students are escorted by adults from their home country and on arrival are picked up by EF Homestay representatives, shuttled to a nearby hotel and fed. The next morning they board a bus for Tallahassee after an orientation meeting.
Once the kids are here, they attend English language classes in the morning and field trips in the afternoon.
Westendick-Spell's family was a host family for five years, and she admits that having a foreign teenager in your home can be challenging.
You might have a student who is shy at first and not venturing out, she said. It could be jetlag. But if it continues, EF Homestay advisors are there to help coax the student out into the open.
Students will also get homesick. It can contribute to a situation that isn't exactly warm and fuzzy, she said, but opening the lines of communication can go a long way to solving that problem.
"If a student isn't happy, or you just sense that something's wrong, we tell the families to talk to us," she said. "That's what we're here for. We don't just drop them in your home and leave. We here to work with you and work with that student."
But the benefits generally outweigh the challenges.
"You make new friends, you learn about another's culture. You get to practice hospitality. You stay in contact with them and remain part of their lives," she said. "To me, I think the No. 1 thing that makes America different is the hospitality that we can show people," she said. "As a country, we are open to learning about what's going on with you, what makes you different than us, we want to share that with you. We're looking for a positive relationship, not something that's negative or something that's not understood."
Also, the host family can become more global. A lot of the time a family can't travel, but this program brings the world to your home. Once that bridge is made, you might find yourself being invited to visit the student's home country.
More than anything, though, you make a connection. The experience can be emotionally powerful, especially at the end of the stay when the student has to pack up and go home.
"It's really neat to see students and families come together who just met, and at the end of three weeks the tears and crying," Spell said. "After three weeks, you love this kid, and it's awesome."