For the Sake of Appearances
On the stage and on the street, Dr. H is well put-together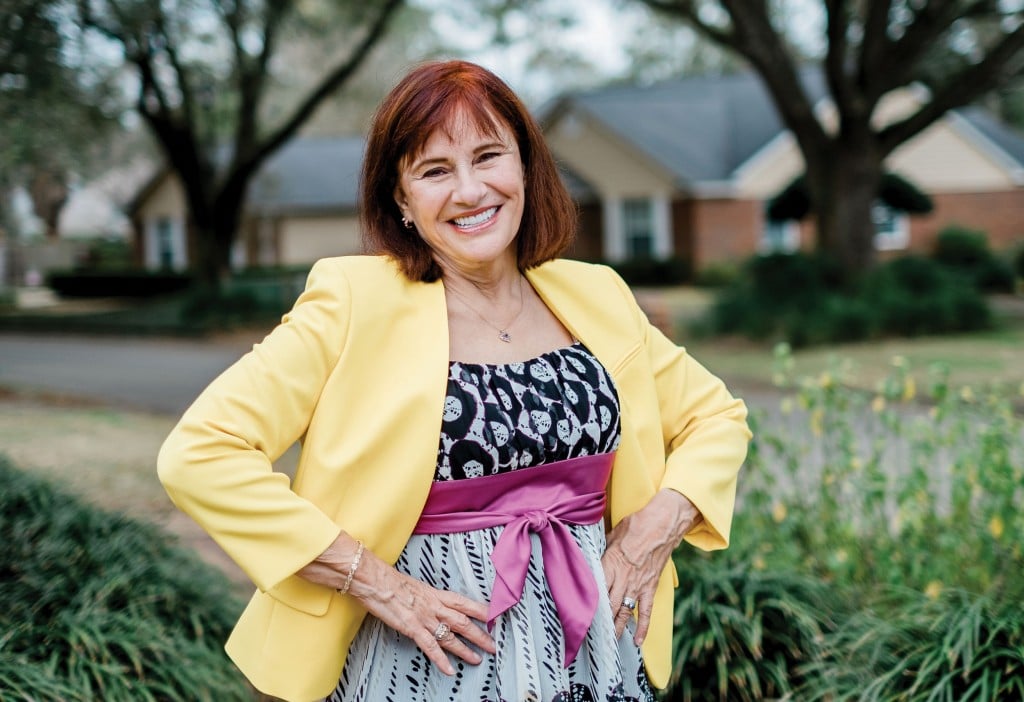 At 15, Sandra Halvorson was among the dancing girls who performed with the legendary actor and showman Jimmy Durante in whose estimation she had the best wiggle of them all — better, he said, than a milkshake.
Having won that distinction, Halvorson was the dancer who, as part of summer shows staged in Chicago and Kansas City, went literally nose to nose with Durante. She helped dress the headliner, too, as part of a "Clothes Make the Man" number.
While far from a clotheshorse herself, Halvorson always is mindful of the importance and the impact of appearances. As a professor of communication at Florida State University for 22 years before retiring, she dressed in ways that exuded professionalism. As an actor at the Mickee Faust Club in Tallahassee, she takes care to assemble costumes that perfectly reflect the personae she adopts.
"You should always look put together," she advises. "Older women should avoid dressing like they did in high school, but you don't want to dress like your grandmother did. Wear makeup, but not too much."
Halvorson harrumphs as she describes a granddaughter's strict allegiance to brands including lululemon and says about herself that she is not into designer clothes.
"But I am into copying them," she said. "I may see a picture and say, 'I can emulate that model.' If you can create a look and people will still give you the compliment, why pay more?"
As it happens, Halvorson will visit high-end boutiques like Narcissus from time to time and does not always succeed in confining herself to the clearance rack.
"Sometimes, I am swept off my feet," she said. "It may be far too expensive for me, but I look soooo good."
She once splurged on an outfit at Narcissus and later wore it while teaching abroad as part of FSU's International Studies program. Lots of people remarked about her look — in Florence, Italy, no less.
So, there is that Sandra Halvorson, looking the professional part in outfits that are carefully coordinated. And, then, there is the "Dr. H," as she encouraged students to call her, who took a loop around Lake Ella in January dressed as Bernie Sanders and feeding the birds as she went. The requisite mittens she had at hand. That is, she knew they were somewhere in a room in her home that houses most everything she has ever worn, on the street and on the stage.
"People came up to me and wanted a picture with me," Halvorson said. "They said things like 'we know you are somebody famous.'"
Halvorson never has achieved widespread fame, but she impresses one as someone who could have. She is inherently an entertainer with a perennially youthful energy about her. Her smooth, unblemished face looks like it has been maintained with expensive regimens, but in truth it receives nothing more than twice-daily applications of Clinique lotion.
While a student at Colorado State University, Halvorson approached a graduate student, seeking help with her math homework. A relationship developed and she married at 18 a man who collected rocks and once built a 14-foot fiberglass boat.
After earning his doctorate in mathematical statistics — is there any other kind? — Wade Halvorson weighed job offers in four states and opted to go to work for Control Data in his home state of Minnesota. There, Dr. H attended Normandale Community College for 10 years, taking one class per semester, and becoming a member of the school's dance line, the Dandylions, at age 26. Their outfits included underpants with a smiley face on them.
The senior-most Dandylion attracted the attention of a newspaper reporter, MayBelle Wright, and told her that she wasn't sold on women's liberation.
"I don't even mind being a sex object," she said at the time. "In fact, I rather like it."
That was then, and there were MayBelles about.
Halvorson started dancing at the age of 2 and took classes as a child in tap, jazz and ballet. In Minnesota, she discovered a liking for belly dancing upon taking a class from the author of a book on the subject at a Dayton's department store. She went on to teach belly dancing at the Betty Crocker Creative Learning Center, an adult education initiative of the General Mills Corp.
Not long ago, at the urging of one of her nine grandchildren, she taught herself the Savage Dance, a Tik Tok phenomenon. She is thinking about offering belly dancing lessons via Zoom.
Halvorson and Wade moved to Tallahassee after he accepted a job with ETA Systems that involved installing a supercomputer at FSU. That gig fizzled after the computer proved to be less than super, but at that point, Halvorson was on a roll as a student at FSU, where she would earn bachelor's and master's degrees and a doctorate in communication.
Wade, who died in 2008, eventually went back to work with the Florida Department of Law Enforcement.
Through recent years, Halvorson has enjoyed life with her dear companion Delray Miller, whom she met at Mickee Faust, where he, too, is a member of the company.
Born in Kansas, Halvorson lived in Colorado for 24 years before moving to Minnesota, where her two children remain, and then to Florida.
A Florida resident now for decades, she has never much visited its beaches.
"They're so sandy," she said. "I used to love to go to the mountains, but when I look out over the water, I can't help but think of all the dead sailors out there."
"In Colorado, you never thought about all the dead miners or the perished members of the Donner Party?" I asked.
"No, I never did, but I will now," Dr. H replied. "Thank you for that."
Wherever she travels, Halvorson is surely to go lightly afoot.
"Dancing is my true love," she said.