For the New Year, a World of Peas
Key cultural traditions focus on food and the calendar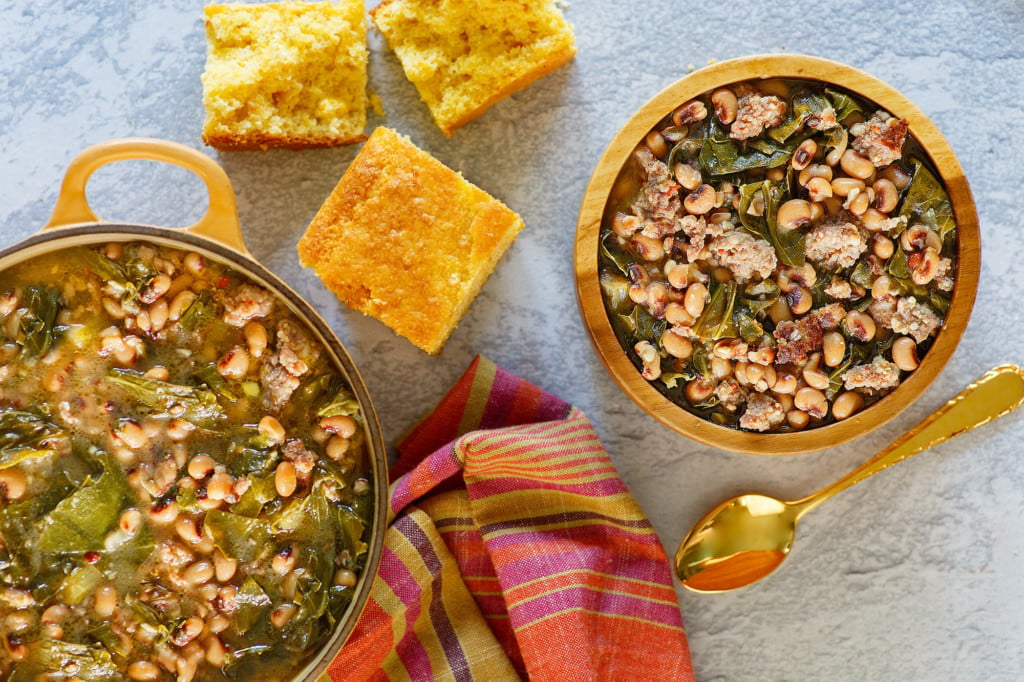 The New Year makes us do strange things.
Things out of character like getting bangs or going to the gym.
From losing weight to budgeting, we tell ourselves that now's the time to get serious and stay serious.
I don't really make resolutions. I can find everything I need on the stove — seriously.
I've been eating black-eyed peas and collard greens on New Year's Day for as long as I can remember.
You might suggest that I'm serious about my superstitions — the peas for good luck and the greens for money.
Add in some cornbread for "gold," and we're in business.
It's a Southern tradition that has lasted for centuries and a tradition closely held in the hearts of many African Americans.
The oral tradition tells us that slaves ate black-eyed peas to celebrate the day emancipation went into effect, and the ample legumes remain a symbol of hope and prosperity.
They continue to stand as a staple on many Southern tables and as an important part of the soul-food canon, which many see as central to the black experience.
I'm hardly the only one who ties certain foods to a new year. Consider challah bread and its role in Rosh Hashanah, the Jewish New Year, which takes place Sept. 18–20 this year.
"Challah is super important," said Sierra Thomas, a graphic designer at Rowland Publishing, owner of Tallahassee Magazine.
"Its circular shape represents the crown of God and the world. It's often filled with raisins that are supposed to represent Jewish people scattered around the world in the diaspora.
"We also eat apples with honey for a sweet start to the new year," she added. "The apples are meant to represent the story of Adam and Eve."
For the Chinese, the Lunar New Year, which takes place Jan. 25 this year, also maintains strong ties to food.
"There are so many things we do to celebrate the new year," said Claire Chang, a friend of mine.
"Eight is a lucky Chinese number, so in my family we serve eight dishes. You'll find dumplings, spring rolls, a whole fish and garlic shrimp for wealth and prosperity, as well as longevity noodles for long life and sweet rice balls, and melons to keep the
family whole."
Yet even she knows superstitions of the Southern kind.
"My family is very Chinese, which means they're also superstitious," she said, "so we also always have a bowl of black-eyed peas. We've lived in Florida for so long that we've just adopted it as a tradition."
Food isn't just wonderful. It carries cultural and religious traditions and symbolizes who we are.
I'm not sure that I believe in all the superstitions that my mother and grandmother passed down to me.
But I do know that these meals create memories, and they represent a chance to do the next year a little better.
I won't make any resolutions for 2020. But I'll care about what I'm eating.
A New Take on Black-Eyed Pea Stew
Ingredients
2 teaspoons of oil
1 tablespoon of salt
1 tablespoon of pepper
1 tablespoon of garlic
1 small yellow onion, chopped (roughly one cup)
3 cans of Glory brand black-eyed peas with liquid
4 cups of chicken stock
1 cup of chopped sausage
1 smoked ham hock
1 pound bag of cleaned and chopped collard greens
parmesan shavings
Directions 
Heat the oil in a pot and add chopped sausage.
Cook until brown, then remove and set aside. Add in onion and garlic.
Cook a few minutes until just tender and fragrant. Add in the black-eyed peas, stock and ham hock.
Stir well and cook for about 15 minutes on medium-low. Add the collard greens and bring to a boil.
Reduce the heat to simmer, and cover the pot. Simmer on low for about 2 hours.
Remove lid, stir in sausage and cook uncovered for 5-10 minutes.
Top with parmesan shavings for extra bite.
Pair with cornbread and enjoy!