For the Love of Clay
Sculptor Chester Williams Says 'So Long' to Teaching to Focus on His Craft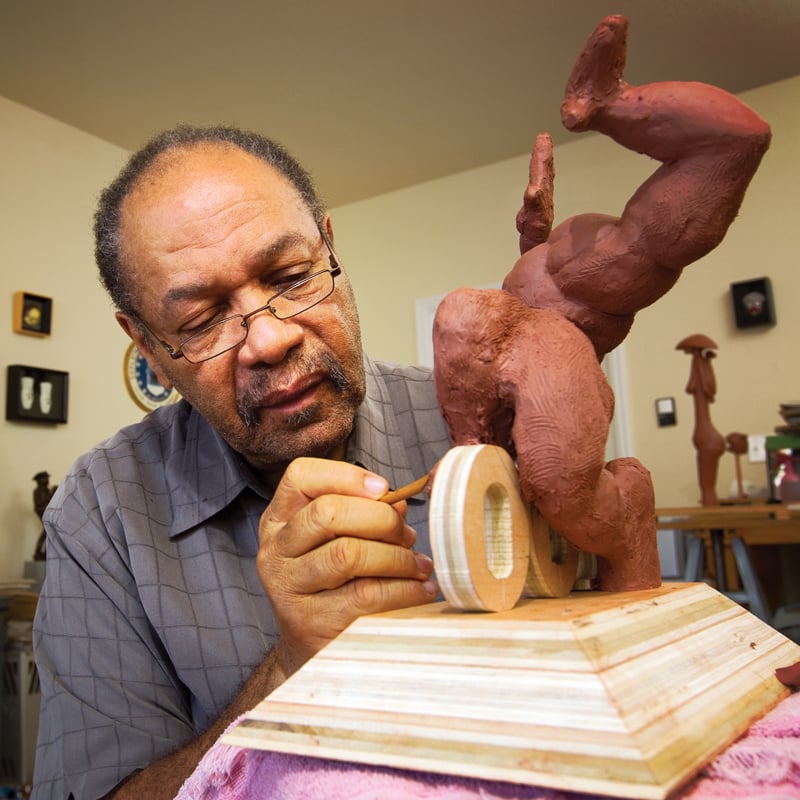 While Tallahassee sleeps, President Barack Obama's face slowly comes to life.
Tools are working over the trademark mole on the left side of his nose. His ears start to protrude and take shape. His lips curl slightly up on the left, creating his signature close-lipped smile.
The smell of reddish-brown clay permeates the air.
It's 2:30 a.m.
Chester L. Williams, a veteran art professor at Florida A&M University, isn't tired. He says the wee hours of the morning are when his creative juices flow the most.
The progress he has made on the sculpture of Obama he's working on is proof. The bust, which stands about 15 inches tall, is the spitting image of the American commander in chief. It was commissioned by a man who will sell its replicas on the commercial market.
Williams, 66, never imagined that his hours doodling in his third-grade classes would have paid off.
"I drew my way through school," the Durham, N.C., native says as he sits back in his office chair and looks at the ceiling, his brown eyes nostalgic. His office is small and not the most decorative. Papers and books are stacked neatly; samples and images of his work litter his desk.
Williams explains that boredom caused him to turn to the arts while he was growing up. That was the only thing that would keep him focused. It turned out to be his first love.
Although he would spend most of his time drawing, paintings are what started Williams' artistic career.
"I sold my first painting when I was in the eighth grade," he says, his big hands resting in his lap. "It was on canvas board, and I used airplane paint to do it."
Williams has come a long way. The first painting he sold was actually one of three he sold to his teacher for $30.
Although painting was how Williams first expressed himself artistically, sculpting is now his passion.
"I haven't done a painting in about eight years," Williams says, and he doesn't regret it. "Sculpting is my thing. It's what I like. There is no reason. I do it because that is what I gravitate toward."
If others had his success, they wouldn't regret it either. Williams' work no longer sells for $30. His pieces now fetch anywhere from $5,500 on up. He has earned about $60,000 from selling his artwork alone this year.
Art, however, wasn't always Williams' first priority. Before he taught others and made thousands selling his pieces, he was an undergraduate student at North Carolina Central University, where he majored in philosophy and minored in fine arts.
"Philosophy got harder over time, and that's when I made the decision to switch to peer education," Williams says.
After graduating, Williams taught at the High School of Design in Durham, a technical arts school for students who were considered likely to drop out. After teaching woodworking there for a year, he landed a government job working as a technical illustrator for the U.S. Environmental Protection Agency.
"After I left that job, I worked at IBM as a technical illustrator too. I left after two weeks," Williams says, smiling at the memory. He explains that he had the opportunity to go to graduate school and refused to pass it up.
After graduating from the University of Michigan with a major in sculpting and a minor in painting and drawing, Williams started teaching again.
In 1974, he made his way to Tallahassee and started instructing at FAMU. Students at the university have a deep appreciation for the jazz lover's insight and skill.
"He has more information than others. He displays it, but he keeps some of it hidden," says Edmund Royster, a fifth-year fine arts major. That is what keeps the students interested.
"He makes art interesting. When you teach art, you have to make it interesting or you lose your students," Ja'Rel Dawson, a sixth-year fine arts major, says. "He makes us laugh. His comedic performances are funny. It helps."
Williams laughs when he hears the comments his students have about him.
"I have to throw (the students) out of the window — I have to keep them in check," Williams says with a smile before becoming serious again. "But really, these students have taught me patience, because sometimes we as creative people move pretty fast, and we expect people to move at our pace. They help me to slow down."
Williams has not only slowed down but has plans to stop completely. His retirement is set for the spring of 2011 after teaching at FAMU for 37 years.
Although his love for teaching never stopped his production of art, he believes it's time for his passion to come first.
"I want to do my work and travel," Williams says. He has already been all over the globe visiting places such as Ghana, Togo, Benin, Egypt, Ethiopia and the Dominican Republic. Art from those places influence his work because, in the end, "it's all from Africa. All of my work is African work," Williams says.
The man who has been in various Who's Who directories more than 16 times also has plans to work on a book, which he started in February and plans to have done by mid-2011.
The coffee table book will feature his early works and include the sculpture he did of the first black policeman who patrolled in Frenchtown, Fred Lee Sr. The life-size sculpture now stands on Old Bainbridge Road.
Lee is portrayed with one hand enveloped in the fingers of a little girl. Williams explains that the figure was not supposed to include her, but he added the girl to heighten the impact of the piece.
"It is not about how much money I make. It's about making the piece work," Williams says.
They evidently do work. Williams created the bust of FAMU Marching 100 founder William Foster that is displayed in the Foster Tanner Music Building, the sculpture of Jonathan Gibb (the first black secretary of state) in the Black Archives, and the pieces displayed in front of the Gaither Gymnasium.
Williams also designed the mace and medallion FAMU President James Ammons wears at graduation ceremonies, and his work has been featured in more than 300 art exhibitions throughout his career.
The avid chess player, father of four and happily married husband admits that teaching will always be a part of his life. He doesn't plan to stop teaching three art classes at the Tallahassee Community Center after his retirement.
What Williams hopes all of his students learn from him is something he learned in high school years ago.
"Find out who it is that is teaching you," he advises. "Find out where they are coming from and what they are doing. You'll be surprised. If you knew who some of these people were, you'd try to get as much as you can from them."