For the Love of Animals
From the Editor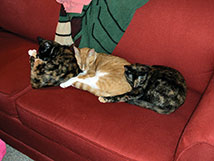 For most of our going-on-30-years of married life, my husband and I have had a critter in the house. At first, it was a little white Maltese dog I brought home "on approval" who ended up being with us for 16 years. His name was Wrigley, which started our tradition of naming pets for historic ball yards.
When we were contemplating starting a family, my mom gave her approval by noting "well, you've done a pretty good job with Wrigley." He would be the only Dunkelberger animal in the house for several years, and we put ourselves firmly in the column of "dog people" during that time.
But we had a daughter who talked about cats, drew pictures of cats and begged — relentlessly — for a cat, until we finally took the plunge when she was about five. We ended up with a tuxedo kitten that had been abandoned in front of our veterinarian's office and was so tiny it could actually walk under Wrigley.
Cats have come and (sadly) gone in our home, but that little kitty Cammie (short for Camden Yard) is still with us, the grand dame of the household who's pushing 15 and spends most of her time warming up her old bones on top of the DVR.
Mary (the daughter) was a member of the Animal Services Center's Pet Partners group as a tween and spent many a Saturday there sprucing up the pups and socializing with the cats. Later on, we would volunteer to foster little kittens for the Leon County Humane Society — basically playing with them at home until they were adopted. (Mary left home for college, but I've still got four foster cats in the house right now. Go to petfinder.com and look for Rome, Asia, India and Sandy.) People always ask me if it's hard to give up my fosters, but it's not because all have gone on to loving homes.
All of this is the long way of getting around to telling you of my great respect for the people whose job it is to take care of animals, particularly at the Animal Service Center. They are required to take all comers — the sick, the wild, the unwanted, the abused — and find them homes or — and this is heartbreaking — give them a peaceful death.
In writing the feature story about the ASC, I was heartened when speaking with those affiliated with the shelter. They were so positive and enthused about their recent successes. But their job will never be over until we take responsibility for spaying, neutering, microchipping and caring for our pets and other animals in the community.
Please consider opening your home, your heart and your wallet to help.