For Dapper Allen Thompson, It's Always Sunny in Tallahassee
With a warm smile, old-school charm and a gentleman's hat, downtown is lucky to have him.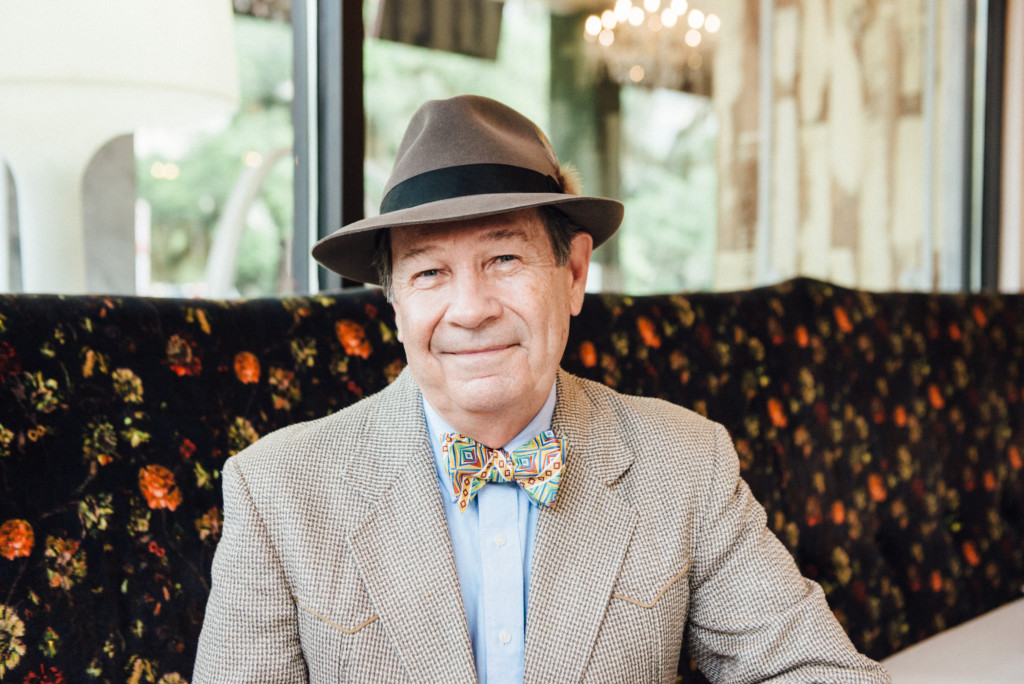 Anyone who's spent time in Downtown Tallahassee has probably seen him: a smartly dressed Southern gent wearing a Panama hat, colorful bow tie and blazer tooling along the boulevards with a smile for everyone he passes.
Meet Allen Thompson, director of Downtown Experience and veteran of the two-person office of the Tallahassee Downtown Improvement Authority (TDIA), aka Downtown
Tallahassee.
It's a relatively small special taxing district bounded by Gadsden Street on the east, the railroad tracks (including Cascades Park) on the south, Tennessee Street on the north and Bronough Street on the west.
"And also a panhandle that includes some of the things on Gaines Street (and) the empty lot right next to the Civic Center," he said.
His job includes perambulating around in the district. "I easily do 10,000 steps a day and many times, more," Thompson said.
His walking is not aimless; he's always on the lookout for a shifting sidewalk, neglected flowerbed or unsightly trash bin.
And the district's denizens are always invited to bend his ear with suggestions or concerns.
"Allen is amazing. I call him 'Mr. Mayor.' He buys coffee in a different shop every morning — and will spend his afternoons meeting downtown employees and business owners," said Chris Dudley, managing partner of the lobbying firm Southern Strategies (which occupies a prime corner at Adams Street and College Avenue) and chairman of the TDIA.
"He does it with a warm smile, old-school charm and a gentleman's hat."
Thompson's Panama hat isn't an affectation; it serves a purpose.
After a lifetime spent in Florida and hearing about a friend's relative who died from melanoma, he decided to visit a dermatologist who told him, "Luckily, you're good, but I'd wear a hat."
His first hat was a floppy brimmed Tilley, but Thompson felt he needed to up his sartorial game, so he switched to the nattier straw hat, paired with more uptown attire for his downtown strolls.
His family came to Lloyd in the 1840s and "moved around a lot," living for a short time in Tallahassee and also in the nearby towns of Monticello and Havana.
"But I would come to Tallahassee often. It was the big town. I knew every little nook and cranny because I would come into Tallahassee to go to the movies on Saturday," he recalled, and he attended performances at the Tallahassee Little Theater and Florida State University with his culture-loving mother.
Thompson moved to Nashville for school, and when he returned to Tallahassee around 1979, "things had changed a lot," he said.
"There were a lot of vacancies downtown. There was still some ground floor retail, but since then almost all of the vacancies have been filled with advocates for different organizations."
He has worked Downtown Tallahassee for decades, originally for DuBey's News Center on North Monroe Street. His first connection with the Downtown Improvement Authority occurred more than 23 years ago, when he manned a kiosk representing Black Cat News (the successor store to DuBey's) at the first Downtown Market events.
In its next season, Thompson worked as a contractor for the outdoor market, and he has been waking up at 5:30 a.m. most Saturdays ever since, helping vendors find their tent space.
"There were like five or six farmers that very first year. In our busiest times now, we usually average about 50 tents on a Saturday," he said.
Thompson encourages visitors to take the time to talk to the market vendors, who often have an interesting story to tell, such as the farmers from Grady County and Madison who "basically rearranged their lives" to go back to working their family farms.
For years, it was a part-time gig, but in 2001 working for the Downtown Improvement Authority became his full-time job, with the Downtown Market taking up to half of his work time.
With Saturday markets from March through November (and a special show in December), that adds up to 42 events a year. His agency also helps other groups coordinate special events such as the Tallahassee Marathon and Harambee.
Thompson's job also includes populating the agency's social media (TLHdowntown on Facebook and Instagram) and serving as a "catalyst."
Many times, he knows the right person to call for quick action if a loose grate is causing a trip hazard, or he weighs in when various agencies are trying to coordinate changes to things like parking meters, signage or streetlights.
"We try to be the peacemaker and the catalyst oftentimes," he said.