For At-Risk Youth, a Life Raft
Boys & Girls Clubs enable kids to exit survival mode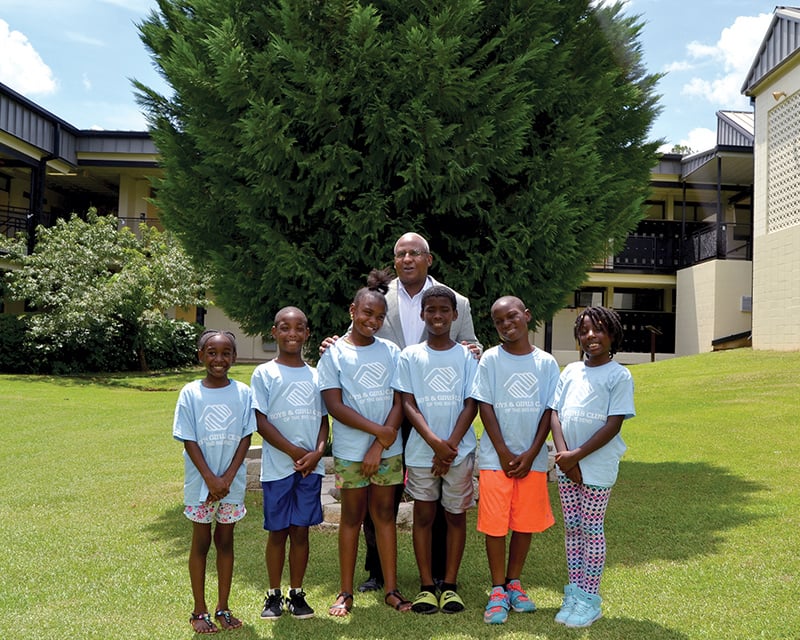 You know the one.
A girl happens upon a stretch of beach littered with thousands of starfish. She is observed by onlookers as she picks up a few and tosses them into the ocean. One man, in particular, mocks her efforts, telling here that she cannot possibly save them all.
Undeterred, the girl picks up another starfish and returns it to the water, exclaiming, "I made a difference to that one."
Her resolve proves contagious. Others join her. And still others. And, before long, all the starfish have been saved.
For Dixon, the CEO/president of Prime Meridian Bank, the girl is a metaphor for the Boys & Girls Club of the Big Bend, which he serves as a board member.
"People in the more affluent parts of town read about the south side, shake their heads and mutter that something needs to be done," Dixon said. "They are absolutely right about that. We do have to do something, even if it's one child at a time. We need to get more people in this community to understand what Lee Wagner is doing to promote accountability and responsibility among young people. Lots of us need to pick up a starfish."
Wagner became director of the Boys & Girls Clubs of the Big Bend three years ago, succeeding Theresa Flury, a one-time public defender who guided the organization through the roughest patch in its 25-year history.
"We're working to make a positive impression on kids that will prove indelible and help them to become successful individuals," Wagner said. "Does our approach work for every child? Round-the-clock blanket attention might not work for some. But we do generate a lot of success stories, and we pray for more."
Wagner points to the subsidized Sunrise Apartments, where crime rates have dropped since the club got involved there. He notes a partnership with the Rotary Club of Tallahassee, several of whose members serve as mentors to club kids.
One mentor led a boy to confine his anger to a boxing gym. Another, an architect, is encouraging his mentee to pursue a technical career and made it possible for him to attend a STEM (Science, Technology, Engineering and Math) camp at FAMU. Wagner sings the praises of Leon County school officials who have made school-based club sites possible.
Just a few years ago, the club was on its deathbed, its future no more certain than that of its most desperate member. Liabilities, Dixon said, exceeded assets by more than $1 million.
Recalled board member Todd Sumner, an attorney, the club's board of directors so dwindled in size that it was no longer possible to form committees. The board served as a committee of the whole regarding all of its activities. Virtually overnight, the club went from 17 sites to four. (It has now rebounded to seven, three of them in Gadsden County.)
But it survived, despite contracting state funding, Sumner said, due to the dedication of a stubborn few and because it was sorely needed.
"We change lives, and we save lives," he said. "We give kids hope and opportunities that they otherwise wouldn't have, and, if we weren't there for them, there is no one else who does what we do."
Wagner is a club kid himself. He grew up in a public housing development in a single-parent household in Bristol, Virginia, located about 100 miles north of Knoxville, Tennessee.
The club there was a proving ground for Boys & Girls Clubs personnel, and Wagner encountered such formative influences as David Roark, who would become the regional vice president for the organization in the Southeast, and Gary Cain, currently the president/CEO for the Boys & Girls Clubs in Orlando.
"I have always been around good people," Wagner said, "and now I am fortunate to be surrounded by board members who are genuinely committed to serving kids."
Club programs adhere to a "Formula for Impact," which has three priorities: academic success, character and citizenship and healthy lifestyles.
"We want kids to graduate high school with the tools they need to succeed and a plan for their future," Wagner said. "They need to know the importance of voting and civic participation and the importance of proper diet and exercise."
"We need to take care of our own and consider how we best build out an infrastructure that will take care of our kids," Sumner said. "If you intend for your community to prosper, you have to invest in its youth."
"We can't escape the fact that every night, we return kids to the environments where they learned bad behaviors, sometimes as a matter of survival," Wagner conceded. "Sometimes — it seems like every day — we have to make a fresh start. But we do, and we will." 
---
When Clubs Succeed, Everyone Benefits
Florida TaxWatch conducted a study of Florida Boys & Girls Clubs in 2013 and concluded that they contribute to academic success including higher achievement on standardized tests, lower absenteeism, reduced dropout rates and improved graduation rates. TaxWatch calculated that club members are less likely to become involved in the juvenile court system and that taxpayers realize a $5,000 savings whenever a child is diverted from criminal activities.