For Ann and Jeff Vandermeer, Differences Fuel Vast Creativity
The VanderMeers are a study in stark contrast and aligning interests, which contributes to their successful relationship.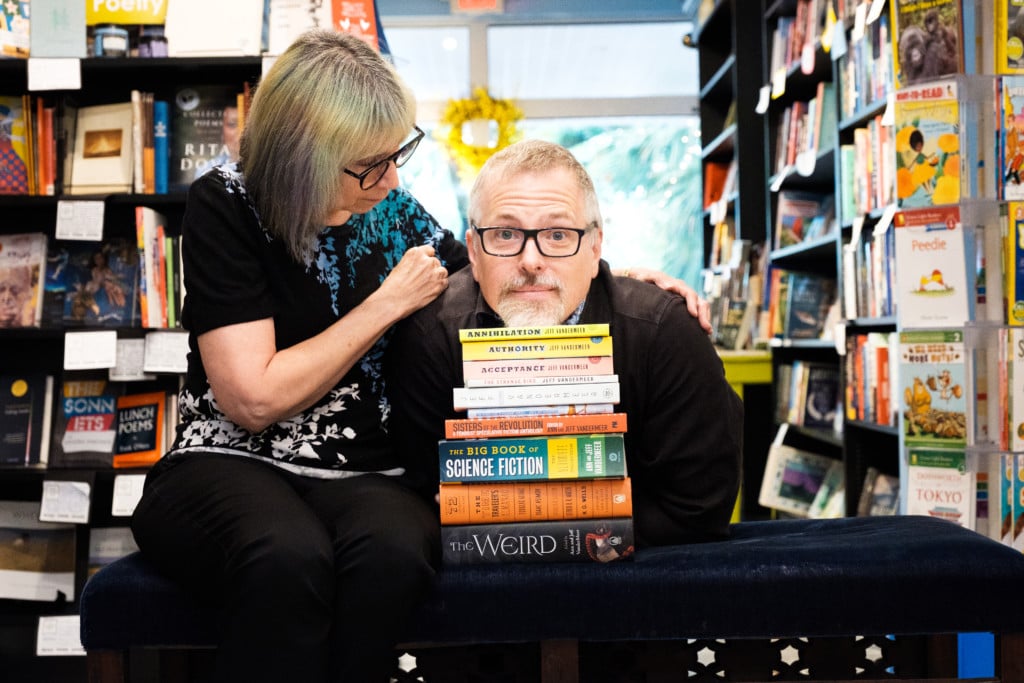 Whoa! One of those hawks has a snake."
Author Jeff VanderMeer is peering through binoculars at Mission San Luis Park in Tallahassee while his wife — Hugo Award-winning editor Ann VanderMeer — continues our interview as if nothing unusual had happened.
That is the way it goes with these two.
After living and working together this long, they finish each other's sentences and toss the thread of their stories back and forth like a beach ball.
Make no mistake: This is a team.
The VanderMeers are a study in stark contrast and aligning interests. Jeff, raised in the Fiji Islands, is more at home in nature.
Ann, a Miami native, is urban all the way.
Jeff is the writer, someone with more stories bubbling up from his psyche than he can keep up with.
Ann is the editor/publisher/executive-in-chief who writes only under threat.
Together, they have established publishing companies and online magazines and collaborated on anthologies that survey the histories of steampunk, sci-fi and (coming soon) classic fantasy.
They have been creating and collecting and, against crazy odds, publishing the stories that fascinate them for decades.
They garnered awards and critical acclaim for years, even as they labored in the underground caves of corporate consulting. Because you cannot eat an award.
Around 10 years ago, Jeff quit his day job to devote himself to writing.
It was not easy.
Ann continued her double life — software developer by day, sci-fi editor by night. They had kids to raise, bills to pay.
They believed, but they also knew that success would require hard work and focus.
As his fascination with bickering hawks demonstrates, Jeff can be, well, a tad distractible. Ann keeps him on the ball.
"I change his passwords and log him out of all social media. I also disable his Wi-Fi. I used to bring the router to my office or hide it in the house until he would call and report his productivity. Then I would tell him the hiding place."
Even with someone to keep distractions at bay — and the wolf an acceptable distance from the door — the creative life offers no guarantees.
But in 2014, the VanderMeers hit big with Annihilation, the first installment of the bestselling Southern Reach Trilogy; a film version followed in 2018.
These hard-earned successes brought financial stability and allowed Ann to finally quit that day job.
"Because I was able to take that plunge and Ann was willing to let me take that plunge, it's really satisfying now that she could retire and do whatever the hell she wants.
Even though she's still working just as hard on her projects."
It is hard to imagine either of them retiring.
They clearly love what they do.
You sense that they would do this work for almost no money, maybe because they did just that for a very long time.
Their work brought them together in the first place, and they are fortunate and grateful to do what they love to do together.
Their newfound financial stability has also allowed them to support environmental protection organizations.
Given the themes of ecological devastation in the Southern Reach books and the follow-up novel Borne, their concern with the environment comes as no surprise.
For anyone who knows them, neither does their generosity.
Ann and Jeff are keen to help other writers hone their craft, as with their participation in Shared Worlds (sharedworldscamp.com), a summer program at Wofford College in South Carolina for teen writers interested in speculative fiction.
"We know how difficult it can be for creatives, especially nowadays, and we do everything we possibly can to help," says Ann.
"When you have been as blessed as we have been, you want to make sure that you're giving back.
Here's the thing: Along the way, back in the early days, there were people that helped us along and we don't forget that. So we're always paying it forward and pulling the next generation up with us."
Literary history is abundant with famous couples like the Shelleys, the Brownings, F. Scott and Zelda.
But the VanderMeers' creative relationship shares little in common with those glamorous, and dreadfully gendered, behind-every-great-man-is-a-woman pairings.
The affection and respect these two hold for one another — in life and in letters — shines through on this sunny spring afternoon in northwest Tallahassee.
"It's not like we don't argue about some of these decisions and stuff. It's just, it's a really deep reservoir of respect, if that makes any sense," says Jeff.
"We also generally tend to be on more or less the same page. There have been very few times where we've been in disagreement about the course to take on something."
Jeff spots a third hawk in the squabble he's been tracking since he arrived. Back to the binoculars.
"Are they fighting over the snake?"
"No, I think the snake has already been digested."
Naturally, Jeff is more interested in the avian brawl than in yet another in an endless stream of interviews. As friendly as they are, they are more than content to spend their time alone together.
They are itching to hike through the park, a brief escape from the demands of literary fame.
They earned it. Jeff just turned in his next novel and is already at work on the one after that. He has notebooks full of ideas to develop.
Borne is destined for the screen. (Big or small? TBD.)
Their joint project, The Big Book of Classic Fantasy, is almost finished; the "Big Book of Modern Fantasy" looms behind that deadline.
The reward for good work is more work, and the VanderMeers do very good work.
For now, let them be just another couple with 30 years of shared history, strolling hand-in-hand into the park's interior where they will likely spot an idea that, like Borne himself, will grow into an all-consuming companion. Because they are always working, even when they are not.
If that ain't a good life, I don't know what is.