For All Who Adore Cigars
Humidors (of all sizes) spell the difference for cigar aficionados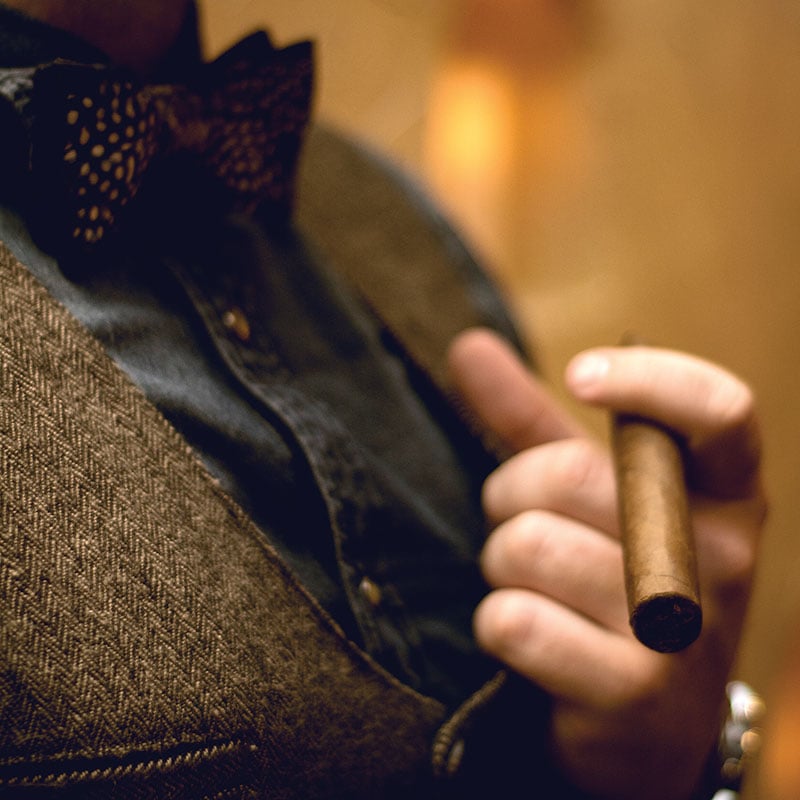 Sergio Pinon clicks an icon on his cell phone and presently smiles. All is well with the cigar humidor at The Brass Tap. A display on the small screen demonstrates that no temperature or humidity irregularities have occurred there over the last 24 hours. Too, the walk-in humidor at Fuma Cigar Social, paneled in Spanish cedar and relying on a process called reverse osmosis, is performing just fine.
Indeed, had prescribed ranges been exceeded or not met at either location — Fuma is the cigar curator for The Brass Tap — Pinon and his business partner, Kyle Coston, would have received text alerts. Such is the state-of-the-art of optimally aging cigar.
Pinon, whose parents and four sisters were born in Cuba, is a one-time artistic director for a Miami advertising agency. Coston is a Florida Panhandle native (Chipley) and a former nurse practitioner. They co-own Fuma.
"We see people here who had one bad experience with a dried out, cheap cigar at a wedding 10 years ago and now they have decided to try a cigar one more time, and when they experience one that has been well taken care of, paired with the right beer or wine, they can't believe how pleasurable the experience is," Pinon said.
Humidors spell that difference.
They come in all sizes ranging from pocket humidors that hold three or four "sticks" to the outsized closet at Fuma that contains $100,000 in leafy inventory.
Costs vary widely in large part due to the level and intricacy of the artisanship involved, but a decent humidor of a size appropriate to a moderate smoker will run about two hundred bucks, Pinon said.
"Size is the most important consideration," stressed Coston. "If you have just 10 cigars on hand at any given time, you don't need a bread box."
There are metal humidors and plastic ones. Humidors of wood, Coston said, should be lined in moisture-resistant cedar.
At Fuma — whose metropolitan aspects lead Padron-smoking patrons (or smokers of Rocky Patel or Fuente or other cigars) to believe that they have been teleported to New York City or San Francisco — members are entitled to lockers that are themselves humidors. Some members stock them on their own while others rely on Fuma staff to make selections — and then to recommend a complementary wine or beer when it comes time to light up and strike up a conversation.
"Cigars are the original social app," Pinon said. "People get together and talk while enjoying a good smoke. Cigars have been present at some of the most pivotal moments in history."
It's true. People seal a big deal … and they exhale.
Cigar aficionados
Tallahassee Magazine asked Fuma owners Sergio Pinon and Kyle Coston to name the local cigar connoisseurs who first came to their minds. Here are the three who immediately surfaced:
Lou Cross, director of business development and operations, Brookins Development
Chuck Urban, president, Tallahassee Dodge Chrysler Jeep
Ted Smith, president, Florida Automobile Dealers Association
---
Cigar Terms
Band A ring of paper wrapped around the closed end of most cigars
Draw The amount of air that gets pulled through a lighted cigar
Finish The taste that lingers after a puff
Foot The end of the cigar that you light
Head The closed end of a cigar
Shoulder The area of the cigar where the cap meets the body
Spill A strip of cedar used to light a cigar when using a candle or lighter
Tunneling The unwelcome phenomenon of having a cigar burn unevenly
---
Source: fumacigarsocial.com