For 3 Under-30 Entrepreneurs, A Dream Comes True
For 3 Under-30 Entrepreneurs, A Dream Comes True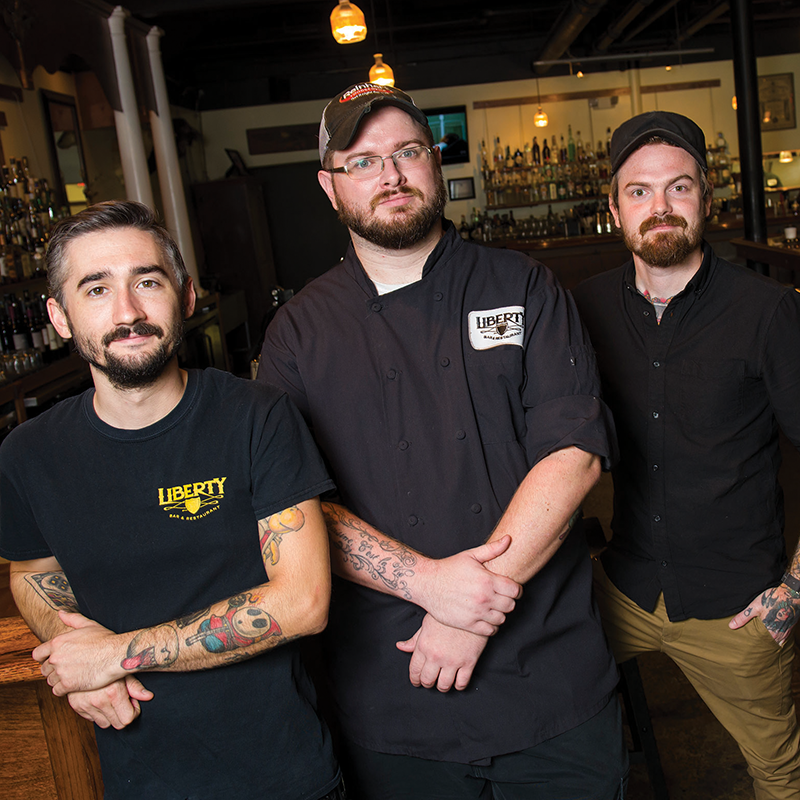 If you dressed Jesse Edmunds, Rick DeMontmollin and Tom Bacot in business suits with button-down collars and wing-tips, the success of their enterprise, the 2-year-old Liberty Bar and Restaurant might have seemed obvious. Three ambitious, educated young men with business acumen, experience and a passionate vision. What could go wrong?
Well, it's the restaurant business, so the answer is — everything. But for the three friends who each brought something special to the … uh … table, their passion was based on knowledge of what they were getting into. And by the way, the bearded and tattooed trio probably don't know what a wing-tip is.
Like all three partners, Jesse Edmunds had worked at the now defunct Mockingbird Café. But the food business was already in his blood.
"I began working in kitchens when I was 13," he says. At FSU, where he majored in business and hospitality and minored in finance and philosophy — all vital to running a restaurant— he spent study abroad time "eating his way through the Czech Republic and Switzerland" and then did a stint at North Carolina's Biltmore Hotel as a line cook. "I watched how it was done the right way," he says.
Rick DeMontmollin was equally passionate about his work, though for him it involved the nuances of creating adult beverages that were unique and beautiful to boot. "While I was attending TCC I began tending bar and I loved it — the people you get to know, the actual creativity in preparing something patrons won't drink every day."
But like Edmunds and Tom Bascot, who also tended bar at the Mockingbird, they wanted more. "We'd reached the end of any vertical growth in what we were doing and it was time to take the leap."
After more than a year of fantasies about their own restaurant and bar, the dreams evolved into sophisticated business plans and financial proposals. The menu would be farm-fresh and eclectic. They'd work on a shoe-string budget; by themselves, they would rehab a space they'd found; and they'd start with a small menu and build as the clients came. It was all a go, except for the money.
"Yeah, a lot of places turned us down for financing," says Edmunds, shaking his head. Until, that is, Aunt Eleanor came along.
"It was a great big surprise," says Rick Demontmollin. "It turns out my family has always been one of entrepreneurs. When Aunt Eleanor heard we » were having trouble getting funding, she said, 'Well, there's a trust our family has always had for its members who want to start businesses.' We worked out a professional arrangement like you would with a bank and, thanks to Aunt Eleanor, we were on our way."
Ninety-hour weeks have now turned into 60 hours for each of the trio. After building the copper-topped bar and tables themselves, laying brick veneer on the walls and hanging all the lights, there were the original recipes to create, the cocktails to conjure, not to mention the sheer acrobatics of food purchase and use, advertising and sheer survival. But with shared smiles, Edmunds and DeMontmollin admit they're feeling good.
"Our business is up 40-50 percent from last year and we think we'll do the same this. We've opened for lunch since April. What's been great is seeing the diversity of people coming," says Edmunds. "We'd named the place Liberty because we wanted it to be open to all classes of clients: professionals, legislative, college, families. And that's what's happened."
Now with its fenced front patio, a private event room and plenty of parking, the bar and restaurant has taken its place in Tallahassee as a venue for adventurous food and drink as well as old favorites. And all we can say is, "Thanks, Aunt Eleanor!" And Rick and Jesse and Tom.