Food Network's Amanda Freitag Succeeds in Cooking and Life
One part talent, two parts resolve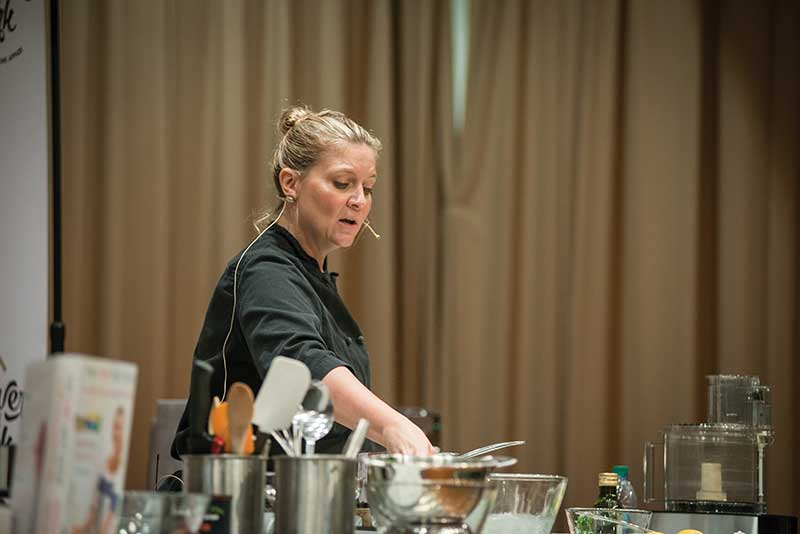 Equipped with tenacity and "mesmerized by the magic of what goes on in a good kitchen," Amanda Freitag worked her way up from star student in high-school home economics classes to celebrity chef on the Food Network.
In June 2017, Freitag was on the three-judge panel that named Tallahassee's own Chef Shacafrica Simmons a "Chopped" champion.
Simmons — once homeless and now an acclaimed caterer — outclassed three other chefs and won $10,000.
In March, Freitag was in town for Tallahassee Community College's wine-and-dine event, Cleaver and Cork, which raises funds for the TCC Foundation and its "First Class" campaign to build new classrooms.
Back home in New York City, she cooks for and supports a program called "God's Love We Deliver" that delivers millions of meals each year to homebound residents.
Ambition, resolve and humanitarianism blend in Freitag's life, which revolves around food, health and cooking but has a wider impact.
"I didn't think of myself as a role model, until now," Freitag said. "I never thought of myself as anything but a chef."
But a role model she has become. Having often been the only woman in a room full of men — from cooking school classmates to chefs on her staff — she has made a practice of shaking off disparagement and powering her way to her goals.
Freitag said young, female chefs thank her for inspiring them and for helping widen the path for women in male-dominated professions.
"They say, 'Thank you for being successful, for inspiring women and women chefs, for being a pioneer.'"
Trained at the Culinary Institute of America in Hyde Park, where she graduated in 1989, she succeeded despite resistance from male classmates and instructors.
"In the first wave, there definitely were moments of being intimidated. They put pressure on me, questioned why I was there, said I should go to secretarial school," Freitag recalled.
"In our class of 100, there were only four women. In my group, I was the only woman." Nevertheless, considering Freitag's personal wherewithal, the odds were in her favor.
Missteps are part of Freitag's story, mainly in terms of how she dealt with them. For instance, she failed a final exam when she was required to prepare a chicken dish.
"I froze. I didn't know how to cut it," Freitag recalled. "Every day after that, I got a chicken and cut it up. I can cut up a chicken now with my eyes closed."
For aspiring cooks, Freitag has plenty of advice: Get familiar with cooking techniques and understand that preparation is as vital as cooking itself. Otherwise, she said, you may still be chopping when you should be stirring, turning or adjusting the heat.
Also, viewers can learn from Freitag and other talented chefs on "Chopped," "Iron Chef" and "American Diner Revival," all programs on the Food Network.
And, you could buy her book, The Chef Next Door. Freitag said she wrote it as a mix of "the professional chef mind and the home-cook mind."
Some personal details: Freitag is single, with a longtime boyfriend. She wants a puppy but travels too much to take good care of one.
Her mother was a terrible cook. She wants to see the world. She insists on using organic and non-GMO ingredients. She likes to teach and advocates lifelong learning.
Chiefly, obviously, she loves to make good food — for customers, students and many homebound New Yorkers who may not know their delivered meal was prepared by one of America's most celebrated chefs.
You can buy Freitag's book on Amazon.