Folkstone Guitars
Lifelong guitarist becomes internationally recognized luthier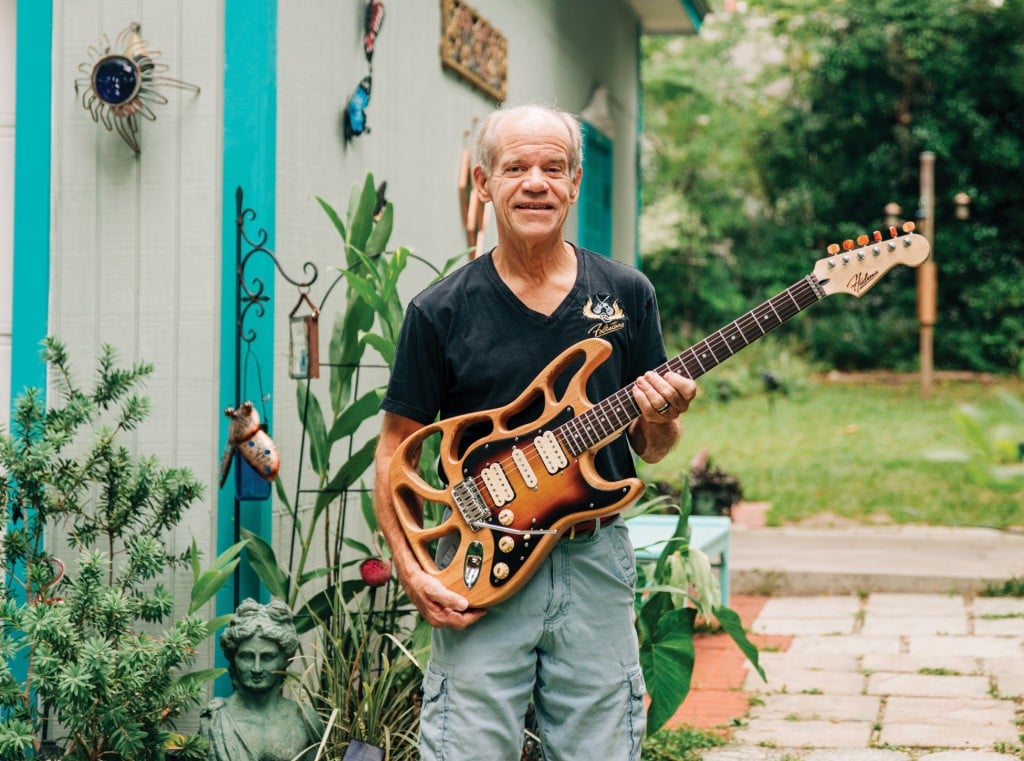 At various times in his life, Gary Hudson has delivered food, sung in bands, played guitar, given music lessons, taught Sunday school, preached as a Baptist minister, worked as a caregiver, recorded CDs, written a book and evolved into an experienced luthier.
Whatever his role at the time, his passion for the guitar has provided the soundtrack of Hudson's life.
"I love the guitar," Hudson said. "I love the sound of it. It's the most versatile instrument ever made, and it's compact — you can take it with you anywhere."
In a Northeast Tallahassee workshop, Hudson runs a business called Folkstone Guitars, where he's a skilled craftsman tackling stringed instruments, primarily acoustic, electric and bass guitars, but also cellos, violins, bass guitars and double bass.
He's worked on more than 6,000 guitars alone since he started his business in 2011. There have been cases when he's been called in an emergency when an instrument has been damaged before a concert or something goes wrong in a studio. If you're recording a song on a Friday night and your guitar starts buzzing, fret not.
"I get my tackle box and tools and go out there," Hudson said.
He breezily rattles off details about frets, necks, setups, strings, nuts, saddles, pickups — the vocabulary of a luthier. It's a centuries-old tradition, but he's up to date on modern technology.
Hudson has customers from Maine to Washington State, even Switzerland, who mail him guitars to adjust or fix. Other clients travel hours to reach his neatly organized shop.
"I'm happy I found him," Jack Graham said, a professional musician who drives from Panama City Beach to Tallahassee to bring Hudson his guitars.
"I moved to Panama City from Pittsburgh, and I was unable to find a qualified luthier," he said. "I would drive to Atlanta."
When Graham located Hudson, he brought him a couple of guitars for basic setups. "He far surpassed what I was looking for," Graham said. "He's done some more advanced work for me, and he's very meticulous and detail oriented, which is exactly what I want.
"I've had him build me two guitars," Graham said. "I just picked one up yesterday, and it's an amazing instrument. Gary's a very talented man."
Hudson has built guitars from scratch, but he now prefers customers to pick out the parts they want and puts them all together.
"If I have to do it myself, it winds up being a $3,000 or $4,000 guitar," Hudson said. "It saves the customer money if they buy the parts they want. I tell them where to get everything.
"I give them their dream guitar."
Hudson has put together 23 different Stratocaster models and a dozen different Telecaster models. "They're my favorite to build," he said.
"I have 10 guitars because I wanted 10 voices. I have one bass, three acoustic guitars and the rest are electric, and they all have a different voice. These are my personal guitars. Some I rebuilt, and others are completely overhauled."
They include a Chet Super Axe — Chet Atkins is his favorite guitar player — and a 12-string electric guitar he built as a tribute to The Beatles, his favorite band.
Hudson is so detail oriented that his third CD, called Let Guitars Sing, features pictures of all his guitars and notes which ones were used for each song. Like "Don't Be Cruel" incorporates Guitar #3 (Hudsonia Jag) and Guitar #1 (Taylor 414). The CD features all instrumental guitar music, lovingly performed with favorites like "I Heard It Thru the Grapevine" and "It's Only Love." Not a note is out of place.
Hudson's love of guitars began when he was a kid in Jacksonville.
"When I was 5 or 6, I wanted a guitar. My mom bought me one of those plastic guitars with nylon strings. On my ninth birthday, she bought me an acoustic guitar. It was probably about $35, and I had so many callouses. I thought it was going to kill me."
Hudson didn't know how to play or even how to tune the instrument.
But a boy named Casey Howell changed all that.
"We became best friends," Howell said. "My mom started taking me to a music shop in Jacksonville, then she drove me to Gary's, and I showed him what I learned on my dad's guitar. He latched right on to it."
Hudson is still grateful that his friend would let him play and borrow the 1939 Gibson Super 400 that had belonged to his dad, who had suddenly died of a heart attack at age 48.
When the teens turned 18, Howell left Jacksonville to join the U.S. Coast Guard.
Hudson kept playing and learned about fixing guitars from the tech who worked at the American Music Store in Jacksonville. He hit the jackpot because the guy was Gary Smalley, who was the road tech for the Lynyrd Skynyrd Band.
"A lot of people are reluctant or scared of working on guitars," Hudson said. "Smalley taught me there was nothing to be afraid of. He said, 'All they are is wood and wire.'"
After years of going their own way, Hudson and Howell, who now lives in North Carolina, reconnected on Facebook in 2010. They met again in Tallahassee when Hudson was living on Folkstone Road.
"I saw the neighborhood on a map and noticed that Folkstone was shaped like an acoustic guitar," said Howell. So, Hudson adapted Folkstone as the name of his luthier business, and he also began teaching now-retired Howell how to repair guitars so he could start his own company.
"Gary's bread and butter is doing refrets on guitars, and he uses stainless steel unless someone asks for nickel," Howell said. "Stainless steel frets last forever.
"Gary is really one of the most careful and caring people to work on a guitar that you'd find," Howell said.
Hudson went through several transformations before becoming a full-time luthier.
As a young man, he was largely on his own and worked odd jobs. Then he discovered religion and attended a Bible college, where he earned a bachelor's degree. For 25 years, he was a pastor at three Baptist churches and finished getting his master's.
Then, after doing more intense Bible studies, Hudson began to have issues with parts of the New Testament. He left the ministry in 2008 and published a book called Surrender to Reason to talk about his journey.
Hudson, who was married, again began piecing together a livelihood, giving guitar lessons, performing and doing odd jobs in 2009 when his friend Chuck Taylor called from Tallahassee.
"Chuck Taylor had been paralyzed since 1974," Hudson said. "He was 18, had graduated from high school, and he was riding in a car with friends when someone shot into the car. The bullet hit Taylor, and he became a quadriplegic.
"Chuck asked if I could come and help him out," Hudson said. "His wife, his only caregiver, had died, and he had no one to help him. He would have been put in a nursing home for the rest of his life."
Hudson and his wife moved to their friend's house on Folkstone Road in Killearn Lakes. Hudson cared for his friend for six years before his death in 2015.
Along with being a caregiver for Taylor, Hudson began playing at Tallahassee restaurants, including Z. Bardhi's Italian Cuisine, where he was the Friday night guitarist for four years, and Chez Pierre (now Table 23) where he played a few nights a week. In 2011, he performed 22 gigs in one month.
Then Hudson caught the flu, lost his voice and couldn't perform for a few months. He started doing more guitar repair work and, in 2013, decided to make the switch to a full-time luthier business.
When Taylor died, he left Hudson his home. He has since remarried and moved to a different street in the Northeast, but it hasn't taken long for neighbors to realize that Hudson is someone you can count on. During our interview, a woman across the street called in desperation because her husband had fallen. Hudson dashed over to lift the man.
Then he's right back to his music. In the background, Pink Floyd's Another Brick in the Wall is playing. Hudson is in his realm.
"There are enough problems in this life — disappointments, hardships, heartaches, heartbreaks, sadness," he said. "Music gets our minds off this world. It helps us to meditate. It brings joy and merriment. It gets us to dance.
"Guitars are for us," Hudson said. "Because music is what we need."
---
More Chords
For additional information about Folkstone Guitars, visit FolkstoneGuitars.com.