Flowering Cherry
Tiny tree adds splash of color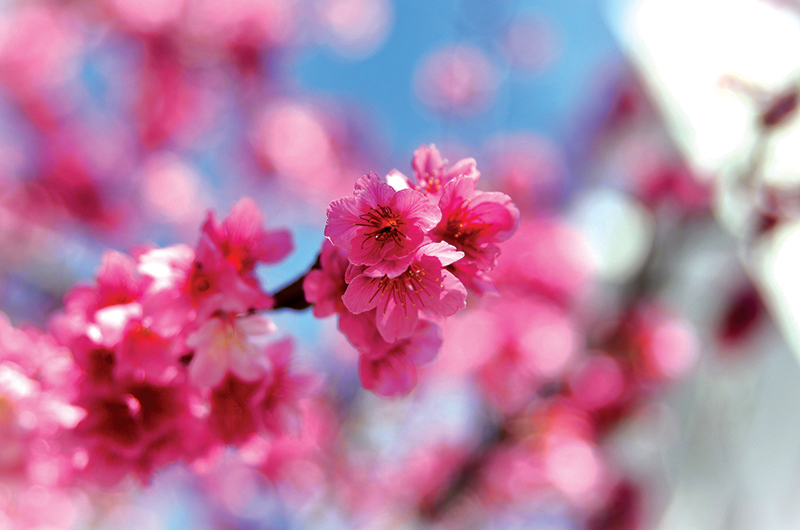 Late autumn into early winter is the ideal time to brighten any home landscape with the Taiwan Cherry. Native to southern China, the Taiwan Cherry is a relatively small flowering tree that has adapted well to the climate and environment of Northwest Florida. The well-drained acidic soils of the area are ideal for this showy flowering cherry.
A deciduous tree, it performs best in full sun but will tolerate some shade. When installing this specific cherry blossom variety, give it enough room to reach its 20-foot height and width potential.
Potted specimens are available at nurseries and garden centers. Sometimes bare-root trees are offered for sale.
When planting, dig the hole about twice the size of a potted Taiwan Cherry root ball. Backfill with ample organic material such as composted oak leaves or peat moss. Be sure to have the top of the root ball about an inch above the top of the soil level, as it will settle after planting.
For bare-root shoots, combine the same organic matter with local soil on a one-to-one basis. Leave the soil line on the trunk about an inch above the top of the soil level to account for settling.
Mid-January will produce a flush of 1-inch hot pink blooms on the leafless branches. Flowering usually lasts several weeks and sometimes results in tiny red fruit. While the fruit is inedible, at least to the human population, resident and migratory songbirds will feast on the bounty creating a lively and beautiful environment.