Florida's Lottery Cheerleader
For the head of Florida's Lottery, fun and games are Cynthia O'Connell's job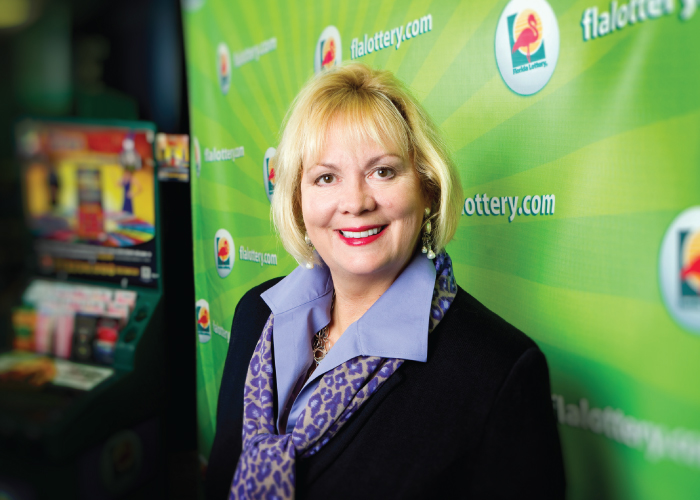 Who hasn't dreamed of that lottery ticket worth millions, and what it would mean to their life? For Florida Lottery Secretary Cynthia O'Connell, her job is the stuff that dreams are made of.
"It's demanding work, but it's a wonderful feeling to know that dreams come true for Floridians every day," said O'Connell, head of one of the nation's biggest and most successful lotteries. "There's never a dull moment, because something new is going on all the time."
O'Connell was one of Gov. Rick Scott's first appointments after he took office in January 2011. She heads a staff of some 400 employees that administers a multitude of lottery game products — there are seven major games and dozens of scratch-off games — through a network of more than 13,000 licensed retailers across the state.
ON THE MOVE
When she was appointed to head the Florida Lottery just over a year ago, Cynthia O'Connell traveled the state promoting games — and she hasn't stopped since. Photo by Scott Holstein
"The Lottery affects the lives of so many Floridians," said O'Connell. "Whether they are winners who have collected million-dollar prizes, students who are able to get a better education with the help of Lottery dollars or residents who enjoy imagining with family and friends about what they would do if they won the big jackpot, Floridians continued to show their support through record sales this past year."
On taking office, she immediately launched a 100-day plan to visit the top 25 corporate retailers both in Florida and at their corporate level nationally. She also began crisscrossing the state, seizing every opportunity to talk to and meet with Florida residents, decision-makers, media, employees, winners, players and retailers to help her stay connected to her constituency.
"It's great to make those connections," the long-time public relations and marketing expert said. "We are promoting new games every few weeks and constantly racing to stay ahead of marketing curves. Talking to people every day sparks our program."
She has rolled up an impressive record in her first year of service. Florida's $4 billion in ticket sales last year will result in approximately $1.1 billion for education, representing approximately a $12 million increase from the previous year. The state's northwest region, in particular, experienced a more than 9 percent increase in sales last year.
Colossal Powerball jackpots have made it the crown jewel of gaming. Florida's Powerball game now has the highest sales in the nation, accounting for more than 14 percent of all Powerball sales in the U.S., according to O'Connell. The latest high point for this exciting game was the January grand opening of a specially designed Powerball studio for the national drawing of winners at Florida Lottery headquarters in Tallahassee.
Because of her position, O'Connell is prohibited from actually playing the Florida games, but she says heading up the state agency for lottery games is a pretty exciting substitute. (She is allowed to play lotteries in other states and, when she travels around the country, she buys a ticket or two. "I've always liked to try my luck," she says.)
She points out that the responsibilities of the job dictated that she hit the ground running when she was appointed. Fortunately, her impressive career pedigree prepared her to do that. She brings to the job years of experience in both the public and private sectors that includes major marketing, promotion and public relations programs. "I find my background translates very well into a lot of what we do," she noted.
She also gives credit to her ability to get off to a fast start at the Lottery to her early experience in the lottery business. Back in the '80s, she was on board during the initial start-up of the Florida Lottery, spearheading efforts to implement instant and online games.
"The fiscal complexity and administrative responsibilities of the lottery are heavier and faster-paced than anything I was doing previously," she said. "But we have a great team working together, and the Lottery employees are enthusiastic, experienced and very much expert at what they are doing."
She's an optimist, and friends have teased that maybe it all goes back to her cheerleading days at Lake City High School. Capitalizing on her long and successful record in promotion and public relations, she says emphatically, "The Lottery can never stand still … new games, new incentives, new venues! It creates new excitement."
Those who know her say O'Connell has never been known to stand still either. Although Lake City is located closer geographically to the University of Florida in Gainesville, she went further afield to attend Florida State University, where she majored in communications.
"I've known her since she was the Pi Kappa Alpha 'Little Sister' at FSU," says Charlie Barnes, FSU senior vice president and executive director of Seminole Boosters. "She was a go-getter and can-do kind of person even in college, and we all knew she would always be an achiever."
After graduating from Florida State, she began her professional career as the advertising manager of First Florida Banks Inc. in Tallahassee, where she became a colleague and friend of J. Everett Drew, now president of SouthGroup Equities Inc., a private real estate and development group.
Drew says, "She loves a challenge. When the stakes are high and the obstacles are steep to accomplish something, she's the person to make it happen."
Former Gov. and Lt. Gov. Wayne Mixson echoes the praise. "She has always been bright and engaging, and she has a salesperson's drive, which is what you have to have as Lottery director," he said. Mixson played golf with both O'Connell and her late husband for years and says, "She plays to win."
It was while at First Florida she met the man who would become her husband, Stephen O'Connell, at that time the bank's president and CEO. Stephen O'Connell, whose illustrious career included terms as the sixth president of the University of Florida and Florida Supreme Court justice, was a major influence in her life and career path, but, she says, "I was not the only one whom he influenced. I was just one of many." He died in 2001.
She smiles when she says, "When I was first appointed and racing to compete in the highly competitive, ever-evolving gaming environment, for months I was practically working 24/7 with no time for an outside life. Now I'm trying to make room for a few other activities Steve and I enjoyed — like golf games and the farm where we spent so many happy years. I can't say I'm there yet, but I'm trying to ease up."
Although an FSU graduate, O'Connell became a Gator sports fan because of her late husband. "I don't just watch football on TV," she asserts. "I put on my jeans and go to the games."
And her mother often goes with her. "She calls me her escort," said O'Connell's mom, Faye Bowling Warren of Lake City. "Since Steve passed away and we are both widows, I have accompanied her to many events. We have always been very close and have a lot of fun together."
Now retired from her longtime post as assistant city manager of Lake City, Warren steps in to help her daughter "in every way I can." She looks back on a lifetime of achievement by Cynthia and her brother, Martie, a West Point graduate and a rocket scientist, and muses, "Maybe it was because they grew up in a government-oriented atmosphere, maybe they are just smart and work hard, but we turned out to be a family of achievers."
O'Connell's savvy in sales and promotion can also be attributed to her service as general manager/senior vice president of Hill & Knowlton, a global communications and marketing firm located in New York.
In 1996, she served as information manager of Olympic Athletes Village and director of the Olympic Torch Relay for the Atlanta Committee for Olympic Games. As general manager of BSMG Worldwide (now Weber Shandwick Worldwide), a leading global public relations agency, she developed two international pavilions promoting trade and tourism for the Olympic games in Nagano, Japan, and Sydney, Australia.
O'Connell recently concluded 10 years of public service as an inaugural member of the University of Florida's Board of Trustees. While in that role, she was a catalyst in helping to modernize the university's overall public image. And she is very proud she was instrumental in establishing the Stephen O'Connell reading room in the UF law library.
She also serves as chairwoman of The Florida House on Capitol Hill, the first and only state embassy in Washington, D.C. The nonprofit, nonpartisan organization provides opportunities for Florida's citizens to enrich their appreciation and knowledge of U.S. government.
For an all-consuming job, the Florida Lottery secretary's annual salary of $140,000 (with no bonuses) is at a lower end of the scale when compared to other state lottery directors.
For example, Rebecca Paul (now Hargrave), who served as the first director of both Florida's lottery in 1987 and Georgia's new games in 1993, is now president and CEO of the Tennessee Education Lottery Corporation, which began sales in January 2004. Her base pay is $350,000, but bonuses increase her total salary to $600,000 or $700,000 a year, according to news reports.
Looking toward the future, O'Connell said, "The Florida Lottery is taking a close look at everything we do, embarking on a total refresh of the lottery brand. As the Florida Lottery approaches its 25th anniversary, now is a good opportunity to take stock of where we've been, look forward to where we are heading and reflect on lessons learned."
She adds, "Our Florida Lotto product remains one of the most dominant in-state games in the country, so we need to be very careful about how we change anything. But a refresh is due and we will take this opportunity to look at everything we are doing, looking for ways to improve in every product category and every area of business.
"There are still records to be broken."