Florida Stakes The Only Unofficial "Embassy" in D.C.
Florida House Provides a Bipartisan Welcome for Travelers to the Nation's Capital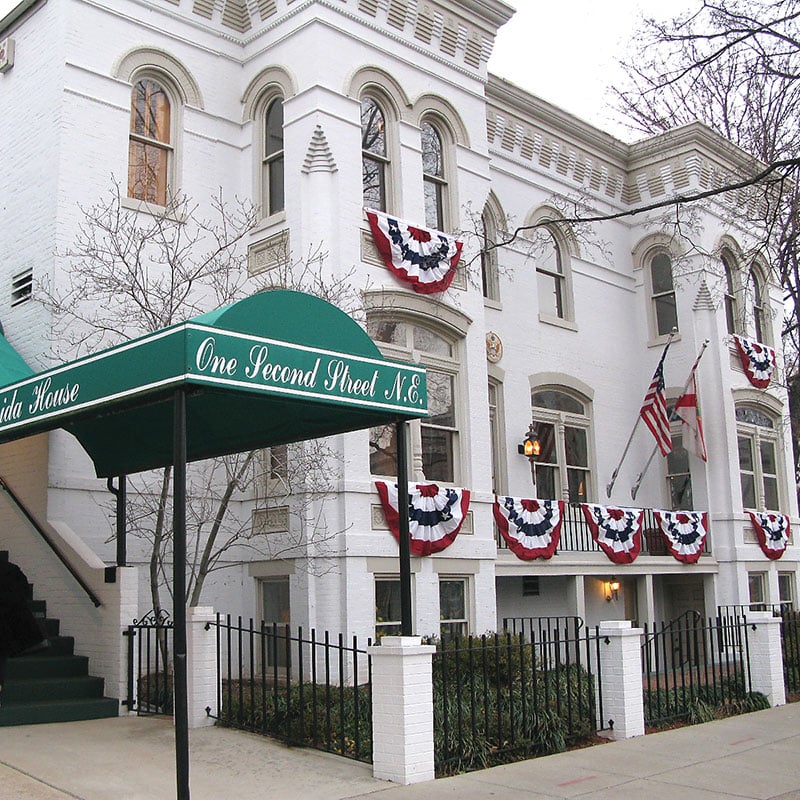 Video Courtesy of Florida House on Capitol Hill:
Story begins below…
By design or happenstance, photographer Richard Avedon's "A Portrait of Power" was the featured exhibition at the Corcoran Gallery of Art in Washington, D.C.,
in early January, a fitting backdrop for Florida's 2009 Inaugural Ball. Many of Florida's politically powerful donned tuxedos and ball gowns for the "Sunshine and Stars Gala Event" on the eve of the swearing in of President Barack Obama. The bipartisan group — including Chief Financial Officer Alex Sink, North Florida Congressman Allen Boyd and other congressmen like Cliff Stearns, John Mica and Debbie Wasserman-Schultz — honored incoming President Barack Obama.
Florida's ball was not only a celebration of the inauguration but also a joint fundraiser benefiting Florida House and the Florida State Society.
Florida House is the Sunshine State's unofficial embassy in Washington, D.C. Founded in 1973 by Rhea Chiles, former Florida Governor and Senator Lawton Chiles' wife, the historic townhouse sits next to the United States Supreme Court with a wonderful view of the Capitol.
"Florida House is unique and when people come up from Florida it is a great place to meet, socialize and do business," says Gainesville Republican Cliff Stearns.
School groups are welcome, summer interns listen to speakers and businesses can hold meetings in the Victorian home originally built in 1891. Ten thousand Floridians a year stop in to gather up tourist information lining the downstairs walls, to use the computers and phones available or maybe to just warm up or cool down in what the staff calls "a home away from home."
The day before the inauguration, the house was filled with Floridians doing just that.
"I never knew we had this but I think it's cool," says Tallahasseean Alex Magee, about her first time at Florida House. "It's a great way for me to start the day of sightseeing. I'll bring my staff here in the future during meetings in Washington. This is a great location across from the Capitol."
Florida House's mission is simple: to serve Floridians and be a leader in hospitality and graciousness. Best of all, the entire job is accomplished without any Florida taxpayer or federal dollars.
Lawton Chiles' sons, Bud and Ed, were among the hundreds celebrating and raising dollars to continue Florida House's mission. Bud Chiles tells the story of his long journey to the nation's capital as a teenager in the back seat of an old Lincoln. It was during that trip that his mother first got the idea to create this "state embassy" in D.C. Back then, many laughed at the idea. "No one is laughing now," he says. "This is a testament to my mother; her will to do it. This will always be a testament to her vision — her dreams. This home is bipartisan. It is above politics. This belongs to the people of Florida."
Did You Know?
Florida is the only state with an "embassy" in Washington, D.C. Every piece of art and furniture in the Florida House was donated by a Floridian to honor someone, in memory of someone, or in appreciation of the Florida House.