Florida Caverns State Park
Jackson County is home to a spectacle for spelunkers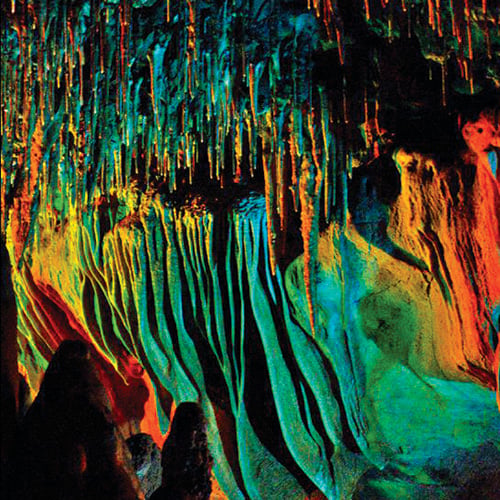 Florida Caverns State Park is located just three miles north of historic Marianna, on 1,319 pristine acres of Chipola River wilderness. The area's karst topography can be credited for the presence of the world-famous limestone caves for which the park was named. According to assistant park manager Aaron Miller, "At current count, there are 34 caves in the park. Pretty much anywhere you see a ridge in the ground, that's a cave."
With the exception of "Tour Cave," which is open to the public, the access points of all of the caves have been securely barred to protect visitors as well as the creatures that live in the caves. "Indian Cave," for example, is a bat sanctuary that houses anywhere from 400 to 800 bats at a time.
Florida Department of Environmental Protection /Krystyn Pecora
Tour Cave accommodates a few bats, some cave crickets and the occasional crawfish, mouse or snake. It is famous, however, for its beautiful calcite flowstones, stalactites, stalagmites and draperies. "Soda straws," or tiny calcite tubes, hang from the cave's ceilings, and "cave bacon," or curtains of colorful calcite, ripple down the walls. If a tourist is lucky, a dripping soda straw may give him or her a "cave kiss." But the water in the cave doesn't just bring good luck; it brings growth to the cave's formations.
"It takes 100 years for a cubic inch of one of these formations to grow," Miller says. "We ask visitors not to touch anything in Tour Cave, because the oils on people's skin prevent the minerals that drip down the sides of formations from sticking to each other, stopping the formations' growth."
A single column in Tour Cave has been set aside for the curious visitor to touch.
Most of the rooms in Tour Cave were named after the unique formations found therein ("Wedding Room" contains a "cake," for example. But the sharp-eyed cave-goer may notice other items of interest, including seashells, nautilus fossils and even a shark's tooth.
There is plenty to see above ground, too. "We have some plants that are rare to Florida here in the park," says park manager Chris Hawthorne, "and we have trillium and atamasco lilies. Botanists love to come here to look around."
Historians also have great cause to enjoy a walk through the park. In the 1930s, the Work Progress Commission built a fish hatchery that was operated for two years and a golf course that is still in play; the Civilian Conservation Corps developed Tour Cave, built the visitors' center and marked the park's boundaries with cement pillars that are still visible, today.
Whether visitors come to the park for a cave tour, to check out the flora, to experience Depression-era history or for any of a dozen other reasons, they leave with a great appreciation for all that this unique state park has to offer.
---
Hunger's Gift: The Civilian Conservation Corps
It was 1933, and the United States had been in a deep economic depression for almost four years. Half of the country's banks had failed, and a quarter of the population was unemployed. Hope was hard to come by; food was scarcer. Enter Franklin D. Roosevelt. Immediately after being sworn into office as president, FDR began to establish programs to assist the unemployed, stimulate economic recovery and reform the country's financial system. These programs were known as "The New Deal" and included a program designed specifically for young men: the "Civilian Conservation Corps," or CCC. The CCC offered its enrollees irresistible compensation for their work preserving the nation's ecological treasures. The men received a place to live, a fair income, camaraderie, educational opportunities, and, perhaps most importantly, a full belly. Thousands of boys who were too young to enlist in the program did as their fathers and uncles had done before them: They lied about their age in order to get into the army — FDR's "tree army," that is. Like many other states, Florida benefited from work done by CCC camps.