Medical Profiles: Florida Cancer Specialists
Scott Tetreault, MD; Viralkumar Bhanderi, MD; Paresh Patel, MD; Margarett Ellison, MD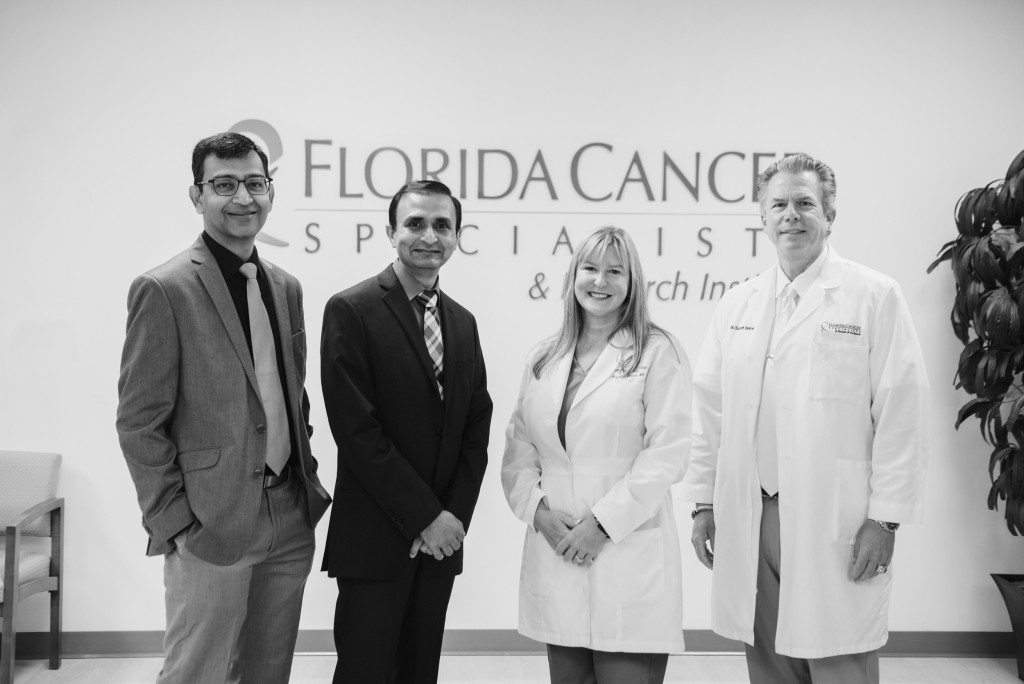 What services do you offer?
We offer full medical oncology treatment services for all cancers: chemotherapy, immunotherapy, vaccine therapy, gene therapy, targeted molecular therapy and clinical trials. We also offer the DigniCap® Scalp Cooling System treatment as an option to possibly minimize hair loss associated with chemotherapy.
How has your practice grown?
Earlier this year, we welcomed board-certified gynecologic oncologist Dr. Margarett Ellison to our practice, and we are delighted to now provide comprehensive cancer care to women, including treatment for gynecologic malignancies. Dr. Ellison is a skilled specialist with a stellar reputation for clinical excellence and compassionate care with over 20 years of experience.
How has your practice adapted to the COVID-19 pandemic?
Early on, our dedicated team of cancer experts enacted stringent procedures and safeguards, and they have continued to provide our patients with the personalized care and treatments they need, safely and with minimal disruption.
What other innovations have you introduced?
Telehealth services are now available at all our locations. In fact, we were among the first oncology practices in the state to launch telehealth. Whenever possible, patients are connecting with their physicians and other providers securely and conveniently from home. Patient feedback has been overwhelmingly positive.
What is the secret to your success?
To treat every patient like a family member.
Our entire team is passionate about clinical research that enables us to provide the most promising new treatments for our patients. We offer every FDA-approved cancer treatment option along with cutting-edge clinical trials.
What is your business philosophy?
Always put the patient first.
What accolades has your practice received?
We received the American Society of Clinical Oncology's Clinical Trials Award for our enrollment of Florida patients in clinical trials of novel cancer therapies.
What are future plans for your practice?
We will continue to grow so that our neighbors can receive exceptional cancer care close to home and near their loved ones. Our new, state-of-the-art Tallahassee Cancer Center will open in early 2021, providing even greater convenience and comfort for patients in Tallahassee and Leon County.
Florida Cancer Specialists  |  1600 Phillips Road, Suite 300  |  (850) 877-8166  |  2626 Care Drive, Suite 200  |  (850) 219-5830 Gynecologic Oncology of Tallahassee  |  2626 Care Drive, Suite 101  |  (888) 496-6621  |  FLCancer.com  |  GynoncofTally.com