Florida 4-H Turns Five Score
Planting the Seeds that Have Grown for 100 Years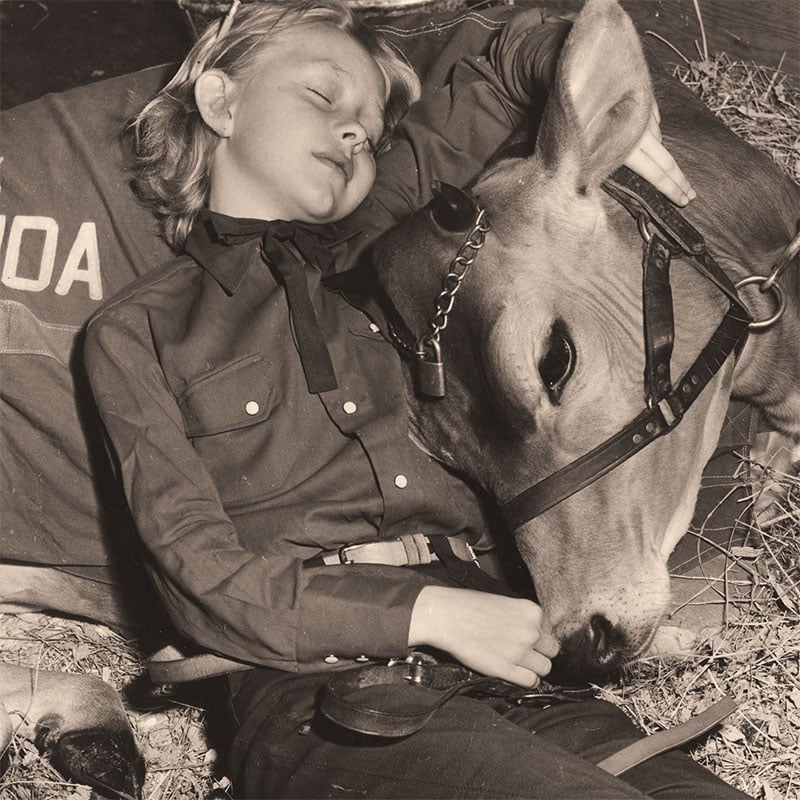 PHOTOS COURTESY 4-H
In 1909, when Florida was agrarian, a group of boys and girls in corn and tomato clubs were the roots of what would become today's 4-H clubs. Now celebrating its 100th year, Florida 4-H has changed to reflect more modern times, but the original promise is still going strong: "I pledge my head to clearer thinking, my heart to greater loyalty, my hands to larger service and my health to better living."
The state's 4-H was first established in North Florida, through the cooperation of three state universities: the University of Florida, Florida State University (known then as the Florida State College for Women) and Florida A&M University. Programs originally separated boys from girls; boys learning about agricultural projects and girls training in home economics.
Tallahassean Uceba Babson, 95, was president of her community's 4-H club in the 1920s in Florida's Everglades. She recalls growing and picking her own crop of beans along with other girls, then canning the three crates' worth by hand and shipping them to West Palm Beach, earning $42. The group's main purpose, however, was and still is to create a better environment for today's youth in the community by working together.
"There is no one that can't be helped in some way or another and, by a kind word or loving encouragement, (young people) can do something that can really come out great," Babson says. Today, 4-H has broadened its scope to offer activities from rocketry and environmental education to theater arts and fashion design in every county in Florida. 
Florida 4-H has presented young people with vast opportunities throughout the past 100 years. Because of 4-H, Babson was able to meet President Herbert Hoover, travel to Chicago at age 14 and develop the determination that led her to earn her GED at age 90. She is grateful for the experiences.
"It was just wonderful," says Babson. "The people that I met and the places I went and the honors I got for being in 4H — you just can't beat that."
Mark your calendars, Leon County's 4-H is holding an open house to celebrate the momentous anniversary on July 29 at the UF/IFAS Leon County Extension Center at 615 Paul Russell Road from 5–8 p.m. "It will be a reunion-type event with displays of old scrapbooks, awards and 4-H paraphernalia, plus exhibits from the current Leon County 4-H program," says local 4H agent Tracy Tesdall. Friends and alumni from throughout the state who now live in the area are welcome to attend.
The 4-H philosophy places much emphasis on providing recognition for young people "as a tool to motivate self-improvement, by providing satisfaction and a feeling of accomplishment." The 4-H National Recognition Model offers five overlapping paths to recognition: educational experiences, peer competitions, group cooperation, achieving self-set goals and achieving standards of excellence.
Local 16-year-old Nikki Futch, who took first place at the 2008 Florida 4-H Horticulture Identification Contest, was recognized nationally in October when she represented the state at the National Junior Horticulture Association convention in Spartanburg, S.C.  
"I think the 4-H instills in you something as a young person that stays with you: to do the very best you can and to help people," says Babson. And although it may be hard to envision Florida 4-H's humble beginnings, created in a world with limited resources and little technology, the moral values first presented by the club a century ago still have a place in today's culture. 4-H reminds us there is a unique place for each person in a community to specialize and excel in, while still uniting us in our differences and appreciating each individual for his or her strengths.