Flamenco, Fado and Fighting Bulls
Iberian Fancies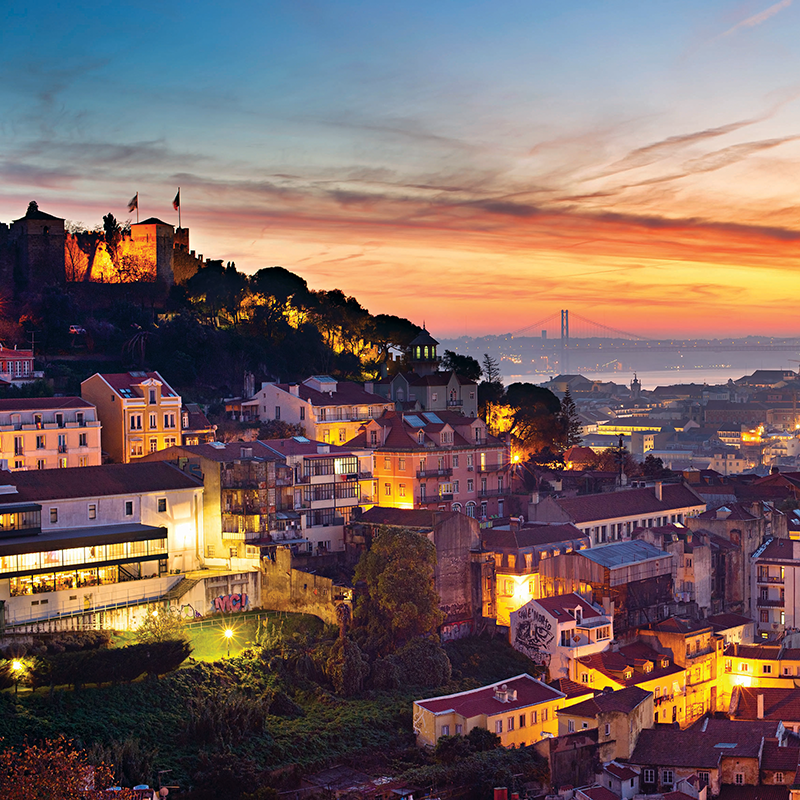 Castles in Spain, Portuguese lace, we all have ideas about what makes a place. While not the same for everyone, the drama that is Iberia is not to be denied.
Portugal. Alfama. 11 a.m. Fado.
I can't resist pulling an orange from the tree in our whitewashed courtyard. Then, though I'm in a hurry, I stop to gaze out over the rooftops of Lisbon.
Red roofs, turquoise, ochre and sienna-colored houses crazy-quilt down the steep lanes of Alfama. My neighborhood — the only part of Lisbon not destroyed in a 1755 cataclysmic quake — is situated on the highest hill of Portugal's capital. Cast in a chiaroscuro of shoulder-wide lanes and blinding sunlight, Alfama is like an insistent suitor, arresting me in mid-sentence with its beauty and singing a beautiful and melancholy fado throughout the day.
But I'm hungry now, and restaurant-bound, am eager to trudge up, then down, one of Alfama's nearly vertical becos, those Lilliputian alleys paved in tiny squares of polished stone that have, I've noticed, left a good percentage of locals wearing splints and walking with canes.
Yet, the passageways are bustling in Alfama. Tourists stop to snap photos of four-story buildings clad in glistening porcelain tiles. They wave lacy fans back and forth as if the breeze from the massive Tagus River below can't do the job. And they marvel at the medieval Sao Jorge Castle that tops Alfama like a stony, gray cherry.
For my part, I make my way down the hill to the outdoor café beside the sheltering Se Cathedral where I can luxuriate in my now daily fix of cod. Yes, the fish. COD. "Bacalao a bras," the humble Portuguese dish that sends Lisbon natives into ecstasy when done well. Shredded potatoes, crumbled cod and an egg. And maybe an appetizer of chilled octopus ahead of time since seafood is a staple in Portugal. A shady lunch and a glass of wine will give me time to contemplate this place called Iberia, the huge peninsula of Spain, Portugal and a bite of France, that extends into the Atlantic like a handshake toward the West.
Spain greedily makes up the bulk of Iberia's mass while Portugal seems to slink down much of its western coast. Convenient for ancient invaders, the peninsula's formidable coastline became an entry point for waves of takeovers. From prehistoric cave-dwellers through Phoenicians, Greeks, Romans, Vandals and Visigoths, it was the Arab Kingdoms that ended up ruling Iberia for nearly 700 years of breathtaking advances. Visual arts, literature, mathematics, science, architecture, the Moorish dynasties were, some think, the apogee of Iberian culture. But in 1492 all that came to a halt. Not only was Columbus making headlines, but in the reconquest, the same generous queen who had bankrolled the explorer was casting out Jews and Arabs in a kind of holocaust of forced Christianity. What Isabella couldn't pry loose from the people of the peninsula were the centuries of Moorish influence. Though mosques became churches and Arabic was no longer spoken, music, dance and a North African aesthetic wouldn't go away.
As I chew my cod — yes, jokes have been made — and sip the slightly fizzy, refreshingly young "vinho verde," I think with gratitude of the conquistadors of Iberia's Moors. In Seville, they topped the minaret of the megalithic mosque with a sublime bell tower and called it a cathedral; they turned the Alhambra, Granada's Sultan's palace, into the residence of a Christian king; and in Cordoba, they simply added altars in the form of tons of pilfered New World gold to turn the most exquisite mosque in the Western World, the Mesquitza, into a church. Even if religiously opposed, they recognized Arabic beauty on a grand scale and left it alone.
The air has grown chilly by nightfall, and though it is before 9, I can already hear the strains of "fado" rising from the residential fjords of Alfama. With arms propped on a window sill, an old woman looks down at me and waves. Her shoulders are moving ever so slightly to the music. Given an extra hundred years, she could have been one of the first to sing the sad, sweet rhythms of fado — "fate" — which arose among fishermen of the 1800s, the women they left at home, and the poor who struggled with "the way things are."
In a restaurant, where most fado is sung, a young man, Pedro d'AlMeida, who says he gave up an operatic future to return to Alfama and devote his life to this sorrowful form of song, walks among the tables, opens his palms, and makes even those of us who understand not a word, want to weep. The 12-stringed Portuguese guitar seems to cry as well as the strains of fado drift across the city toward morning and Alfama settles into its past.
Spain. Granada. 10 p.m. Flamenco.
The Prado museum and art gallery (Museo del Prado) in Madrid.
My head had ached and my feet tantrumed in Madrid. The glorious Prado museum with its Goyas and Riberas, the almost-as-good Museo Thyssen-Bornemisza, filled with many of Impressionism's greatest minor works, involved hours of walking — most of it plunging through crowds thick with Spaniards intent on their 24/7 tapas-crawls. What was needed to clear my head were a few good evenings of flamenco. But I would wait for Seville, Granada, and Cordoba, the southerly cities where the influence of the Roma would be more authentic. Thankfully, the Roma gitanos — gypsies — who gave birth to modern flamenco dance, still perform in Sacramonte in the streets and caves above Granada.
It is nearing 10 p.m. Granada, like the rest of Spain, is awakening as the rest of the world readies for bed. In a narrow, white-washed tube of a room, dug into the rocky soil of Sacramonte, the walls are hung with fading photos, brass plates, religious icons and candelabra. Visitors are backed along the walls, away from the rough dance floor. It is hot and claustrophobic, but the air is electric as, at one end, a guitarist, two singers and three dancers enter and silently perch on straight-back chairs. No one speaks until, with eyes closed, one man begins to clap his hands. The guitar responds to the rhythm and embellishes it. Then the others accentuate the rhythm with their palmas, clapping to counter-beats and ones unheard.
As if conjured, one of the women stands and begins to move her wrists. They are like wings, or swans' necks, or a flower unfurling. She is graceful, wearing a manton or shawl that sweeps to her knees. Languorous or staccato, her movements take on an urgency that is broken only when her heels have stabbed powerful tattoos in the wooden floor and she at last seems emptied of emotion. This is flamenco. This is its soul — duende. The singing that wrenches the heart; the rhythms swept from India and Africa, then to be ritualized in 16th century Spain. This is flamenco, a concoction of intoxicating passion and powerful grit that like it or not, will have its way with you, in the last century or this.
The Hemingway Effect:
There was only one thing left to do before returning home, before the controversial spectacles vanish forever.
Long ago, I had seen a Portuguese bullfight and now planned to attend one in Spain. I wanted to know if the experiences would be as vividly exciting as they'd seemed many years before. And wondered too, on which side of the "bull wars" and "fight bans" I would fall.
My early corridas had been colored by the Hemingway effect. Those bullfights in Spain, France and Mexico were steeped in the author's romantic tales and, yes, Ava Gardner's front-page fling with a leading torero. I'd read "Death in the Afternoon" three times. Besides, bullfights are Spain, right? The quintessential cultural hallmark of Spanish bravado and drama. Life. Death. Pageantry pairing a satin suit and a machismo bull.
The first of my two fights was held in Portugal's elegant Campo Pequeno, a Victorian ring that can hold 9,000. Announcing the fight like a boxing ring girl, a gilded coach with a team of four white horses and an equipage directly from the 16th century arced in courtly circles around the arena. Unlike Spanish contests, in Portugal, the bull is not killed in the ring. Instead, it bursts from a dark tunnel into an immense sandy circle where it will, for the first time, see men on foot. The fight involves a mounted torero placing long, barbed banderillos as he charges his horse toward the bull. Tonight's bulls looked annoyed but unharmed. The second and final part of the Portuguese fight involved eight unquestionably brave men standing in single-file facing the bull. Provoked to charge them, the first man is hit full in the chest by the bull's head as he grabs the animal's horns and his feet shoot sky-high. The other men then attempt to wrestle the bull to a standstill.
And then it is over. The perplexed bull is escorted from the ring by a small herd of bell-ringing oxen and each goes back to his stall, or more likely to the butcher.
Spain. Madrid. 8 p.m. Fighting Bulls.
The Madrid corrida is something else. Built in 1931, Madrid's Las Ventas Plaza de Toros has featured the world's most famous matadors — Molino, Belmonte, Manolete — idols whose pictures appear in Madrid restaurants alongside some of the mounted heads of the famous bulls they dispatched.
The corrida is packed. It is the last event of the season, and hundreds of students from a bull-fighting school keep up an excited chant. Cigar-smoking men and delicate ladies sit shoulder to shoulder on bleacher seats below the "King's box," a kind of Arabian balcony where King Juan Carlos sits when he attends. His wife, Sofia, doesn't approve of bullfights and doesn't come.
And then with trumpeted fanfare that sends romantic tingles down the spine, it begins. As in Portugal, all the bulls act surprised when they gallop into the ring. They seem more like frisky dogs let out of a kennel. But too soon, for them, the fun is over.
There is no doubt we are watching artistry as the matador turns his cape this way and that, the bull following as if it might be a game. And doubtless, there is bravery in stepping into a ring with a 900-1,300 pound animal bred to kill and gore. But this time I see how the bull quickly becomes exhausted. How he is uncertain and confused. And how the odds are impossibly stacked against him as his battered neck muscles refuse to hold his head high and in so doing, after 20 minutes of flailing at a magenta cape, permit the matador to easily dispatch the great bull with his sword.
I won't go back. I wept for the bull. But a certain nostalgia will remain. Not for the killing of an unsuspecting animal, but for all the iconic practices of ancient cultures that are too often replaced by the bland societal currencies of today. One cannot condone Chinese foot binding nor the neck stretching of Thai hill people, nor the ritual scarring of African tribes. But such odd and bizarre practices, added to the thousands of world languages, hundreds of religious beliefs, and millions of ways to make a good stew gave a uniqueness to the peoples of the planet that in our time teeters on becoming a thin, beige porridge.
Fado, flamenco and fighting bulls. For now, on the Iberian Peninsula, the first two are alive and well. And maybe soon, big black bulls will be too.