Fish Art That's Impressive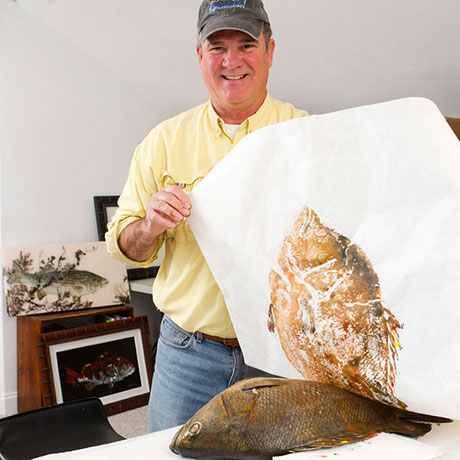 Fred Fisher's freezer is full of fish cut in half longways. The local artist and avid fisherman saves one half of every catch for food; he uses the other half to create a Japanese-inspired art called Gyotaku.
Gyotaku (gyo "fish" and taku "impression") began in 18th-century Tokyo fish markets. Artists would paint the scales of fish and then rub it on a canvas to advertise their catch. Fisher has become the premier practitioner of "fish rubbing" in Northwest Florida.
Fisher uses vibrant acrylic paints and creates specialty "seascapes," fish impressions flanked by native plants.
"That's my niche, mixed mediums," he said. "The effect is very three-dimensional."
Fisher transitioned from contractor to full-time artist 10 years ago. "I had an art degree from FSU, but I didn't use it," he said.
Then, inspired by a friend's art class project, Fisher gave Gyotaku a try.
"I'm a fishing nut, so I started my own collection," Fisher said. "One day, somebody offered me money for a piece. We were able to slowly phase out contracting and focus on art." Now, he and his wife tackle 30 art shows a year, from Texas to Key West.
Fisher hopes to expand his business farther north and west, but you can find his art locally at 1020 Art and The Front Porch in Midtown, as well as Market Days. April 19–20, his work will be shown at the 14th annual LeMoyne Chain of Parks Art Festival. Held in the historic parks along Park Avenue in downtown, the event is free and runs from 10 a.m. to 5 p.m. each day.
"There's always something new," Fisher said about the art form that has become his livelihood. "There's so many bigger fish I want to do, new techniques I want to try. It never ends."