Milk Can Dinner is an Easy Outdoor Feast
Canned food, yes, but it's not what you think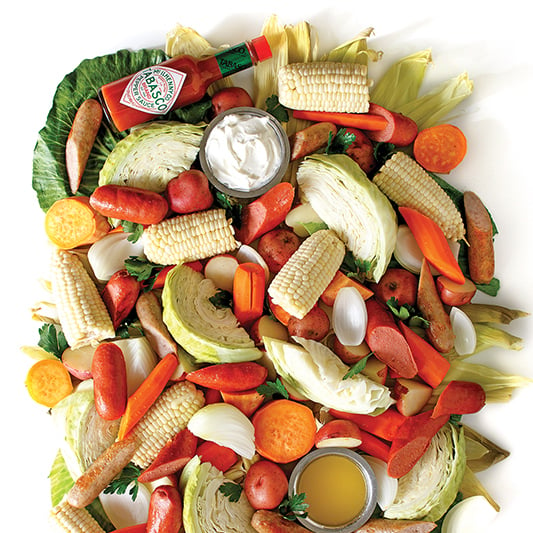 You've seen milk cans in people's gardens; they're decorative and vintage and very "country." Not that long ago, they were also quite useful. As the name suggests, dairy farmers used them to transport milk from the farm to other locations. So what's a poor milk can to do, now that small-scale dairies aren't around as much as they used to be? Why, cook dinner, of course!
But exactly how much milk-can dinner can a milk can can? Well, a 10-gallon can will feed 25–30 people; a 5-gallon can will feed 12–15.
In our family, we need a 10-gallon can. Plus some side dishes to round things out.
---
10-Gallon Milk Can Dinner
Serves 25–30
Ingredients:
20 ears sweet corn, shucked and broken in half (reserve a few husks for lining the bottom of the can)

25 medium-small red potatoes, scrubbed and unpeeled

8 sweet potatoes, peeled and cut in thirds — optional

3 pounds carrots, peeled and halved (don't use baby carrots)

5 medium onions, peeled and quartered — optional

4 heads green cabbage, cored and quartered

40-50 Polish or German sausages, or Bratwurst (brown ahead to bring out the flavor; you can also use bacon, pre-cooked ham or browned pork roast)

Water and chicken broth to equal about 4 quarts

Salt and pepper
Other optional vegetables include:
6–8 red and/or green bell peppers, halved

2 heads cauliflower, cored and quartered

A few cloves of garlic, whole and peeled
Fire Preparation:
Dig a shallow pit, 8 inches deep by 20 inches square. Place two cinderblocks, which will support the milk can, on either side of the pit. Build a steady (not roaring) fire between the two blocks. As the wood burns down, continue to add kindling little by little to maintain an even temperature while cooking.
Milk Can Preparation:
Make sure the milk can is clean, unpainted and rust-free. Wash the milk can thoroughly with dish soap, then rinse well. Remember to wash the lid!
Filling the Milk Can:
Place a thin layer of cornhusks on the bottom of the can to insulate the food from the fire. (You can also put cabbage leaves from an extra cabbage on the bottom. They may burn, but they will protect the rest of the vegetables.) Add water to the milk can to equal 1 inch in the bottom of the can. (Pre-measure the liquid needed before adding the vegetables. You will pour the same amount of chicken broth over the top of the vegetables, after you've added them.) Place the red potatoes in the can over the cornhusks. Then add layers of carrots, onions, sweet potatoes, corn, cabbage and, finally, sausages. If necessary, stuff the sausages in last and place a testing red potato on top of them. Salt and pepper as you layer, or let guests season their own food. Add the chicken broth.
CAUTION: If your milk can has a lid, place it on at a slant, not tightly, to allow steam to escape. A tight lid will cause steam to build up, which can lead to a pressurized volcano of food.
Cooking Time: Place the filled milk can on the cement blocks above the fire. After about 45 minutes, the can should begin to steam. An hour from that point, the food should be done. Add more wood to the fire as needed. If the can stops steaming, add more water.
Serving: Pour off the liquid before emptying the can into large serving containers. Concrete-mixing tubs, available at hardware stores, and foil-lined wheelbarrows are perfect serving dishes for this fun, outdoor dinner. Optional toppings include butter, sour cream, salt and pepper, ketchup, hot sauce and shredded cheese. Perfect side dishes to accompany this meal include baked beans, coleslaw, rolls with honey butter and homemade root beer (also made in a milk can).