Finnegan's Wake Performer Receives Florida Folk Heritage Award
Pub regular and master fiddler Jane Wells Scott steps in the spotlight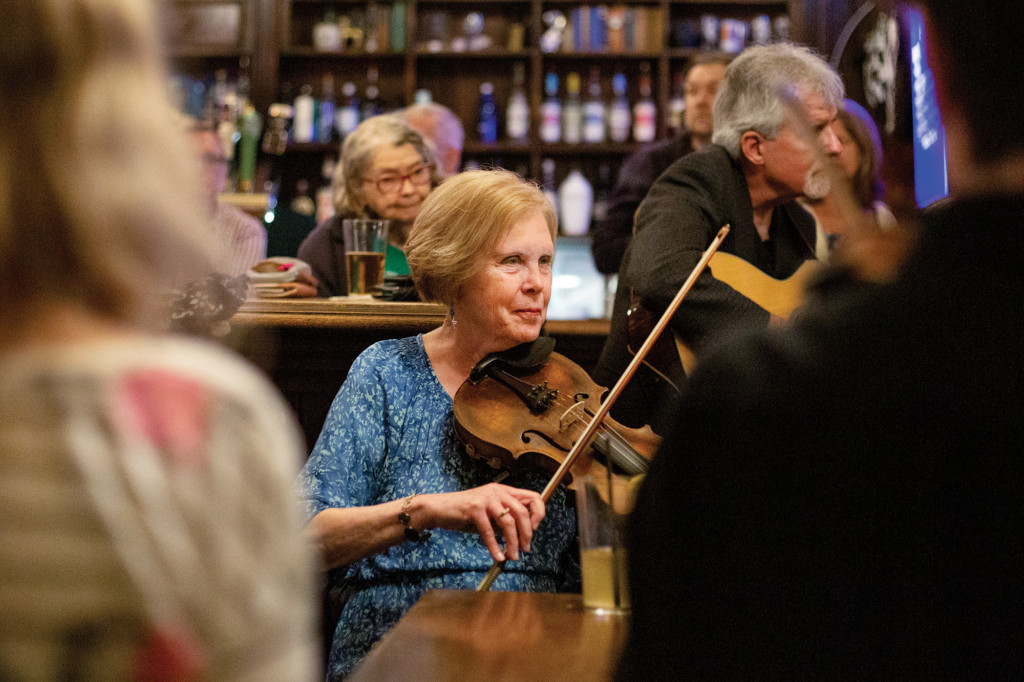 The dozen or so musicians playing Irish music at Finnegan's Wake on a recent Sunday evening are a regular feature at the pub every fourth Sunday — foremost among them Jane Wells Scott, master fiddler and recognized Florida folk artist.
Scott, who with husband Gordon has been cohosting such sessions for nearly three decades, is credited with helping seed and sustain Tallahassee's dynamic Irish and traditional folk music scene, one reason she was named a Florida Folk Heritage Award recipient in January.
"Oh man, I was overwhelmed and elated," Scott said of the honor.
The award, says State Folklorist Amanda Hardeman Griffis, is one the Florida Department of State presents annually to standout folk artists who make longstanding contributions to the state's folklife and cultural traditions. Scott became the first female fiddler so recognized since the program's 1985 inception.
"Students and peers alike regard Scott as a valuable resource and an important community fixture," Griffis said. "Her work elegantly reflects the rich quality of Florida's folk music heritage."
The award potentially puts Scott in line for national recognition. Griffis called state recognition a "stepping stone" and said winners have gone on to win National Endowment for the Arts fellowships.
Gregory Hansen, professor of folklore and English at Arkansas State University, nominated Scott for the honor. He puts her in the tradition of great Florida fiddlers.
"Florida has a history of excellent fiddle playing since the 19th century," Hansen wrote in an email to Tallahassee Magazine. "Areas like Jacksonville were known as fiddling hotbeds by the 1920s. Thinking about contemporary fiddlers who deserved honoring, Jane came to mind immediately, based on her musicianship and great contributions to preserve old-time and Irish fiddling in Florida."
Those contributions, he said, included compiling an Irish tunebook, mentoring innumerable musicians and energizing the local music scene. Not to mention writing original children's songs and Irish-style tunes.
Classically trained on piano, violin and voice, the Florida-born, Alabama-raised Scott took up fiddling in 1984 "as a hobby to fill the empty nest." Not one to do things half measure, she immersed herself in the experience.
As for her Irish music love, it comes naturally of her roots.
"When I was a child my mother always talked about Ireland and being Irish," said Scott, who has Irish ancestors on both parents' sides.
It was hearing Mick Moloney and James Kelly playing Irish music at the 1987 Florida Folk Festival, however, that sealed it for her.
"I was mesmerized," Scott said. "I thought this is music I've got to play."
She availed herself of every opportunity to excel at it — including a yearlong apprenticeship with master fiddler Edward Keeney, from whom she learned the Donegal fiddling style. She also attended a weeklong music school in Ireland, traveled to Nova Scotia to explore the region's unique fiddle style and performed at innumerable gigs across northern Florida.
Not satisfied simply to receive, Scott gave as well, teaching music in Leon County's public schools for 24 years and leading the FSU Irish Ensemble for seven.
In teaching as in playing, Scott went the extra mile, says guitarist Fred Slade.
"She once produced an album of original songs about Florida titled 'Remember the Rivers' that she had her students perform at the Florida Folk Festival," Slade said. "That was quite a feat."
Her grace, thoughtfulness and generosity are generally acknowledged, as is her modesty, musical versatility and vast reservoir of tunes.
"We use her as a reference," said fiddler Aisha Ivey, who teaches old-time and Scottish music at Florida State University. "She has an amazing memory, with seemingly millions of tunes in her head. She also plays a variety of styles, which is unusual — bluegrass, old time, Irish, Scottish, Cape Breton, as well as plays numerous instruments."
Not one to rest on her laurels, Scott continues teaching, now at Gordon's String Music, and performing at various venues around town.
Meanwhile, back at Finnegan's on that recent Sunday evening, Scott's in her element, absorbed in her fiddle playing — helping transport listeners a wee bit to an Emerald Isle frame of mind.
More about the award
The Florida Department of State accepts nominations in the category of folk artist or folklife advocate.