Find New Deal-Era Murals in the Old Tallahassee Post Office Building
Indians! in the Post Office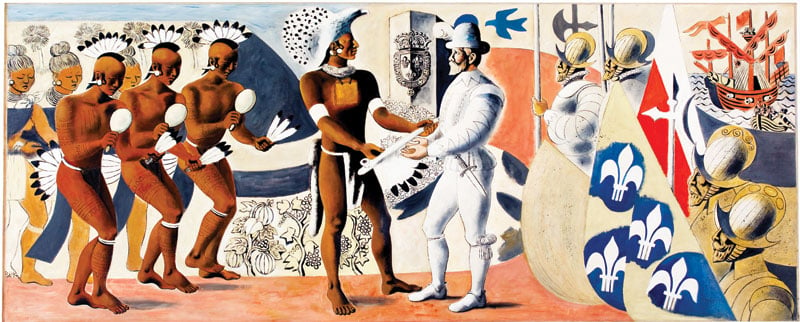 More than 1,500 post offices nationwide have on their walls, usually above the postmaster's office door, an enormous fine art mural depicting scenes of the history of the town or the state where it is located. Tallahassee's post office has moved, but a set of murals has remained on the site, which now houses the federal Bankruptcy Court. They were created by a winner of a national art competition created in 1934 under the Treasury Department's Section of Painting and Sculpture.
The story goes like this: In the words of Dallan Wordekemper, the Federal Preservation Officer for United States Postal Service, and caretaker of this art; "President Franklin D. Roosevelt's New Deal sponsored several art programs to help get people back to work and restore confidence in a nation facing 25 percent unemployment in 1933. Unlike the Works Progress Administration/Federal Art Project, with which it often is confused, this [Post Office art] program was not directed toward providing economic relief. Instead, the art placed in Post Offices was intended to help boost the morale of people suffering the effects of the Great Depression."
On March 17, 1941, Roosevelt stood on the steps of the National Gallery of Art in Washington, D.C., and spoke with pride of the fulfillment of his plan to fill these federal buildings with art by American artists, saying:
"There was a time when the people of this country would not have thought that the inheritance of art belonged to them or that they had responsibilities to guard it. A few generations ago, the people of this country were often taught by their writers and by their critics and by their teachers to believe that art was something foreign to America and to themselves — something imported from another continent, something from an age which was not theirs — something they had no part in, save to go to see it in some guarded room on holidays or Sundays. But recently, within the last few years — yes, in our lifetime — they have discovered that they have a part. They have seen in their own towns, in their own villages, in schoolhouses, in post offices, in the back rooms of shops and stores, pictures painted by their sons, their neighbors — people they have known and lived beside and talked to. They have seen, across these last few years, rooms full of painting and sculpture by Americans, walls covered with painting by Americans."
"Artists competed anonymously in national and regional contests," Wordekemper said. "After receiving a commission, an artist was encouraged to consult with the postmaster and other townspeople to ensure that the subject would be meaningful. More than 1,000 post offices across the continental United States continued to house this uniquely American art for people to enjoy as they go about their daily lives. Today, the murals and sculpture form a vital part of America's national heritage. Recognizing the importance of this collection, the United States Postal Service is making every effort to preserve and safeguard it for future generations. Also, to maintain the spirit of the section in placing artwork in Post Offices, postal policy provides for the relocation of these works into the new facility when a post office moves so the art can continue to enrich people during the normal course of their daily lives."
This is how the Old Tallahassee Post Office, built in 1936, became today's Bankruptcy Courthouse adorned with fine art murals. According to Florida Memory, the location was originally the site of the first courthouse (1838–79), then the Leon Hotel (1883–1885), then a second Leon Hotel built in 1885 which burned in 1925, and later, a new post office and federal building beginning in 1935. It served as the main post office until the 1970s. In 1979, the courthouse was listed in the National Register of Historic Places as part of the Park Avenue Historic District and is now occupied by the U.S. Bankruptcy Court of the Northern District of Florida. The "Old Post Office" was transferred from the Postal Service to General Services Administration (GSA) in 1988. Eight murals were transferred as well and became part of the Bankruptcy Court interior.
Standing frozen in time, post office murals hold on their surfaces visual autobiographic essays of how America saw itself, considered its minorities and presented its heroes as it moved from a rural to an industrialized society. They represent artistic styles unique to those years by artists, many trained in Europe, who utilized the post office walls to prove their proficiency, some not concerned with historical accuracy. This confluence of the powerful local opinion of the townspeople, and the personal biases and varied historic knowledge of the artists, created uniquely American statements of overlapping artistic and public expression.
Many were about confrontations with the original Americans, the American Indians, becoming the visual foundations for the stereotypical "fierce and violent savage." Some represented myths and legends about American Indians, perpetuating a gap that remains today, between who these original owners of the American landscape were, and what we would like to imagine they were. Some were created by American Indians themselves, reflecting their actual everyday lives. These are mostly located in Oklahoma post offices where much of the Southeastern tribal people were forced to relocate according to Andrew Jackson's Removal Act of 1830.
The series in Tallahassee was created by Eduard (Buk) Ulreich in 1939 and is titled "The History of Florida." Ulreich was born in Austria in 1889 and moved with his family to New York as a child. He studied at the Kansas City Art Institute and the Pennsylvania Academy of Fine Arts. Compared to many other muralists choosing Indians as subjects, Ulreich did his research homework but could not help but add his personal flourish of whimsy, abstraction and romance to Florida's history.
Here's a description of three of Ulreich's murals:
"Bimini Island," also referred to as "Aborigine," is chock-full of the artist's concept of details of the lives of the orginal, pre-contact Southeastern people, even those not living in today's Florida. Ulreich correctly indicates at the left that traders in canoes and rafts from offshore islands may have had a thriving commerce with peoples at lands wherever the currents would take them. A merchant, perhaps, bearing fish, approachs a Mississippian-era warrior moving in from the right, who is "labeled" by the illustration of a round object which is in fact an actual whelk-shell gorget created AD 1250–1350 by the inhabitants of Castalian Springs, Sumner County, Tennessee. The object would have been worn as a necklace pendant as is shown, by Mississippian cultures in the Southeast.
Between them, is the cacique (chief) whom the artist fancies as a seated Roman emperor, complete with cape, but holding an authentically shaped warrior's mace, one identical to that in the actual gorget, and what appears to be an important bag, possibly filled with conch pearls. Columbus' greed for gold and pearls became a driving force for his intrusion into the Arawakan-speaking islands, which was followed by slavery, disease and genocide, though the Taino lineage still endures through inter-marriage with Africans and Europeans. Columbus' fellow opportunist, Juan Ponce de Leon, headed toward Bimini Island where a fountain of eternal youth was said to be found. He instead bumped into what he named La Florida, where he continued the search.
"Saturiba Receiving the French" is another seemingly convivial scene that, in truth, ends in tragedy. Saturiba (Saturiwa) was the leader of a large Timucuan-speaking chiefdom along the lower St. John's River occupying a large swath of northern Florida from the Gulf to Atlantic, when they were first visited in 1562 by Protestant Huguenots fleeing from France. The visitors described the Native people as "goodly stature, mighty, faire and as well shapen … as any people in all the worlde, very gentill, curtious and of good nature …" The Huguenots took possession of "La Florida" and erected the column shown in the background holding the coat of arms of the Queen of France.
The muralist depicts Saturiwa's effort to align with the French colonial governor René Goulaine de Laudonnière in 1564, hoping the French would help him defend his people from rival groups, an agreement Laudonnière eventually reneged on. The knowledge of a French fort being established there enraged the Spanish, who sent a large fleet to attack them in 1565, massacring all they could round up, both French and Indian. It is thought that this kind of colonization rivalry as well as the diseases it brought, was the reason for the demise of the Timucua-speaking Saturiwa peoples.
In mural scene "Osceola in Conference with Hernandez," Ulreich portrays what appears to be a friendly visit on Oct. 24, 1837 under a white flag of truce (not a calumet pipe as is depicted floating the sky) by Osceola, Maskoki-Creek warrior in his pursuit of a peace negotiation with Brig. General Joseph Hernandez of the U.S. Army. His tribal council as seen in the left background had agreed to the overture. An imminent deception is hinted by the evidence of armed soldiers behind the curtain on the General's side. The result of this attempt for peace near St. Augustine was met with the ambush of Osceola, other headmen and about 80 warriors, who were forced to walk to their imprisonment at Fort Marion in St. Augustine.
Within two months, Osceola, then ill, was shipped to Fort Moultrie, S.C. where he died a natural death. Osceola was then decapitated by his attending army doctor, who possibly kept the head to study or as war booty. The present location of his head is unknown, according to "Osceola's Legacy," written by Patricia Riles Wickman.
more murals online
Four hundred post office murals depict American Indians as subject and symbol, and they are the focus of an online "virtual" exhibition that can be accessed by visiting postalmuseum.si.edu/indiansatthepostoffice.
The virtual exhibit is a collaborative project of the Smithsonian Institution's National Postal Museum, the National Museum of the American Indian (NMAI) and the United States Postal Service.
See it for yourself
The public can view the murals of Eduard "Buk" Ulreich in the lobby of the U.S. Bankruptcy Court when it is open weekdays from 9 a.m. to 4 p.m. The display includes a vignette area explaining the history of the paintings. Because it is a federal building, there is security screening and no photography is allowed. The courthouse is located downtown at 110 E. Park Ave.