Fighting Fire With Fire
Tall Timbers is adding a new outlet for its ecological expertise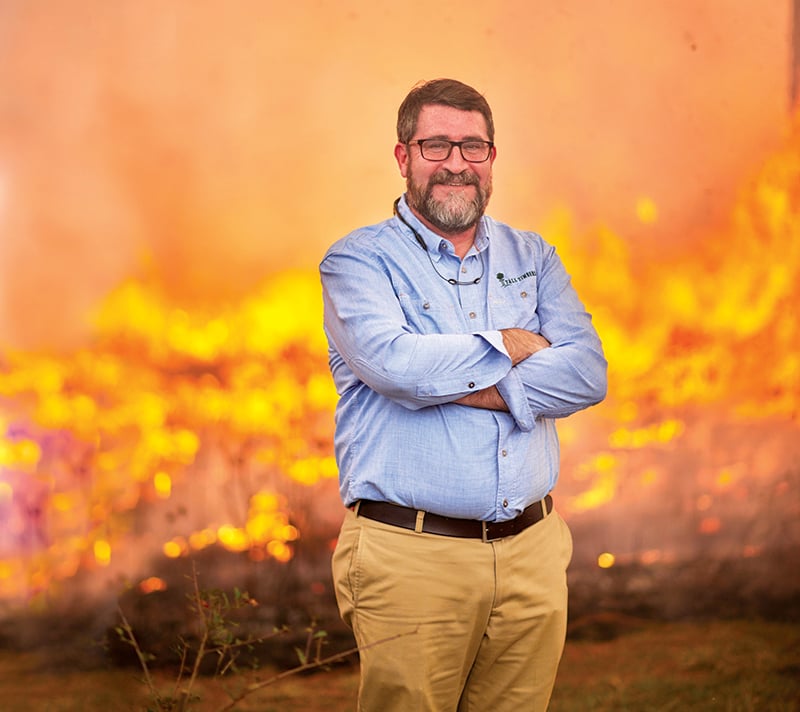 The Red Hills are alive with crackling fire.
Not the all-consuming conflagrations that have plagued the western U.S. — quite the opposite. These are prescribed fires, started in accordance with a practice that has been around for thousands of years as a way to manage landscapes, promote biodiversity, purify the aquifer, feed the soil and prevent wildfires.
Such stewardship is a founding principle of Tall Timbers, a research-based nonprofit with an education mission located on 4,000 bucolic acres north of Tallahassee. Since its founding in 1960, Tall Timbers has emerged as the nation's preeminent voice on fire ecology, one that is recognized on a global scale. Today, the organization is looking to grow its capacity for outreach, education and training with the construction of the L.H. Perkins Conservation Education Center, slated for completion in late 2024.
"The center will be a place where we can convene with people from around the world to talk about prescribed fire, and hopefully, as almost always happens, they will take little bits of the Red Hills back to wherever they are going," said J. Morgan Varner, Ph.D., the director of research at Tall Timbers.
Every federal employee who is involved in controlled burns must complete a 20-day, on-site training course with Tall Timbers through its partnership with the National Interagency Prescribed Fire Training Center (PFTC). Currently, this training is largely hands-on, but innovation is on the horizon.
Tall Timbers has partnered with several academic institutions throughout the country to develop a first-of-its-kind virtual reality prescribed fire simulator. This technology will incorporate factors ranging from atmospheric changes to fuel level impacts and plug in documented fire behavior to mirror real-world experience. It will also eliminate risks associated with live fire exercises.
"Think of it like a flight simulator," said Tall Timbers president and CEO William (Bill) Palmer. "You screw up on a prescribed fire in the field, you are more in the irreparable zone, but standing at a computer in a room, you have an escape, you can start over and learn. That's really powerful."
Palmer and his team work not only with federal employees but private landowners as well. Tall Timbers provides training and support to landowners through its Prescribed Burn Association program, which enables landowners to reap the benefits of regular prescribed burns as well as benefit the ecology of the region.
The use of low-intensity, highly controlled fire for land management was prohibited by the United States Forest Service throughout most of the 20th century. Wildfire was a growing concern, so when Tall Timbers founding researcher Herbert Stoddard proposed prescribed fire as a way to boost bobwhite quail numbers, government agencies shut him down.
Undeterred, Stoddard formed a relationship with wealthy landowner Henry Beadel, and together, they set out to create Tall Timbers as a home for scientists and a hub for cutting-edge research on fire ecology.
So it is that Tall Timbers became a trailblazer. It has compiled the most extensive database on fire ecology anywhere, putting Tall Timbers at the forefront of prescribed fire advocacy and resulting, over time, in a dramatic shift in the national conversation about controlled burns.
"One of the hallmarks of our work, whether it's working with quail, longleaf pines or fire, is long-term research," Varner said. "That's how we are able to say, 'Here is the effect of climate change.' We have a 60-year measurement period, so we know what the effects are."
Too, Tall Timbers has been in a position to track the impacts of non-native species.
Throughout the '60s and '70s, Tall Timbers was very vocal, holding annual Fire Ecology Conferences with some of the world's leading scientists, but in the '80s and '90s, Palmer said, the organization lost momentum. He calls those years the "dark age." Tall Timbers continued its advocacy work and training, but its efforts were local. Meanwhile, wildfire statistics in other parts of the country ticked up year after year.
"All of a sudden, we realized that we are an example for the rest of the world," Palmer said. "We are a research station. We study it. We can add a depth of knowledge about using fire that the rest of the world has lost."
In the last seven years, a reinvigorated Tall Timbers has leveraged its scientific and policy expertise in Florida and beyond. In 2022, it cohosted a prescribed fire conference in Italy, where representatives from the Spanish government approached Palmer. Following a two-day trip to the Tall Timbers facility, Spain completely rewrote its fire policy based on the organization's work and Florida's prescribed fire policies.
On a national scale, some areas of the country have been more reluctant than others to adopt healthy prescribed fire policies. California, in particular, has long been stuck in cyclical battles with wildfire. A growing number of wildfires, high smoke levels and dry weather led to hesitancy and concern about burning. That has begun to change.
"They have had a pretty fundamental shift over the last decade," Varner said. "Rather than it being a debate between those for prescribed fire and those against, it's now, 'We are all for prescribed fire, but what does it look like?'"
Varner sits on California Gov. Gavin Newsom's Wildfire and Forest Resilience Task Force. He stands out like a sore thumb among natives of Fresno, Los Angeles and the San Francisco Bay Area, but he commands respect. There and around the country, Varner spearheads policy initiatives that are changing the way the nation thinks about fire.
---
Get Involved
Interested in learning more about how to maintain your property with prescribed fire? Learn alongside your neighbors through Tall Timbers' Prescribed Burn Associations. Tall Timbers welcomes volunteers in a variety of areas from historical preservation to landscaping. Support its mission at TallTimbers.org/volunteer.
---