Field Dogs Perform the Ultimate Fetch
After Years of Training, Dogs and Handlers Take Retrieving to the Highest Level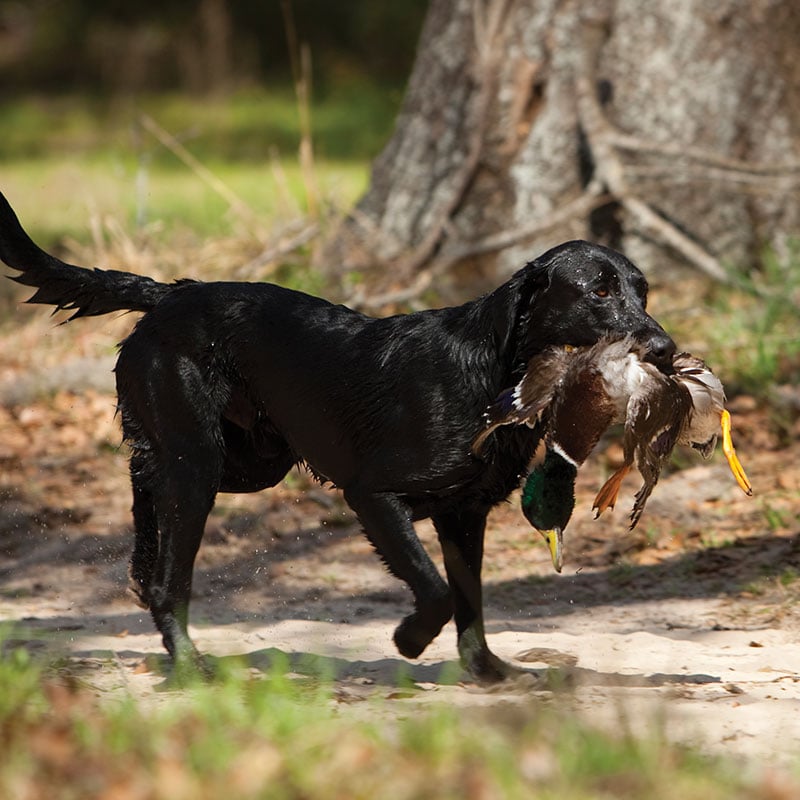 It's a warm, sunny March day on a rural property in eastern Leon County. Spanish moss festoons the live oak trees, and fleecy clouds fleck the blue sky. A shot punctures the silence as a hunter fires his gun, and a pheasant falls to the ground. A lean black Labrador retriever watches intently, waiting for the command to fetch the bird.
It might be a typical hunting experience on a beautiful day, but for what happens next: Slingshots elsewhere in the field propel the bodies of two more dead birds into the air.
The dog marks the spots where they land, and when given the command by his handler, races out into the field to retrieve the three birds, bringing them back one at a time.
His movements are watched carefully by two judges sitting beneath a nearby tent, waiting to see if he will go straight to the birds or spend time searching through the tall grass.
Welcome to the world of field trials. The scene described unfolded at the season's first set of trials, held in Tallahassee this year. There is both an amateur division and a professional division, and competitions for both are held throughout the country. The best dogs qualify to compete in the national field trials. The amateur nationals are held in June, while the professional nationals take place in November.
Last year's amateur nationals winner, a dog named Cutter, lives in Tallahassee with his owner, Jeff Talley. They have just returned from this year's competition. Cutter was eliminated from the competition just before the final series. He ranked among the top 22 of 120 dogs who took part in the competition. "He made a pretty good showing, although it was not as good as we wanted," Talley said.
Originally a sport for the British nobility, field dog trials came to the states in the 1930s and are practiced nationally by several hundred dedicated men and women, most of them hunters eager to test their dogs' skills.
Each trial involves four stages, or series, as they are known to competitors: land marks, (the test described above), where the dog sees where the birds fall and retrieves them; land blinds, which is like land marks except that the dog is in a partitioned-off area and doesn't see where the birds fall; water marks, where the dog sees where the bird falls and must swim across water to retrieve it; and water blinds, where the dog is not allowed to see where the bird falls and then must swim across water to find and retrieve it.
All dogs participate in the first series (land marks), but the judges watch their performances carefully and weed out the dogs that had difficulty finding the birds or failed to obey their handlers. Those with top scores proceed to the next round.
It sounds simple, but in reality, the sport requires investing large chunks of time into training the dogs and grooming them for the competitions. Talley spends an average of 15 to 25 hours a week training his dogs, and travels to compete in six to eight trials each spring, and as many in the fall.
Most people start training the dogs when they're eight weeks old, although they won't usually enter a full-fledged competition for another two years. Untrained field dog-bred puppies cost between $1,500 and $3,000, Talley says. Some people hire professional handlers to train the dogs, but the training is expensive at $1,000 a month, says longtime field dog enthusiast Don Erickson. Young dogs that have already been trained usually fetch between $10,000 and $25,000.
Erickson, a 73-year-old Tallahassee resident and retired neurosurgeon, got into the sport 15 years ago, when he purchased a black lab to use as a hunting dog.
"The fellow I bought it from did competitions like this, and he said he would help me train the dog," he recalls. "That was not (with) competition in mind, but she proved to be such a precocious puppy, (the breeder) says, 'You've got to do more,' and I got involved. And since then, it's been 15 different dogs or so and lots of training hours."
The trials require a lot of cooperation and obedience from the dogs, as well as a good memory. In the "blind" segments of the competition, the handlers, who've seen where the birds landed, point their dogs in the right direction before letting them go, and periodically blow a shrill whistle as the dogs run. The dogs know to stop when they hear the whistle and face their handlers, who motion with their arms to signal to their dogs to move to the right or left. If the dogs don't closely follow their handlers' instructions, they're less likely to move on to the next series of tests, Erickson says.
Hawkeye's Coastguard, a Tallahassee dog better known as "Cutter," took first place at the amateur national championship stakes in 2008.
jeff talley
Erickson and Talley have become friends through the field trial experience, and Talley once "ran" (the term used to signify handling a dog) one of Erickson's labs in a national competition.
Talley has participated in more than 20 national championship stakes over the years. He's had a passion for retrievers ever since he saw a friend's retriever and was fascinated by the fact that they'd actually bring balls or sticks back to their owners, unlike the beagles his family owned when he was growing up.
He owned labrador retrievers after college and during law school, and got introduced to the field trial sport in the early '80s, soon after moving to Tallahassee. Asked when he participated in his first field dog trial, he pauses a moment.
"The first field trial that I went to (was) probably about 1981 or '82," he says. "When I first got started, I had very little success. And then I met a guy by the name of Bill Hillmann, from Vermont. He was a professional trainer, and he and his wife, Mary … wintered (in Tallahassee)."
Meeting Hillmann revolutionized Talley's performance in the sport. All of a sudden, he had a good friend who was also a professional trainer and could give him advice on everything from how to choose a dog to how to handle the dogs and train them to be winners.
Hillmann introduced Talley to Hawkeye's Dandy, Talley's first successful field trial dog. Hillmann had been training Dandy and gave the dog to Talley with the understanding that Hillmann would continue to work with her.
Hawkeye's Dandy, a black lab, qualified for the nationals 16 times over the course of her 11-year career. She also acquired 237 all-age points at the various trials she participated in. (At licensed field trials, the winning dog receives five points, the second-place dog receives three points, the third-place dog gets one point, and the fourth place dog gets half a point.)
Talley keeps a framed photo of Dandy (who has since died) in his office, placed in the middle of a lineup of photos of him with the various dogs he's trained and run over the years. There's also an assortment of engraved silver cups, winners' plaques, and other symbols of recognition adorning long shelves on his office wall.
Cutter, whose official name is Hawkeye's Coastguard, is another dog Hillmann and Talley co-own and train. The two chat frequently about competition strategies and the most effective ways to train Cutter. Whatever they're doing appears to be working, given Cutter's recent win at the 2008 National Amateur Championship Stake and designation of High Point Amateur dog for 2008.
As a yellow lab, Cutter blends in with most of the other dogs there, most of whom are yellow or black labs. There are a few other types of retrievers — goldens, for instance, or flat coat retrievers and curly coat retrievers — but Talley says he thinks labs have the best combination of intelligence, natural ability and trainability.
Despite the heavy investment of money and time required by field dog trials, he loves the sport — and the relationships he develops with his dogs — too much to give it up.
"There's no other creature like a dog to me, at the end of the day," he muses. "They're smart enough to be able to be taught a lot of things. They're very loyal. They're very forgiving."
Getting the dogs when they're only six or eight weeks old and spending hours upon hours training them and helping them become the best they can be is very rewarding.
"Watching them develop from a little baby is really what kind of gets you stirred up," Talley says. "It's a passion, you know."
He thinks that if he got out of the sport, he wouldn't know what do with his time. "I guess I could go fishing or go play golf, but I wouldn't have any fun," he says.
He admits he'd probably save a lot if he quit the sport. But that's not the point. "There's no money coming in," he says. "(But) it's very rewarding."
Cutter, whose photo adorns Talley's office, stares out benignly from the picture frame, his mouth open as though grinning in silent agreement.