Few Hobbyists Can Stop at One Aquarium
Tallahassee's aquarium scene is a close community bonded over a common interest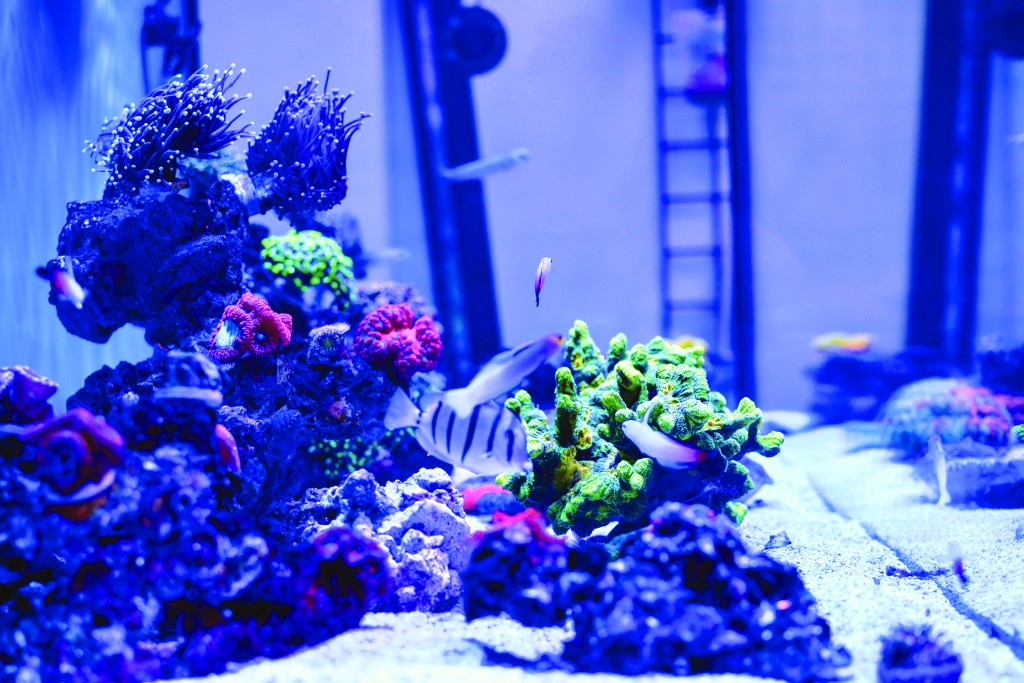 There are college students looking to take up a new hobby. There are families in search of an activity suitable for all ages. And, in some cases, there are those who were students years ago and have now come around to sharing an old passion with their newly formed families.
Carol Hoover has seen all manner of people come through her doors in the 30 years that she has operated Carol's Critters on West Pensacola Street in Tallahassee.
People of all ages, backgrounds and walks of life come in, and the only thing they might have in common is their love of fish and aquariums.
And, perhaps as the result of the past year's stay-at-home trends, Hoover has seen a lot more customers of late.
"It has exploded," she said. "I don't know if it's people being home more or what, but it has been extremely popular recently."
Indeed, Carol's Critters, which also specializes in reptiles and other exotic pets, is one of the hubs of a burgeoning community of aquarium enthusiasts in the Tallahassee area.
Whether in person at a shop like Carol's Critters or High Tide Aquarium on Capital Circle Southeast, or online, local fish lovers share a passion about everything from yellow tangs (the brightly colored reef-dwellers that are among the most popular aquarium fish) to tanks (there are enough varieties, styles and sizes to fill a large catalog).
More often than not, though, it seems that aquarium enthusiasts are looking to expand. Because much like tattoos, boats or vinyl records, it's virtually impossible to stop at just one.
"It usually grows," Hoover said. Then, in a knowing tone, "They only start with one."
Ken Barfield did.
A moderator in the Tallahassee Aquarium Club on Facebook — which boasts more than 1,700 members — Barfield has over the years seen his aquarium expand from 55 gallons to 75, from 75 gallons to 90, from 90 gallons to 220 and from 220 gallons to an eye-popping 375 — complete with "frag tanks" for raising coral on the side.
"It's an addiction," Barfield said with a laugh. "I know people who started with one and ended up with 12 in their house."
Chris Kenworthy can relate.
Having first dived into the world of aquariums as a college student, Kenworthy recently returned to the hobby after his sister gifted him a betta fish for Christmas.
It proved such a hit that soon after, Kenworthy's wife, Britt, wanted one, too. Bettas, though, are famously aggressive: Two bettas require two tanks.
Kenworthy then discovered a love for freshwater shrimp, and he now has a tank devoted to them, too. All 60 of them.
"Like most hobbies, it kind of doesn't make sense," he said. "You sort of get into it, and, just because you're into it, you get more into it."
Fish often lead to more fish.
But, sometimes, they can also lead to friendships.
Barfield described Tallahassee's aquarium scene as a close community that has bonded over a common interest.
If one member is in search of a certain tank, pump or other piece of specialized gear, another member likely has an extra or knows where to find one.
If a member is in need of ideas when putting together a new aquarium build, there's no shortage of photo galleries and "shop talk" from which to draw inspiration.
And if, say, someone's tank springs a leak at 9:30 p.m., help is usually just a message or phone call away.
"If anybody ever needs anything," Barfield said, "people are always there to help."
For Barfield, aquariums are places where a family pet says hello after a long day and waits patiently for a bit of food.
For Kenworthy, they're an opportunity to bring a slice of the natural world into the living room.
And for Hoover, they can represent the cornerstone of a community and a bridge between generations.
No matter the reason, they, and thousands of others in the area, are united in their love of fish and underwater communities. And if one tank becomes three becomes a dozen? Well, there're plenty of like-minded people who understand.
"The community is tight-knit, and the friendships are long-lasting," Barfield said. "It's just a good group."
FISH UNDER GLASS
"Keeping fish for pleasure has its origins in ancient Korea, China, and Japan," writes Kevin Edge for the Horniman Museum and Gardens website. "There, ornamental varieties of the adaptable carp family were displayed in ceramic bowls. The first Europeans to enjoy fish as a spectacle watched them swimming in tidal pools and the marble tanks of imperial Roman villas.
By the 17th century, the fish-keeping culture of East Asia had reached Britain. Diarist Samuel Pepys was shown 'fishes kept in a glass of water, that will live so forever.' It seems Pepys was gazing at imported paradise fish. In the 19th century, growing scientific curiosity encouraged a search for a new perspective on life underwater. A glass-fronted aquarium, stocked with a balance of plants and animals proved to be the answer. The age of the see-through river and the boxed-up ocean had arrived."