Feline Fashion, Canine Couture
From cats in hats to dogs with do's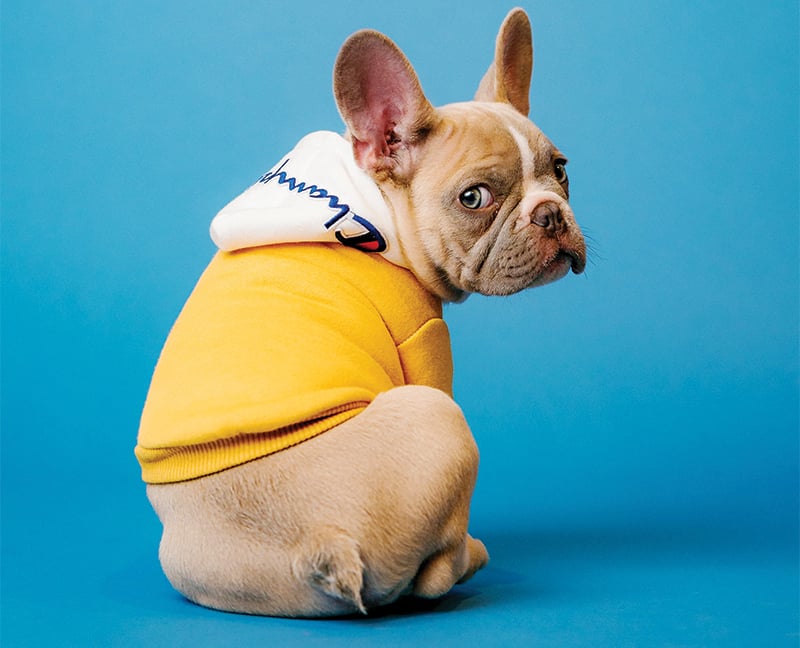 Diva, a 5-pound chihuahua, always turns heads when she enters a room.
Her clothing really lives up to her name — sparkling, ruby red nails are a perfect complement to her bright red dress, and the collar on her neck is bedazzled in ruby gems to match.
Diva's owner knows the chihuahua's disposition to be a bit high maintenance, thus her name and her style speak to the same.
Fashion is a creative tool used to indicate our individuality. And the sentiment translates for pets as well as their human counterparts. Pet fashion allows our cats, dogs and other animals to creatively express their unique characteristics in a reflection of their human's perception.
Popular pet accessories include the classic bandanna around the neck of a Labrador retriever, bowtie collars or ones with glimmering gems for a sophisticated ragdoll cat, clip-on bows for an adorable shih tzu and even sunglasses for a particularly chill French bulldog.
Not all pets are amenable to wearing clothing, however. Many prefer their birthday suits. "Dog colognes and perfumes are a great way to add scented style when your pup just won't wear those cute outfits you get him," said Lesley Smith of Groom Vroom.
And a fresh haircut can offer fashionable fur styles with or without clothing or accessories. "The popular style right now is mohawks, especially on Jack Russels," Smith said. "We add a bit of pet paint to really style it up."
A mobile dog grooming service, Groom Vroom utilizes a repurposed bus equipped with baths and grooming stations. The flexibility of the traveling groomer can help reduce transportation anxiety amongst pets inclined to stress.
The teddy bear face or puppy cut are popular styles of even-length cutting that keep everything looking neat and clean. Smith recommends regular brushing between grooming appointments to extend the life of a cut, along with regular visits to get your pup comfortable with being handled.
"Styles really are breed dependent," said Smith. "We can do a lot of adorable styles, but something that looks great on a poodle may not look so stylish on a shih tzu."
At Tally Cat Café, co-owner Katie Stryker said, "Seasonal costumes, specifically Japanese cat hats, are a great way to pull people in to interact with the cats, which is one of our main goals."
The cafe, in partnership with the Leon County Humane Society, serves up delicious, trendy bubble teas and adorable cat interactions. Patrons can come by to give the fosters some love and enjoy a good drink or find the perfect cat to join them at their furever home.
With an impressive Instagram filled with adorable cat photos and aesthetic snaps of drinks, the cafe knows a thing or two about snapping the perfect shot of your pet. While Stryker admits that they have photography equipment not readily available to everyone, she does have a few tips for the average pet owner.
"Good lighting and a fun toy that your cat especially loves will go a long way," she said. "I've recently found peacock feathers for posing cats keep their attention and are great for photos. Also, complimenting your cats; they love to be spoken to sweetly and treated well. Tell them they are cute!"
Black cats tend to be least likely to be adopted due to their association with bad luck and their plain appearance. But Stryker encourages judgments based on interaction rather than stereotypes and superstitions.
"It's not just black cats. It's really adult cats that we have a hard time finding homes for," Stryker said. "Older cats are chilled out already, and you know their personality. Cats can live up to 20 years, so you are picking your friend for the next two decades."
---
Safety Tips
Whether you are starting your own pet Instagram account, treating pet-friendly events as fashion runways for your crowd-pleasing pup or volunteering with your local animal shelter to create profiles for adorable adoptables, there are a few safety tips to keep in mind:
» Check clothing and accessories for zippers, rhinestones, laces and other adornments that could fall off or be chewed off. If swallowed, they could lead to a hefty vet bill. Hook-and-loop attachments or sturdy buckles are the best enclosures to keep outfits snug and secure.
» Clothes should always fit snuggly but comfortably. For collars, use the two-fingers rule: Tighten the collar and check that you are able to slide two fingers between the collar and your pet with ease.
» Finally, as the Florida sun heats up the streets, look for fashion with function. A breathable back cover can shield your pet from the beating sun on long walks or trips to the park. Booties can protect sensitive paws from the burning asphalt. Remember, if you would not walk barefoot on the sidewalk, your pet probably should not, either.
---
---