Feeding the Need
The FSU Food Pantry nourishes students hungry for knowledge and food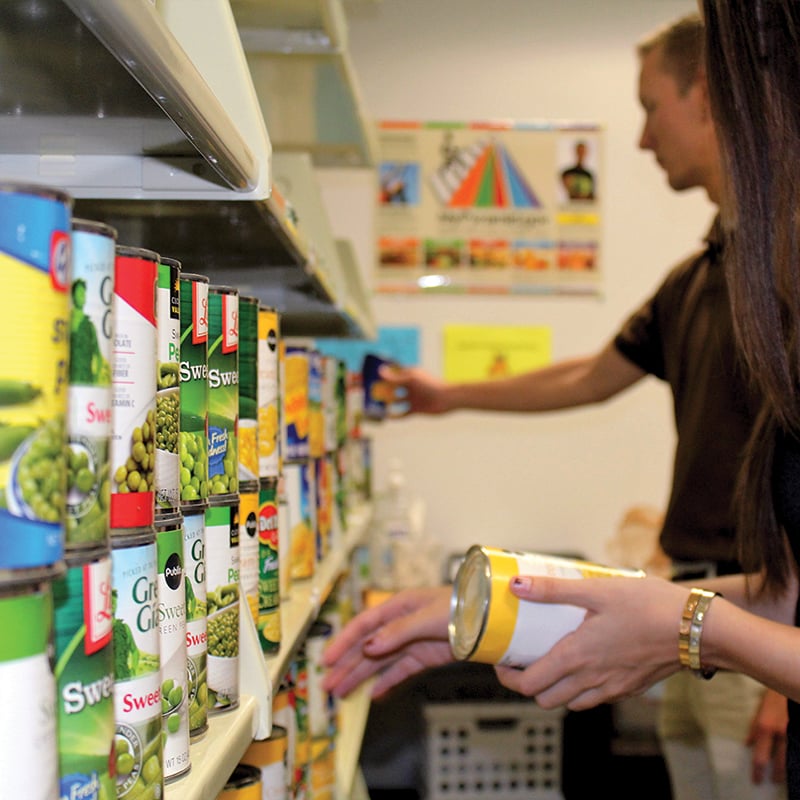 Deep in the bowels of Doak Campbell Stadium is a small, windowless room ringed with shelves stocked with canned goods, cereal, pasta and baby food. In an adjacent room, a donated refrigerator keeps vegetables and other foods fresh for anyone who chooses to grab something for their lunch or dinner.
On weekdays, anywhere from four to just under two dozen needy students stream into the Florida State University Food for Thought Pantry to help themselves to its nourishing contents, one bag at a time.
As the cost of a college education continues to rise, more and more students are foregoing meals in order to make ends meet. As a result, the number of campus food pantries nationwide has exploded in recent years and now number around 400.
All 12 of the universities within the State University System of Florida now operate food pantries.
"What many colleges were finding is that there was food insecurity and students going hungry," says Vicki Dobiyanski, the Dean of Students at FSU. "But at FSU, we're a caring and compassionate community, and so when there's a need, we look for an opportunity to fill that need."
The campus food pantry at FSU was established in 2009, as the recession hit. Staffed by case managers, the pantry receives its food from donations by faculty and student organizations. To take advantage of the food pantry, students only need to fill out a form — they don't have to prove they are in financial difficulty. And they can return as often as they need to.
In 2015, 456 students used the pantry, and those numbers were projected to increase to 600 students in 2016. Many visitors to the pantry come back more than once.
"We're getting the word out there about the food pantry," says Tyler Shannon, a case manager. Shannon recalled that as a room advisor at "a small, private university" around a decade ago, he saw many students go hungry in order to pay for their classes. There was no food bank to help them.
In recent months, there have been greater efforts by FSU to confront food insecurity among students. On July 1 of last year, a new, yearlong philanthropic initiative, "Round Up for FSU," was unveiled by the FSU Office of Business Services (OBS) to help alleviate hunger among students.
How it works: At specific campus retail locations, customers can round up their purchase to the nearest quarter to benefit the pantry. At the end of the year, a check for the total amount donated will be presented to the pantry.
According to Charles Friedrich, the Director of OBS, by Sept. 30, 2016 — the date that marked the end of the campaign's first quarter — $9,100 was raised for the pantry.
"I had seen a program similar to this at restaurants but never in higher education," Friedrich says. "Helping students with food insecurity seemed like a good fit for us. The program was developed, and now it's taken a life of its own."
The coming year brings new goals for the pantry. In addition to acquiring another refrigerator, a new garden is being created with the hope of growing vegetables for the pantry.
"The food pantry is there to make sure we're doing everything we can to help students succeed," Dobiyanski said. "Students can't succeed in the classroom or their leadership opportunities if they don't have food. If we can be helpful where our students' greatest need is, then we are doing our job."
---
FSU Food for Thought Pantry is open Monday–Friday from 8 a.m. to 5 p.m. It is located at University Center A, Suite 4100. If you'd like to donate, please call (850) 644-2428. The donation wish list includes tuna and other canned meats, pasta, pasta sauce, macaroni and cheese, spices, rice, dried beans and peanut butter.