Feeding North Florida
Second Harvest gives food to the organizations that give to the hungry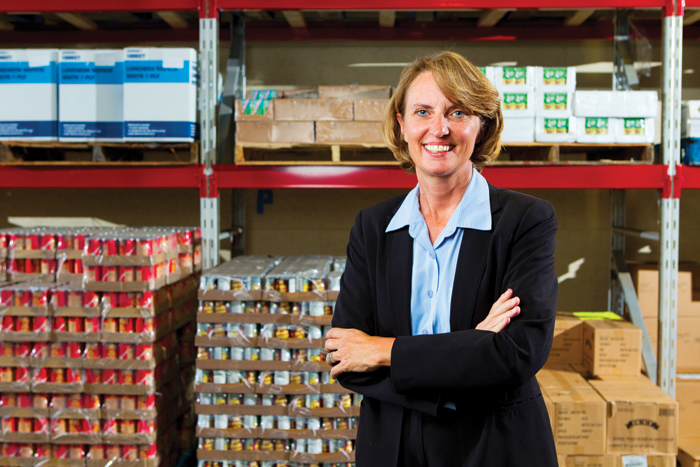 At least four times a week, Barbara Henderson goes grocery shopping, but not at Publix or Winn-Dixie. Instead, she heads to a huge food warehouse off South Adams Street and, wheel cart in hand, makes her way down aisles of canned goods, fresh produce, dairy and poultry, collecting food by the boxful.
Henderson is vice president and director of Food Outreach Ministry, a mobile ministry that distributes food to Tallahassee's Southside community. It is one of the 135 partner agencies served by America's Second Harvest of Big Bend, a food bank that assists organizations in 11 North Florida counties that reach out to people who are hungry and in need.
"We try to do whatever we can to help them because as nonprofits and churches, they're trying to make ends meet as well," said Second Harvest's Executive Director Cheryl Phoenix.
According to its website, 101,088 people live in poverty in 10 out of the 11 counties Second Harvest serves. And those who need help aren't necessarily jobless or homeless.
"The average person who is hungry is not homeless," said Paul Clements, development director at Second Harvest. "While those people may be visiting our soup kitchens and receiving food assistance, the majority of the clients that we serve have at least one person in the household who's working."
Most of the food is donated by national manufacturers, the Feeding America network, local retailers, other food banks and through food drives. Second Harvest has regular pick-ups from three main retailers: Publix, Walmart and Winn-Dixie. Since most grocery stores only want to provide top quality products for their customers, dented boxes of cereal, canned sodas and other products are pulled from their shelves and donated.
"What we're picking up from them is the items that you and I traditionally would not want to purchase because the boxes and cans … (are) dented or the packaging got damaged, but nothing will be wrong with the food," said Clements. "We'll take any of this because, for a family that's struggling to make ends meet, any little thing will definitely help them."
All donated food is hand-inspected by supervised volunteers who sort through the items and dispose of anything that is bad.
"That's a very important process because we're responsible for all the food that comes in," said Clements. "So it's our job as the food bank to actually inspect it, sort it and make sure it's safe."
Because of its purchasing power, Second Harvest is also able to buy food and non-food items that are sold at a discount to public service agencies.
"We pick those items that our organizations will typically need for their food distribution programs and we'll go out and purchase them and the organization will reimburse us for the cost of those food items or non-food items that we bring in," said Clements.
Paper plates, napkins, plastic utensils and gloves are but a few of the items that are available for purchase. However, the purchasing program only accounts for 8 percent of Second Harvest's distribution program.
Frozen food is stored in a large freezer and other products, such as milk, juices and produce are taken to a giant refrigerator. However, Clements said the items are in and out so fast; most are stored in an area called the cool room, to keep them fresh as possible and the critters away. Cakes and pastries also are stored in the cool room.
"The whole purpose of this program is to provide more today than just the can of beans and a box of cereal, which has always been what people saw when they went to a food pantry," said Clements. "Now we can give them a well-balanced meal option."
During the holidays, business picks up at Second Harvest. Special items such as turkeys are donated during Thanksgiving.
"There's a huge increase in requests for services both from the agencies and from the client," said Phoenix. "The pantries are trying to get more food to the clients because they want them to have special holiday baskets for their families."
Needless to say, America's Second Harvest thrives on volunteers and donations. There is no particular busy time for people to volunteer or contribute; help is welcomed year around.
Donations can be made online or brought to the warehouse.
Volunteers are needed to sort food, clean or pack bags for the BackPack program.
That program targets needy children who get free or reduced-price lunches at school, but may not have enough to eat during the weekend. On Fridays, selected children receive a bag of groceries that will feed at least a family of four, according to child nutrition program coordinator, Karen Mica. The program is paid for through private donations and grants. A similar program provides bags of groceries to seniors in need.
Agencies can come during the week by appointment and shop for what they need. They must agree to adhere to storage guidelines and food safety regulations. According to Phoenix, organizations' warehouses and the food bank itself are frequently checked by the Department of Agriculture and Feeding America.
"If you look at the value of what we distribute to our partner agencies, it's valued at over $6 million," said Phoenix. "If they had to buy it retail, there's no way they would be able to do that, and so it's a way to not only help the agencies but also make sure that food is not being dumped in the landfills and is getting to the people who can actually use it."
Henderson said Second Harvest has helped her tremendously in her efforts to assist those in need.
"They give me bread, they give me produce, they give me dairy," said Henderson. "Without Second Harvest I could not feed the people that I am feeding because there's no way I would have the funds to."