Fast Breaker
Up for the Brown Bag Special? You had better come hungry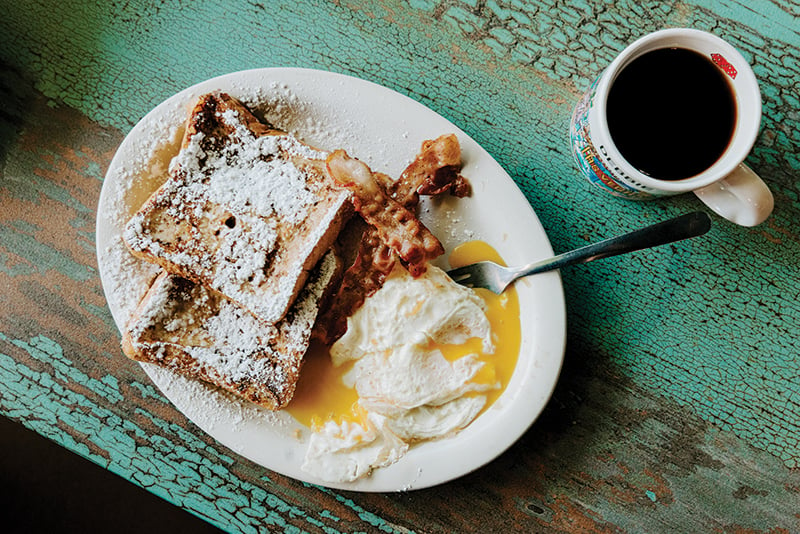 There is nothing particularly difficult about frying an egg.
Anyone with a bit of butter, a pinch of salt and a hot pan can find the middle ground between raw and burnt. Some prefer a yolk that coats the plate with a prick of the fork. Others avoid the sticky mess with a sturdy, hard-cooked yolk. But there is something elusive about a fried egg cooked over medium.
Done well, the luscious, golden yolk holds its shape without surrendering to the light yellow, chalkiness of another second on the stovetop. A perfectly executed over-medium egg is a rarity and marks the sign of a truly great breakfast joint.
Over at Woodchuck's Cafe, Chris Benfield spends his days toiling over a sizzling flat top, cranking out one perfect egg after another.
Bearded and burly, the owner of Woodchuck's Cafe has been buzzing about the kitchen since long before he sprouted his first whisker. As a child, Benfield's sister and Woodchuck's manager, LaShelle Keel, remembers him attached to "Mama" at the hip.
"Bubby was always helping mom in the kitchen," Keel said. "He liked what she did and how she was cooking, and that's what he's always done. Since he was 15, he's always worked in some type of restaurant, whether it was fast food or otherwise. He wants to do things the way Mom did it — home cooking, good ingredients."
Most of Woodchuck's menu items are breakfast and lunch classics. Options like the three-egg breakfast, biscuits and gravy, BLT and sprawling burger selections come as no shock, but diners would be hard-pressed to find as wide an array of cheeses and meats or more adeptly crafted homemade biscuits elsewhere in town.
Beyond the classics, Woodchuck's offers more than a few off-the-wall dishes ranging from a deep-fried buffalo-tofu sandwich, dubbed the Woodstock, to the Brown Bag Special. Complete with 10 strips of bacon and a 25-ounce Budweiser tallboy, the Brown Bag Special honors one of Woodchuck's earliest and most loyal customers.
"When we first opened, there was an older gentleman that would come in every Saturday, and he would get three orders of bacon, French toast and two Bud Lights," Keel said. "So, we just turned it into something easy. We thought it would be perfect for college students — bacon and beer. Maybe it's the perfect hangover cure because it has gotten so popular."
When it comes to popularity, Keel said the honey chicken tender bowl reigns supreme, with Woodchuck's steak, pork chops and burgers coming in at a close second. Benfield's daily lunch specials are always a hit. That is where he allows his creativity to shine.
"You never know with his lunch specials," Keel said. "Whatever he decides to come up with on the fly for that day, it normally is a big seller. He'll say, 'I saw this on the TV, and it looked pretty good. Let me try my spin on it.'"
Schooled at the culinary institute of home cooking and gilded by decades of restaurant experience, Benfield opened Woodchuck's Cafe in 2013, shortly after his Jenny's Lunchbox location on Tennessee Street shuttered. Woodchuck's unassuming storefront, separated from a Tharpe Street Sunoco by only a cinder block wall and blue coat of paint, belies one of Tallahassee's hidden gems. The family owned and operated cafe came as a welcome retreat from waves of big-box breakfast joints, and customers took notice.
Benfield and his family entered their 10th year in business this year with a re-signed lease and a dedicated customer base of old men, college students, car dealership owners, state workers and home-style food lovers of all walks of life. Over the years, Keel said many have urged Benfield to open another location, but expansion was never the goal.
"As (Benfield has) said, with him being back there cooking, he can guarantee that it's the quality that it needs to be," Keel said. "That's his biggest fear, that if he opens another one it won't be the same.
"He's married to the restaurant," she added with a chuckle.
---
Woodchuck's Cafe
Woodchuck's Cafe is located at 2520 W. Tharpe St. | (850) 224-9766
---