Fashion for the Ages
Tips for Creating a Fabulous Look, Whatever Your Age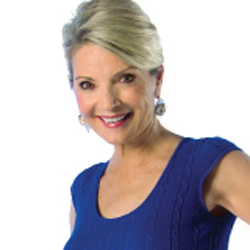 Traditionalist. Boomer. Gen Xer. Millenial. We suggest hair, makeup and styles that always look fashionable, whatever your generation.Fashion for the AgesTips for Creating a Fabulous Look, Whatever Your AgeBy Calynne Hill and Terra Palmer, Fashion and Lifestyle Editors Photography by Scott Holstein
"I've put on a few — OK, 20 — pounds and nothing looks good on me."
"My kids keep me so busy; I don't have time to fuss with my hair and makeup."
"I'm too old to wear trendy clothes."
"I can't keep up with the new styles, so I'll just stick with what's in my closet."
Excuses, excuses. We've heard them all.
Your age or size — they're just numbers and you can look great, even if you're on the high end of both. The trick is to dress with confidence, and you're sure to stand out in a crowd.
Granted, some looks are best left to the young and skinny, but boomers and beyond can wear plenty of fashions that are on trend, as well as a few "young" looks you might have thought were left behind years ago (yes, Ms. 60-year-old, you can wear a ponytail!).
Whatever your generation — Millennial, Generation X, Early Baby Boomer or Late Boomer and Beyond — there's a look that's right for you. Let's find it together!
Scott Holstein
MILLENIALS 12-30 Years Old: born plugged into the Internet and other digital media
MAKEUP
Start immediately with sunscreen as part of your regimen, advises makeup artist Randi Buchanan. Use moisturizer and exfoliate one or two times weekly for the freshest face … or the cleanest palette, if you will. Makeup at this age should be minimal. Use cheek stains like Tarte — the Blissful or Tickled Pink shades are perfect. Sweep on mascara in Benefit's Bad Girl or Smashbox Full Exposure and add gloss with Lancome's Juicy Tubes.
HAIR
If you're noticing gray hair at this age, now might be the time to start coloring. A stylist can paint a few gray strands without doing all-over color. Short hairstyles done right can make you look more mature and long can be pretty and romantic.
FASHION
One of the biggest issues in your 20s is letting go of the collegiate look and embracing a more professional wardrobe. For working women, you can start the day in the office and end up with a night out on the town. Your look needs to take you from one environment to the next. To look glamorous, throw on a spectacular necklace to transition you from work to a night out.
Model: Keily Salser // Clothes and Accessories: Cole Couture // Hair: Joan Keim, The Hair Lounge at Midtown // Makeup: randi buchanan & co // Make Up Artist: Sara Eubanks
Scott Holstein
GENERATION X 31-47 Years Old: better educated, self-sufficient, independent-minded and familiar with technology
MAKEUP
Randi's advice: Urban Decay's Brows in a Box are the perfect way to define a brow — and it provides an instant eyelift. Use concealer to hide blemishes, broken capillaries or any other slight facial imperfection. Skip the foundation, just use powder, then light makeup. Concentrate on more matte shadows for the eyes with any shimmer just under the arch of the brow for nighttime highlighter.
HAIR
Forty is really the new 30. Do you consider yourself sexy? Athletic? Funky? Let your hair express your personality. Hair can be brittle at this age, so treat your locks to hot oil treatments. Color your hair and add a few highlights around the face to add shine and body.
Do a hair evaluation: Does the same haircut that flattered you over the last decade or so still work for you? Or is it time to update your hairstyle?
FASHION
Family responsibilities could lead you to pick an easy-to-put-together style with less fuss, but don't fall into the oversized top-and-sweatpants trap. You may be a mom, but that's no excuse. You need to keep looking sexy and care about yourself.
Forty-something women are coming into their own. They are the whole package, beautiful and wise. They know what they want, who they are and have all the tools to get it.
You should stay up on the trends, know your body and how to dress for it, and find a mirror. If you don't feel good, you won't look good. It is about knowing who you are on the inside and dressing to complement that and feeling amazing in what you're wearing.
Model: Josie Gustafson // Clothes and Accessories: BCBGMAXAZRIA, inside Dillards at Governor's Square // Hair: Trish Utermohle, The Hair Lounge at Midtown // Makeup: randi buchanan & co // Make Up Artist: Sara Eubanks
Scott Holstein
EARLY BOOMERS 48-60 Years Old: work-centric, goal-oriented and competitive, they remember Woodstock, unlike late boomers, who could have been there
MAKEUP
Less is more, counsels Randi. Take your regular foundation, add a dab of your moisturizer and … Voila! instant tinted moisturizer. You'll still have nice coverage but look much more radiant and luminous. No more shimmery shadows and frosted lipsticks. Though they're cute and trendy, they look a bit dated on us!
HAIR
A hairstyle that looked so perfect when you were in your 40s may not work for your next decade. Adding layers, changing length or adding a fringe of bangs can do wonders to soften or hide wrinkles.
Gray hair makes women look older, so color your hair a couple shades lighter than your base to lighten up your face. Don't think you have to cut your hair short. Long, shiny, well-kept locks are a sophisticated look.
Avoid the helmet head. Hair that doesn't move looks old.
FASHION
Don't wear sleeveless or capped sleeves if you have flabby upper arms.
Wear interesting jewelry around your neck to put focus on that and not a "chicken neck."
Get a professional bra fitting.
Edit your closet every few years to get rid of pieces that are out of date.
A wrap dress works wonders if you find yourself getting "curvier."
Wear jeans; they're eternally youthful in spirit.
Classic shapes like shirtdresses, trench coats, turtlenecks and such are always smart. But you can wear something trendy too. Just try to stick to one trend when putting together an outfit. If patent leather is the trend (and it is!), wear patent leather shoes.
Model: Cary Langston // Clothes and Accessories: Pink Narcissus // Hair: Cindy Clarke, The Hair Lounge at Midtown // Makeup: randi buchanan & co // Make Up Artist: Kenya Washington
Scott Holstein
LATE BOOMERS AND TRADITIONALISTS 60+ Years Old: Traditionalists, also known as The Silent Generation, grew up during the lean years of the Depression and World War II, have a strong work ethic and hold on to traditional values.
MAKEUP
Moisturizer is your best friend. Keeping the face hydrated is one of Randi's biggest beauty secrets for Late Boomers and Traditionalists. A creamy blush keeps cheeks from looking tired, dull and over-powdered. It's time to change your lipstick. Lip size tends to shrink and a creamy satin (not shimmer) lip with a touch of gloss on the center adds fullness to the mouth. Be sure to use a liner to finish it off; it keeps lipstick from feathering.
HAIR
Skip the old lady salons where they cut your hair short and give you tight curls to your scalp, and leave you with a helmet head. Go to your daughter's salon and get them to update your new look.
We tend to be settled in our ways at this age, but ask your daughter for her advice.
You can have longer hair. Pull it back into a sophisticated ponytail.
Embrace the silver hair — or not. Many women at this age prefer to be blond, but blond hair doesn't work with all skin tones. Your best bet is to go with your original hair color and get lighter highlights.
FASHION
Don't wear ditsy, fussy prints like tiny florals. Ditto for overdone, busy styles or details. Go for tailored evening attire rather than the frilly stuff, and don't overdo the glitz. Despite the fact that maximalism is in right now, you don't want to look like a Christmas tree.
Stick mostly with solid colors and solids with textures. Don't shy away from all black. It looks great, especially when textures are mixed: leather, crocodile, patent, fur, vinyl (this lightens it up a bit and gives it life). Other great solids are camel, red, gray and khaki. When in doubt, go for black and white. You can't go wrong with this combo.
Don't expose your arms if they are not toned; opt for full sleeves, to the elbow or 3/4 length. Don't expose too much chest and neck: these are both tricky areas for most women over a certain age. Invest in fitted black turtlenecks. They flatter everyone and they always look great for day or night. Wear short skirts if you have good legs (but not too short — they should
fall around the knee).
Model: Linda Evans // Clothes and Accessories: Narcissus // Hair: Pamela Peltier, The Hair Lounge at Midtown // Makeup: randi buchanan & co // Make Up Artist: Sara Eubanks