Fancy Dress
FAMU professor, researcher celebrates African Carnival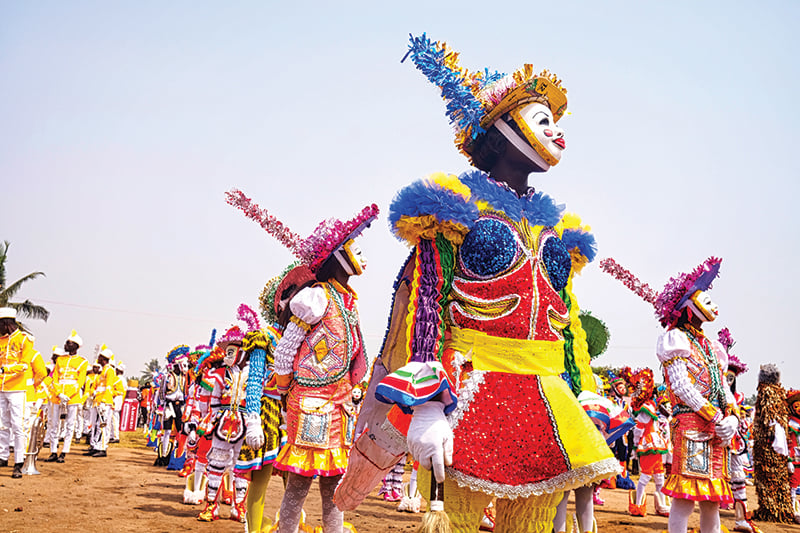 Courtnay Micots was a graduate student at Cleveland State University when she became engrossed by a bracelet.
The piece was not at a jewelry counter — far from it.
Rather, it was part of an exhibit at the Cleveland Museum of Art. The carved ivory armlet was a montage of imagery, and Micots thought it would be a fitting subject for a paper. She was taking a course on the Yoruba art of Nigeria at the time on her way to a dual master's degree in art history and history.
"I came up with some original ideas around the bracelet, and it became the subject for my thesis," Micots said. "Writing about it was exciting for me because we were used to writing about art objects based on photos in books. Seeing the artwork in person made a big difference to me."
Given the breadth in scope of her master's program, Micots grew fascinated with African history and "the different religions and ideologies, the different kinds of art, old and new, and I just kept going."
Micots earned a doctorate in African art at the University of Florida. She joined the faculty at Florida A&M University in 2015 as an assistant professor and has been an associate professor there since 2021. She also teaches as part of Florida State University's OLLI lifelong learning program.
"I was at the University of Florida at a particularly good time when they had two professors in African art history in the Art History Department, and they also had a wonderful African Studies Center," Micots said. "I really benefited by being in that atmosphere at that particular moment."
On the dedication page leading into her doctoral dissertation, "African Coastal Elite Architecture: Cultural Authentification During the Colonial Period in Anomabo, Ghana," Micots included a quotation from the historian and archaeologist R.G. Collingwood: "History books begin and end, but the events they describe do not."
While a Ph.D.'s first book is often his or her dissertation, Micots found that there was limited interest in African colonial period architecture. She knew that she did not wish to limit her research and writings to one art form and became interested, à la Collingwood, in events in addition to artifacts.
Micots was intrigued by a photo in a book, The Arts of Ghana, by Herbert Cole and Doran Ross.
In the book, Ross, who would serve Micots as a valued mentor, wrote about a kind of paramilitary group performance carried out by an Asafo, a traditional warrior group. The performers wore feathers on their heads and ceremonial dress similar to that worn by American Indians.
While familiar with Carnival celebrations in places like Brazil, the Caribbean and New Orleans, Micots had been unaware of such activity on the African continent.
She would attend Ghanaian "harvest celebrations" while in Africa conducting architectural research and observe people dressed in bright, colorful costumes and masks with a kind of Carnival aesthetic, but didn't appreciate what was going on until she consulted locals about the activity.
Micots had discovered Fancy Dress, an African adaptation of Carnival and one far less scripted than the Asafo performances noted by Ross.
"Fancy Dress is a carnivalesque form adopted by locals (in coastal Ghana) soon after World War I from sailors, travelers and colonial soldiers who dressed in special costumes and enacted plays aboard ships and in port cities of the Caribbean, Brazil, West Africa and India," Micots wrote in an article for a journal, African Arts, in 2014. "According to Russian philosopher Mikhail Bakhtin, the carnivalesque practiced in popular culture overturns socio-political and religious truths. Therefore, men become women, fools become wise, beggars become kings, and the figures of heaven and hell, specifically angels and devils, intermingle."
For the disempowered people of colonial Ghana, the form was a good fit. It was empowering. The poor become wealthy. The unfree become free.
In 2021, Micots' first book, Kakaamotobe: Fancy Dress Carnival in Ghana, was published.
"Most of my work centers on resistance art," Micots said. "People are always trying to have equal rights. Any culture you might encounter is likely to have people who feel disempowered. That is true in the U.S., including Tallahassee. I teach my students about art forms used by people who want to see change happen and want to be heard. Art is a visual way to communicate."
Carnival communicates. Even architecture communicates.
"Here at FAMU, where the majority of my students are African American, they can empathize with other groups who feel unheard and disenfranchised from the system that they are a part of," Micots said. "Carnival and other art forms are positive avenues for trying to communicate, for trying to release tension and for trying to make a positive difference in the community."
Micots believes that bringing people together is always more likely to be a positive experience than separating them.
"Tolerance and understanding are enriching, and separation is not," she said. "People can choose to accept or not, but to understand is a big step."
Thematically, Carnival changes over time. It is amorphic, Micots said, and translates from culture to culture well by absorbing local ideas.
"Today's carnivals are layered with different political and social commentary that may be localized or national, even international," Micots said. "It is quite fun. Locals help me with the interpretation because I have found over the years that the way I would interpret it as an American is very different from the way they would interpret it."
Micots has helped herself and greatly furthered her relationships with people in Ghana by learning local languages. She learned the Twi language while at UF, and a fellowship received in 2009 made it possible for her to learn Fante from a professor in Africa.
"By being able to speak some of the language, I impress locals as someone who is really interested and willing to do the work," Micots said. "It helps to build trust. They know that I am on their side, so to speak, and that I am enthusiastic about their art forms."
In December 2022, African Arts published an article written by Micots, "Power and Play: Fancy Dress Carnival in Ghana," in a Carnival-themed edition that she and Amanda Carlson co-edited.
"We were trying to stimulate interest in the various Carnival celebrations that are found throughout the African continent," Micots said. "There is a lot going on over there, and people are not writing about it, whereas in the Caribbean, everything is covered 600 times over."
Micots, stimulated by a bracelet in Cleveland, is doing her part.
---
Meet the Professor
Dr. Courtnay Micots is a member of the steering committee of the Working Group on Collaboration, Collections and Restitution Best Practices for North American Museums Holding African Objects, an ad hoc Committee of the Arts Council of the African Studies Association. The mission of this group is to foster ethical engagement with origin and descendant communities whose objects and ancestors are currently represented in North American museum collections. The working group will produce best practices for collaboration, provenance research, and restitution and repatriation of Africa's artistic heritage. The group comprises specialists in the field of African Art history and visual culture who engage directly with Africa-based institutions, professionals, and community members to develop resources to guide North American museums regarding their collections of African art and material culture.
In addition to her academic responsibilities, Micots has more than 18 years of curatorial experience working in museums and university galleries. Nationally and internationally, she brings her research to life in galleries and other public spaces. She has worked for such institutions as the Smithsonian National Museum of African Art in Washington, D.C.; the Michael C. Carlos Museum at Emory University in Atlanta; the Samuel P. Harn Museum of Art at the University of Florida in Gainesville; the Wits Art Museum at the University of the Witwatersrand in Johannesburg, South Africa; and more recently with the International African American Museum in Charleston, South Carolina.
---
---