Family on a Mission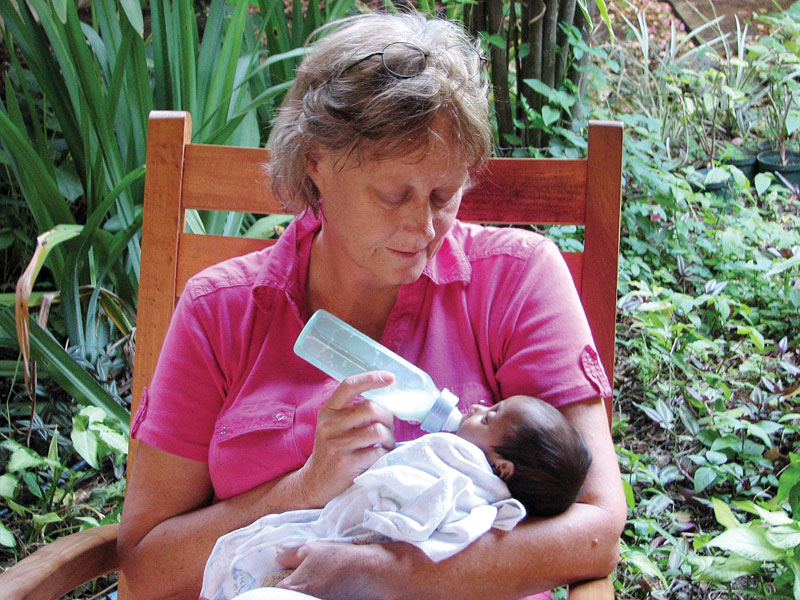 Discover the true meaning of giving this holiday season with the inspiring tale of the Buzbee familyA Story of GivingThe Buzbee family offers an amazing tale of generosity, faith and family togetherness in one of the poorest places on this side of the world.
By James Huffstodt 
    Click for more images from the Buzbee family in Nicaragua.
 
A little more than a decade ago, an unknown Nicaraguan woman abandoned her newborn baby in the jungle to die.
The helpless infant soon was wailing in pain under a blanket of swarming, stinging fire ants. Luckily, a passing villager heard the pathetic cries and rescued the castaway child, taking him to a nearby orphanage.
Two years later, Michael and Susan Buzbee, Christian missionaries from North Florida, came to the orphanage, fell in love with the toddler and adopted him. They brought him home to their Open Hearts Ministries base camp on the edge of Managua, the Nicaraguan capital.
Today, 10-year-old Moises Jose Buzbee is a vibrant little boy who loves Superman, plays cowboy, rides a bike decorated with an American flag and speaks English fluently. He is just one of six at-risk children adopted by the Buzbees since they came to Nicaragua. The others are Hazel, 8; Hope, 7; Timothy, 6; and twins Lola and Anna, both 6.
But in a larger sense, the Buzbees and their four adult American children – all of them part of the mission team – are parents, teachers and nurses to hundreds of other unfortunates struggling to survive in a desperately poor nation.
Michael Buzbee, 51, is a self-described country boy from Waukeenah and a 1974 graduate of Monticello's Jefferson County High School. The Tallahassee Community College graduate, who also attended Florida A&M University, is a keen fisherman, an antique-bottle collector and a loyal Seminole fan.
Despite the years and the miles, the Tallahassee connection is strong. Buzbee lived more than half his life in Tallahassee before taking the missionary path. And it was in North Florida that his values and character were formed and shaped. As a young man, he fished and canoed the Aucilla and Wacissa Rivers, learning to love the wild North Florida country that his family had lived in for more than a half-century before him.
"Nicaragua is now our home," Buzbee wrote recently. "But when we go to the States, Tallahassee is our second home. My father was born there. I was born there, and all our children were born there. My wife, Susan, and I met, courted and married in Tallahassee. When we dated, a big exciting night was hamburgers at the McDonald's on Tennessee Street and a movie at the old Capital Circle Drive-in."
Seminole football also remains a link to that past life. Buzbee's parents were devoted fans long before the Seminoles were a ranked team, and they passed on their passion to their children. Today, thanks to a satellite television dish, Buzbee rarely misses a game. Coach Bowden is a revered and beloved figure to the entire Buzbee family. And with the magic of high-speed Internet, the former Tallahasseean keeps up with the latest Seminole news via the "War Chant" Web site.
"We may live in Nicaragua, but we are, and will always remain, loyal members of the Tribe," Buzbee wrote.
Until he reached the age of 36, Buzbee and his wife led productive – if rather predictable – lives. He had a good job with Waukeenah Fertilizer and was part-owner of Tallahassee Tree Service. The Buzbees were raising four children: Elizabeth, Krista, Melissa and Brinson.
But something was missing. Increasingly, the dedicated Christians were convinced that there was more to life than their comfortable and conventional existence. They felt called to spread the word of Jesus Christ and to make a difference in the lives of the unfortunates of this world.
In 1992, the Buzbees came to troubled Bogotá, Colombia, where they endured a harrowing initiation into the missionary life. They found themselves in a nightmarish country coming apart in a growing anarchy of murder and mayhem. Columbia was a killing ground of communist insurgents, drug lords and roaming bands of right-wing terror squads.
Five years passed and the political situation worsened. Finally, friends warned the Buzbees that they were targeted for assassination as dangerous foreigners. Hours later, the family fled the country with little more than the clothes on their backs and a few hastily packed suitcases.
But their perilous escape did not discourage them from pursuing their dream of bringing hope to the destitute people of Central America. The family spent less than a year back in Leon County, preparing to embark on another mission.
Perhaps Nicaragua, a desperately poor Third World nation of 5.4 million people located north of Costa Rica, would be where they could build their dream of a Christian mission focusing on the unwanted, the unloved and the forgotten poor. Today, that dream is the reality called the Open Hearts Children's Relief Mission.
The Buzbee family lives and works 10 miles north of Managua on a five-acre tract sprinkled with citrus and coconut trees. The barbwire-encircled compound contains three homes, four guesthouses for volunteers from the United States, a thatched-roof dining hall and a community swimming pool.
Few know and understand the Buzbee family as well as the Rev. Dr. W.A. Young, 60, pastor of Tallahassee's Trinity Reformed Church. The Open Hearts Ministries' home church, Trinity provides financial and spiritual support that is vital to the mission's existence. More than half of Young's parishioners have paid their own way to fly 1,500 miles to Nicaragua and spend vacations working and worshiping among the poor.
Young journeyed to Managua with Michael Buzbee in 1996 on a reconnaissance mission to determine the feasibility of founding a mission in a nation only just emerging from the Marxist dictatorship of Daniel Ortega. An elected government recently had replaced the Sandinistas after a free general election.
The challenges for the new regime were enormous. Nicaragua was a wounded nation of mostly poor, starving and illiterate peasants still suffering the effects of a bitter civil war between the leftist Sandinistas and the U.S.-backed Contra guerrillas operating from bases in neighboring Honduras.
Young and Buzbee were appalled at the unbelievable squalor of Nicaragua, the second poorest nation in the Western Hemisphere – exceeded in its misery only by Haiti.
The capital, Managua, still bore the scars of a 1976 earthquake, and thousands lived as squatters in the rubble of buildings shattered by the quake and never repaired or rebuilt. This teeming, festering anthill was home to more than a million people, many sheltering in makeshift shanties constructed from castoff cardboard and stolen sheet metal.
Nicaragua was and is a nation of children, most barefoot and scantily clad, sometimes living an entire day with nothing more than a crust of dry bread and a cup of strong coffee to dull the pangs of hunger. Approximately 38 percent of the nation's population is under 18 years old.
The Buzbee family was not dismayed. With Young and his Tallahassee congregation behind them, they proceeded to climb the mountain, sustained by a deep Christian faith and the power of prayer.
Fittingly, one of Michael Buzbee's favorite scriptural passages is from the apostle Paul, who wrote, "Do not grow weary in doing good."
Today, after more than a decade of struggle, the mission thrives, sustained not only by Tallahassee Trinity Reformed Church but also by congregations from across the United States.
The heart of the mission is the Buzbee family. Young describes Michael Buzbee as a sensitive, caring Christian with a "pastor's heart" who isn't ashamed to shed a tear when praying for the little children of the desperately poor land. He is fluent in Spanish and "more Nicaraguan than the Nicaraguans," according to the pastor.
"Michael has a deep compassion for his fellow man that is truly admirable," said Young, who travels every year to the Nicaragua mission to work alongside the Buzbees and the many volunteers whose efforts they coordinate.
This remarkable family is "anchored" by Susan, 51, a 1973 graduate of Nova High School in Fort Lauderdale who received her bachelor's degree from Florida State University in 1977 as a special education teacher of the blind. She met her future husband when both were active in the ongoing FSU Campus Ministries in Tallahassee.
Susan Buzbee cooks, cleans and supervises the daily maintenance of the mission compound.
"Susan is a very strong woman who, I think, resembles in many ways the American frontier wife of a century ago," Young said.
The Buzbee girls were all home-schooled and later attended school in Switzerland at L'Abri Fellowship.
Elizabeth Buzbee, the oldest child at 26, also received training as a licensed practical nurse at Tallahassee's Lively Vocational Institute.
"Elizabeth is our 'at home' doctor," her father said. She hosts visiting medical teams from the United States and works closely with a new, local, privately funded hospital. She also works weekly in Managua's La Chureca dump, home to several thousand desperately poor people, with the mission's infant care program.
Krista Buzbee Farrington, 24, is married to missionary Chris Farrington, 27, and the mother of one child. Krista hosts a weekly Bible study class for teenage girls and assists her husband in running a sister mission called Open Hearts Farrington.
Melissa Buzbee, 22, is "our spearhead in the dump," according to her father. She oversees a school for the unfortunate children who live, study and play in the filth and cluttered junk of the vast landfill.
Brinson Buzbee, 18, another product of home schooling, is deeply involved in the mission's outreach effort to a remote village of Miskito Indians located on the banks of the Rio Coco along the Honduran border. Michael Buzbee said his youngest is the "go-to guy" when you need something done, whether fixing a flat, running an errand or paying a bill.
In the summer of 2006, during his annual visit to Open Hearts Mission, Young accompanied Brinson on a memorable two-day, open-boat journey up the wild and winding Rio Coco. They cooked during the day in oppressive, sultry heat, which was punctuated by sudden tropical downpours that left them shivering.
During long, 12-hour days, the heavily laden craft frequently ran aground in the shallows, forcing Young, Brinson and their native helpers to jump over the side to shove and drag the boat over the rocks. All the while, giant crocodiles watched impassively from the jungle-covered banks.
"It's not uncommon for children playing in the river to be suddenly attacked and killed by lurking crocodiles," Young said. "These predators are considered most dangerous when the water clouds up just after a heavy rain. The victim can't see the approach of the attacking crocodile until it is too late. This is a very harsh environment. Only a few days before our arrival, one village boy had lost his life to a snake attack."
Young was stunned at the primitive and isolated lives led by those along the inhospitable and twisting river. Each day, their boat puttered past crude huts where the missionaries sometimes glimpsed people roasting giant iguanas on spits in preparation for the evening meal.
For sheer misery, however, nothing surpasses La Chureca – the sprawling dump outside Managua where human beings eat, work and sleep in a putrid wasteland of garbage and refuse infested with armies of rats while legions of vultures swirl and soar overhead.
"Smoke is boiling up from a thousand fires, casting a haze over everything," Michael Buzbee wrote in a recent mission newsletter.
There, in a vast sea of despondency, Melissa Buzbee supervises the mission school, named Colegio Esperanza, or "school of hope."
She writes:
"When I first started going and working down in La Chureca, which is considered the 'ghetto' of Managua, I did not go alone for safety reasons. But slowly, as the people realized who I was, my parents became comfortable with me going alone. I still lock the car doors and quickly drive by the glue sniffer or drug addicts, but I am inspired by a quote from a woman who works with the criminals in the jails of Columbia. She said, 'Safety is not found in the absence of evil but in the presence of Jesus.' My prayer when I go down to La Chureca is always for God to lead me in what he wants me to do that day."
Melissa is director of the baby-feeding ministry, nicknamed 'Jesus N' Juice Bottles.'
She, or one of her visiting volunteers, typically searches out expectant or new mothers and provides them with free vitamin-enriched milk and juice. The mission workers have learned to directly supervise the feeding, as the impoverished and desperate mothers may simply drink the beverage themselves or sell it to others.
Some cases demand even more drastic measures. That was true with the twins named by the mother in honor of Melissa and her sister. Elizabeth's namesake, the smaller of the twins, grew weaker with the passing days. In the garbage and filth of La Chureca, she was losing the battle for life.
The Buzbee family, with the permission of the mother, took tiny Elizabeth to the mission compound. They stood 24-hour watch on the desperately sick and malnourished baby, who teetered on the edge of death. But the child rallied and slowly put on weight. After four weeks of intensive nursing, she was healthy and strong, and was returned to the grateful mother.
The Buzbee family has made some strong and rather unusual friends as they minister to the inhabitants of La Chureca, but none more so than the strong-minded Mrs. Moncha.
Michael Buzbee writes:
"All politics are laid aside when working with people on a local level, hands-on. Mrs. Moncha is in her 40s. She and I are direct opposites in our political beliefs. She was a commandante in the war, carrying and using an AK-47 machine gun with the best of men. She still flies a Sandinista flag outside her hut, and worships Daniel Ortega, Fidel Castro and Hugo Chavez as great men. I'm a Reagan Republican, but we somehow manage to be great friends. One of her daughters is enrolled in the mission's free school, and another participates in our secondary school scholarship program. All Mrs. Moncha's children attend church with us each Sunday. She loves and respects us for the work we do in the dump. Our sermons to her have been those without words."
Life in Nicaragua for the Buzbee family has been one of joy and, occasionally, bitter disappointment. Perhaps the most painful memories center around a malnourished boy named José.
He was only 3 years old when his mother allowed him to live at the mission, where he quickly became a part of the Buzbee family.
José lived with them as a son and brother for two years when, without warning, the mother showed up at the mission with several representatives of the government and demanded the immediate return of her boy.
"He was 5 years old and a stranger to his natural mother," Michael said. "We had 30 minutes to prepare him to leave. I told José he was going on a bus ride with someone and that God would take care of him. My wife and our girls were all in tears. I pleaded with her to let the boy stay with us, but my words fell on deaf ears. She walked away while José screamed for help. As the door closed behind him, I broke down. Our whole family was devastated."
Sorrow, someone once said, can never keep up with a man on a fast horse. And Michael Buzbee's life illustrates the wisdom of those words. He is a perpetual motion machine, beginning each day at 8 a.m. with the will and hope to somehow better the lives of his flock.
Last year the mission hosted more than 40 teams of volunteers from churches across America who came to build homes, care for the sick and spread the Christian faith. Much of Michael Buzbee's time is devoted to coordinating and planning their activities. The mission also sponsors medical outreach clinics to isolated villages, maintains a school – Escuelita Havilah – in the village of Los Cedros, located about 20 miles west of Managua, and operates Campo Alegria on the shores of Lake Managua as a recreational getaway for disadvantaged youth.
The Buzbees have no regrets about their life choice or fear of the future, despite the recent return to power of radical leftist Daniel Ortega.
"Once you are part of this and have the thrill of serving poor kids inside the Managua dump, a retirement home on the beach seems like quite a bore," Michael Buzbee wrote.
Susan Buzbee said she's aware what a "miracle" it is that their children have chosen to remain at work in their Third World ministry. "We've done it as a family from the very beginning," she said. The reason all have stayed, she posited, is that "they see where they can help."
But for all that, the matriarch of the clan said their accomplishments aren't so extraordinary. "Americans are so generous and we are so glad to be the conduit here," said Susan Buzbee. "We are just normal, average people. There's nothing special about us at all."
Getting Involved in Open Hearts Ministry: Individuals interested in working as a volunteer at the mission or making a contribution to its continuing operation should direct inquiries to: The Rev. Dr. W.A. Young, Trinity Reformed Church/Open Hearts Children's Relief Mission, 2285 Bannerman Road, Tallahassee, FL 32312. Telephone: (850) 893-5303.