Fall in Love with Roanoke, Virginia
An Unexpected Delight in the Blue Ridge Mountains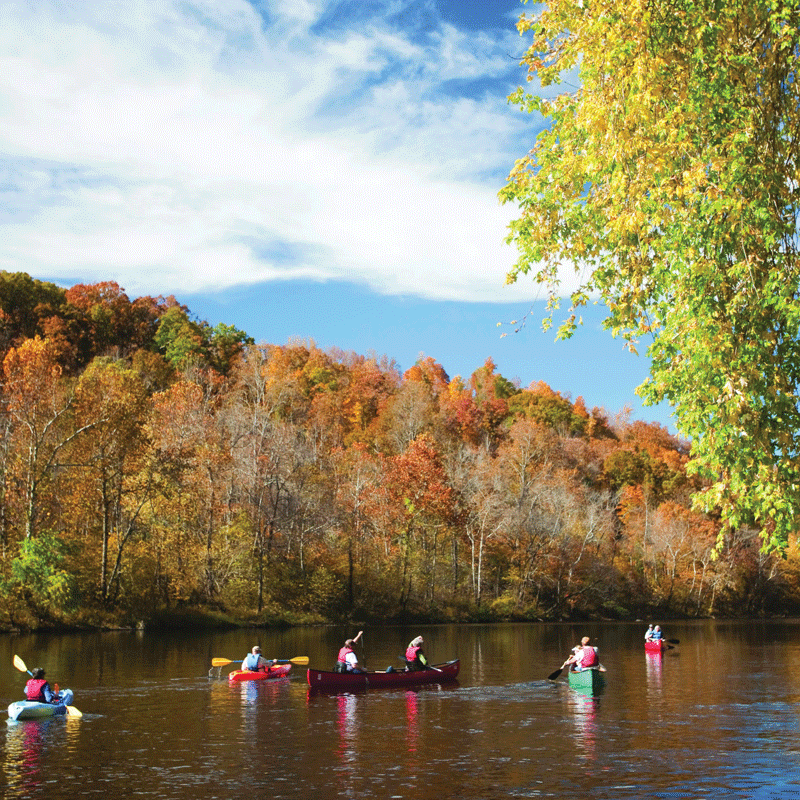 Neatly nestled in a valley of Virginia's Blue Ridge Mountains lies the once-booming railroad city of Roanoke.
A lifetime ago, when the transportation mecca was in its prime and weary travelers lined the streets, Roanoke's downtown district was seen as an undesirable point of transition, a necessary evil.
Fast forward a century, and you'll find a 15-block cultural oasis. Today, Roanoke's city center is characterized by stunning turn-of-the-century architecture and Southern hospitality. Several museums, individually focusing on art, natural history and the evolution of transportation, are meant to educate and engage as well as entertain. Local eateries, chic boutiques and artisan gift shops line bustling streets, while live musicians make happy hour amongst the Appalachians an utterly unforgettable experience.
And all of this is just a moment's walk from historic Hotel Roanoke. Built in 1882, the fully restored Tudor-style hotel and conference center is equipped with all the modern amenities you can ask for, plus plenty of room to roam. Two tastefully designed restaurants — the Regency Room, an upscale dining option, and the Pine Room, which embraces more of a pub-like atmosphere — are within the hotel's walls.
Delightful as the picturesque hotel's appearance may be, a trip to Roanoke isn't authentic without a pit stop at Black Dog Salvage.
Made famous by the DIY Network and HGTV show "Salvage Dawgs," this 40,000-square-foot warehouse is filled with architectural antiques, vintage artwork and top-notch designer home goods. With 13 years in the salvaging business and two successful seasons on cable television behind them, Sally (the second black lab to grace the shop's doorsteps as the official mascot/namesake) and her owners have the place fully stocked.
"We have a very unique business," said Mike Whiteside, TV personality and co-owner of Black Dog Architectural Salvage. "There may be a couple of places similar to us around the country, but the truth is, we do salvage differently. (Our store) is fun for the whole family, and it's very visually stimulating. You'll see things here that you've never seen before."
Everywhere you turn, Roanoke boasts quality locales to dine, shop and just relax.
But half an hour outside the valley's downtown district, nature reigns supreme. Outdoor enthusiasts can have their choice of hiking, canoeing and biking with a variety of outfitters through the rugged mountain terrain. Botetourt County, 45 minutes northwest of Roanoke, provides some of the most exceptional scenic views on The Blue Ridge Parkway, the nation's longest national park. The James River, which runs from Botetourt to the Chesapeake Bay, allows for fishing, rafting and camping excursions year-round.
The fresh, crisp air and rich valley soil of the region have created the perfect conditions for many of the established wineries to flourish. The three family-owned-and-operated vineyards in the area, known together as the "Wine Trail of Botetourt County," each offer something truly unique.
But alas, everyone's entitled to a favorite, and at the top of this writer's list is the Blue Ridge Vineyard. With pairing suggestions such as "sit in the barn with butter cookies sipping Sweet Shiloh on a summer's day," and "makes a great burger even better," it's easy to appreciate the laid-back, humble style of these soothing libations.
For vacationers looking for big city culture on a small town budget, Roanoke truly has it all. Data shows savvy tourists are starting to catch on. According to public record, tourism revenue for Virginia's Blue Ridge, which includes the cities of Roanoke and Salem and the counties of Roanoke, Botetourt and Franklin, reached $703.6 million, an 8.2 percent increase over 2010.
For locals, the boom comes as no real surprise.
"We're kind of the hub," said Landon C. Howard, president of the Roanoke Valley Convention & Visitors Bureau. "If there's a heart of Virginia, Roanoke is the right chamber and Salem is the left."
---
---