Fair Trading
A Way to Buy That's Good for the Earth, and the People Who Live Here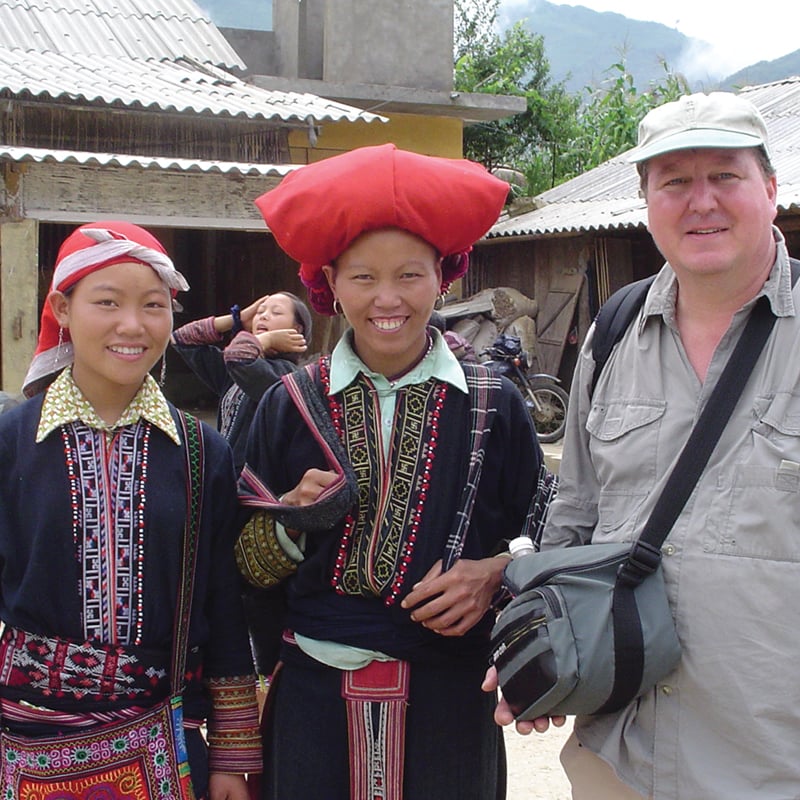 Let's put it this way: As you admire your new pair of earrings in the mirror, would it make you happy to know that the Balinese women who made them were being paid enough to live on their wages?
Would you be willing to pay a few cents more for your cup of coffee, knowing that the farmer in South America who grew the beans was using environmentally friendly growing methods?
"Fair trade is the world's most important issue," said Tallahasseean Allen Joseph, Florida's first wholesaler of fair trade goods. "It affects so many aspects of our lives." Joseph's company, Living Wage, supplies 40 different businesses with imports.
Two key aspects of fair trade are paying fair wages and ensuring the environmental sustainability of the goods produced, according to the Fair Trade Federation. Fair trade also involves ending human trafficking. By approaching development as a whole process, rather than just a fair price, fair trade organizations contribute to the development of communities.
Joseph serves on the Fair Trade Federation board and currently consults for the Florida Center for Fiscal and Economic Policy. Over the years he has worked on economic development issues for the Florida House and Senate, Florida State University and the U.S. House of Representatives, and has traveled to 29 countries studying trade policy.
When any company produces goods cheaply by paying poor wages and eliminating environmental standards, businesses with higher standards suffer, according to Joseph. To compete, companies either have to move their factories to those countries making goods on the cheap or lower their own standards.
Human trafficking also results from poor wages.
"People enter other countries illegally, understanding they will get employment if they will work for low wages," Joseph said. "If you create minimum wage requirements, you end trafficking."
Sometimes after workers arrive illegally in a country, they find the job offered is not what was promised. This was the case two years ago when Guatemalan women who came to Tallahassee to be maids were offered jobs as prostitutes instead. Once workers leave their own countries, they are at the mercy of traffickers. The U.S. Department of State's "Trafficking in Persons Report 2006" estimated that from 14,500 to 17,500 people, primarily women and children, are brought to this country annually for forced labor.
They were en route to a café for dinner when their driver stopped for a quick cigarette break. As they got under way again, the café intersection in front of them exploded, bodies tossed through the air as if they were weightless.
Joseph and his wife, Cindy, planned to spend a year overseas finding sources of goods to start their wholesale fair-trade business. From the beginning, challenges blew up in their faces – literally. They were scheduled to leave the United States on Sept. 20, 2001. Concerns with overseas travel after the World Trade Center bombings delayed their adventure by a month, but finally they took off. They lived in Vietnam for a year and traveled through Indonesia, Malaysia, Myanmar, Laos, South Korea, Singapore, Hong Kong, Taiwan, Macau and China. On their trip, they met people and observed how they made their products, making sure the methods were environmentally sound.
As the couple searched for goods to offer wholesale, they encountered another scare, this time in Bali. They were en route to a café for dinner when their driver stopped for a quick cigarette break. As they got under way again, the café intersection in front of them exploded, bodies tossed through the air as if they were weightless.
"If our driver hadn't stopped for a smoke, we probably would have been right behind the car that had the bomb, or we might have been sitting in the café that was destroyed," Joseph said.
After the tragedy, the Josephs were able to help five Balinese women widowed in that Al Qaeda bombing. The Josephs partnered with a businesswoman who taught the widows to make jewelry that they now sell in the United States.
Despite all these obstacles, the couple returned to Tallahassee and started a fair trade store in the Progressive Center in 2002. That business closed when the Progressive Center building was sold.
However, one of the Progressive Center's devoted volunteers, Lindsey Billesbach-Spear, opened a new fair trade business, the Green Living Center, on North Monroe Street. Joseph supplied the fair trade products, including pottery, silk purses, jewelry, fiber doormats and small chests of drawers. That store closed at the end of 2008, with plans to reopen at a new location in fall 2009.
Billesbach-Spear will continue to stock the store not only with fair trade items, but also with locally made goods and environmentally friendly items such as biodegradable trash and storage bags, compostable spoons and forks, stainless steel water bottles and rain barrels.
Environmental issues are a key concern for Billesbach-Spear, who grew up in Key West.
"I saw this beautiful ecosystem taking a downward spiral," she said.
When the Green Living Center reopens, Billesbach-Spear hopes to expand and provide more environmental education programs for the Tallahassee community. Those interested in donating, partnering, or volunteering can e-mail her at tallahasseeglc@yahoo.com or Joseph at allenjoseph@hotmail.com.
Another local store with a full range of fair trade items is Ten Thousand Villages, which opened in Market Square in 2005. The store is part of a nonprofit fair-trade organization that works with artisans in 36 countries across Asia, Africa and Latin America.
"A lot of customers find out about us through word of mouth," said assistant manager Pat VanDurme.
The store has between 35 and 40 volunteers who keep overhead down. Some volunteers come from churches, some are high school students looking for service credits, some hear about the store from friends, and some are people who just walk through the front door and become enthusiastic about the concept.
"We carry a lot of products made from recycled materials," VanDurme said. "Everything from glass to flip-flops."
Also located in Market Square is Honeytree Natural Foods.
"We were carrying fair trade products before it became popular," said manager Marina Lickson.
Honeytree, the oldest health food store in Tallahassee, has been in business for 37 years. Everything the store carries, from chocolate to coffee to sustainably harvested kava kava, is fair trade, according to Lickson.
Along with organic food, the recently expanded New Leaf Market on the Apalachee Parkway also carries fair trade chocolate, coffee and gift items, according to merchandizing manager Chris Terrell.
Today, more than 800,000 households earn a living from fair trade production, according to the Fair Trade Federation.
"The EU, Japan and Australia are already ahead of us on this issue," Joseph said.
Rapid globalization caused many of the problems the United States faces today because political and economic structures haven't changed along with international trade.
"Economic rules have to apply across all countries," Joseph said.
According to Joseph, that doesn't mean closed markets and high tariffs. Instead, he promotes what he calls standard-based trade.
"Twenty years ago, we opened up trade to countries that don't have high standards," he said. "It hurts those that do. If you don't impose standards on everything imported, you push jobs and pollution abroad."
What American consumers gained with completely open markets was cheap goods and the economic expansion of the 1990s, but they lost environmental controls over industry and high-paying jobs. During the run-up to the Olympic Games in China, Americans got a glimpse of pollution problems overseas. Scares over tainted pet food and infant formula, as well as lead in toys, illustrate the need for enforced quality standards.
"China can do very little about this," Joseph said. "If China raises its standards, our American corporations will move to the next of 54 developing countries."
According to The Economist, "For the first time since the Industrial Revolution, fewer than 10 percent of American workers
are now employed in manufacturing." Boeing, Levi's, Hershey – these are just a few of the American firms that have relocated factories outside of the U.S. The auto and steel industries also have felt the sting of globalization.
Manufacturing tends to pay more than the service sector, so working Americans find their wages in a downward spiral. American job losses due to our record trade deficit with China stands at 2.3 million since 2001, according to the American Alliance for Manufacturing. Just as dependence on foreign oil transfers wealth overseas, so does total dependence on foreign manufacturers.
Though consumers have gobbled up the cheap goods flooding our country as a result of globalization, we have paid a high price. Job loss. Lower wages. Environmental damage. Knowing our habits create a climate where human trafficking flourishes.
Fair trade and standard-based trade are ideas we all might support for a stronger country and, ultimately, a better world.
---
Donna Meredith is vice president of the Tallahassee Writers Association and coordinator of the group's Seven Hills contest for writers.