'Extreme Makeover' One Year Later
A City Rallies, a Grateful Family Remembers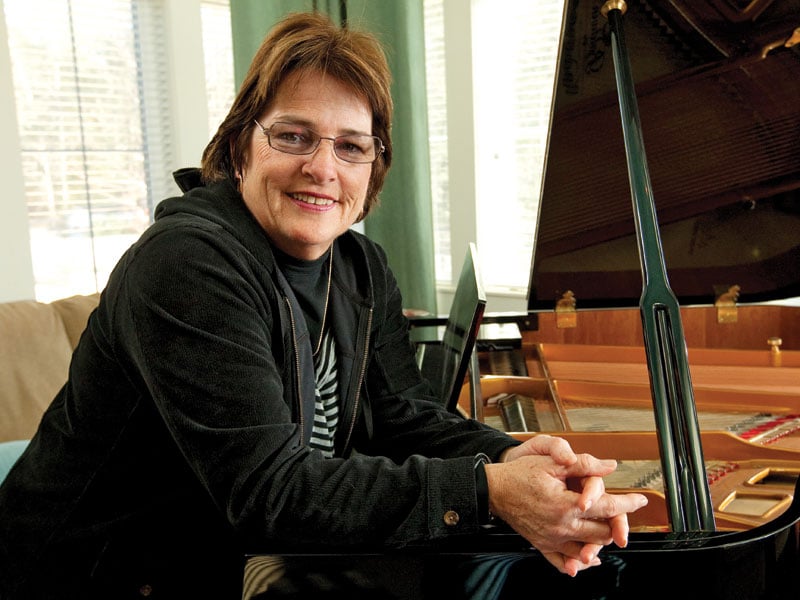 On Easter Sunday 2009, Tallahassee's generous spirit was featured in a two-hour special of ABC's "Extreme Makeover: Home Edition." The Kadzis family's old house was demolished and a new, bigger one was built with the help of MyddeltonParker Builders and thousands of volunteers.
The story of Barbara and George Kadzis was compelling: The couple had seven children, six of them adopted from China, and George had survived a bout with cancer.
Though the makeover should have been a happy occasion, at the time, George Kadzis lay gravely ill at Tallahassee Memorial Hospital. He died a day after the family moved into the new home.
Barbara Kadzis recently sat down with Tallahassee Magazine writer Lilly Rockwell to share her thoughts on life after the bittersweet "Extreme Makeover."
We haven't changed a thing in the house, except for a white sofa near the kitchen we had exchanged for a table. We love the house the way it is and my goal is to keep it the same. I don't think I can do any better job with decorating and everything was perfectly selected for (my) needs and the children's.
Melody (her blind daughter) has adapted beautifully to the house. She has always been skilled at mapping and it was perfectly suited for her. She is able to launder her own clothes and has put Braille on the microwave and dishwasher.
All of our belongings were beautifully packed. It was mostly clothes that were left in our house. Everything else was in storage. Over the summer, we went down to the storage and asked several charities if they would meet us there. We very much believe in recycle, reuse and share. They asked what we wanted and delivered it to us, and it filled up our two-car garage. My daughters and sons went through it this summer and every single thing was in there, including hurricane lamps with dust on them and a nickel that was on my son's floor.
We seem to congregate in the kitchen and music room and the glass table area. That is generally where we all hang, out and we're outdoors a lot because we have a new little puppy. She's a teacup Yorkie and her name is Lovey. She is now 12 weeks old and we're housebreaking her.
We didn't watch TV much before. It's not like I'm allergic to it, we just didn't have time. So I hadn't even seen the show when we were nominated.
Now, we try to watch it most Sundays. Very often the kids keep after me to watch it.
The crew, the people behind the scenes, were in Florida for a house that was done in Gainesville. We went down to see the crew again. They came in December and the show aired in February. They had bonded with the children. The people behind the scenes are the ones who are with the children and filming them. We didn't travel anywhere and as a result they were with us more often. They liked the idea of getting to see that we were well. When we got out of my van, they came up and everybody got a hug and said 'Hi.' It seemed to provide closure.
People are really very respectful and the first six to nine months we really didn't have anybody who was trying to barge in and make themselves welcome. The people that we normally associate with — the social workers and whatnot who have watched the children — were fascinated with seeing the rest of the house. We keep it close to the bone because of the nature of grief and mourning for George. Everyone was extremely respectful. Nobody pushed.
It's been a blessing and everybody has been warm.
We were pretty much a private family. We kept to ourselves. I was afraid to be "out there" … and knew this was being shown nationally. We knew how it happened, but how it would be perceived was another matter.
I thought it was done beautifully.
We do get recognized (today), especially if I'm with the children. Christopher is my main standout, with his (long, curly) hair. He's a dead giveaway. How do you say "thank you" to a city, a town, a county, a state?
That was the hardest thing for us, was the sheer volume of people to whom we owe a great deal of thanks.