Extra Exercise on the Go
A 'Barefoot' Shoe Designed to Give Your Legs a Workout As You Walk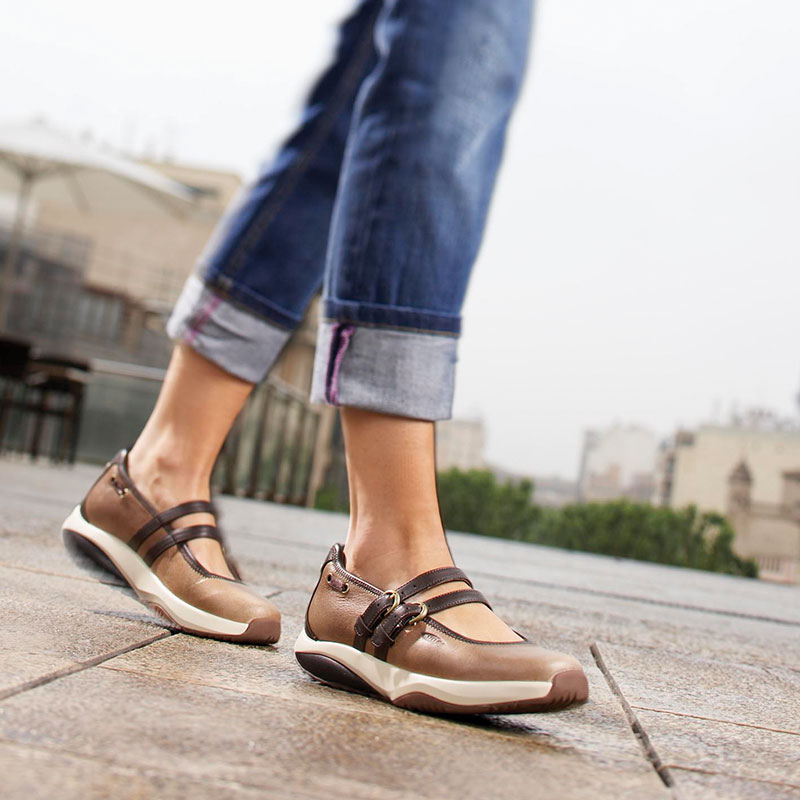 While I know and understand the benefits of daily exercise, it's something I have to pretty much force myself to do — even when the workout is as simple as a 30-minute walk. I'll do it — begrudgingly — but only for 30 minutes.
So when I heard about magic "physiological footwear" that could increase the efficiency of my daily walkabout, I was intrigued.
Made by a Swiss company, they're called MBTs — short for Masai Barefoot Technology. The idea is for the shoe to mimic the motions required for walking barefoot on a soft surface, like Africa's Masai tribesmen, who don't wear shoes — but are very fit and unbothered by back and joint problems.
While there are many layers to the shoe, and all sorts of technological explanations why it works, generally all MBT shoes have a curved, rocker-like sole that creates a slight instability, requiring the wearer to maintain proper posture and constantly balance. The payoff is that this micro-exercise is giving an extra workout to the legs, buttocks and abdomen — even when you're just standing around.
For my little experiment, I decided to see what would happen if I wore MBTs exclusively for a month. While the largest variety are athletic-looking shoes, I asked for a style that would be appropriate to wear all day, every day, and was issued one of MBT's new styles called "Changa." It was a light brown Mary Jane with dark brown trim and straps across the top. It's a pretty substantial shoe and the thick sole gives it a bit of a clunky look. It wouldn't be appropriate if you're aiming for dainty or dressy, but was very versatile for everyday wear.
This shoe comes in a wide variety of men's and women's sizes — including half sizes and wide widths. I was advised to order my shoes a half-size larger than I usually wear and, when I tried them on, they fit perfectly. They are not cheap (the Changa goes for $235) but very well made with an exceptionally comfortable insole that supports the foot well.
They were not difficult to get used to and walking in them was kind of fun. I had the sensation of standing taller and almost bouncing with each step. There was only a day or two of minimal soreness in my legs and back at the start, but after that it was more comfortable to wear them than most of my other footwear. Ed Padgett, owner of the Walking Shoe Shop where they can be purchased locally, advises his customers to start out wearing them for short periods at first. Many of Padgett's MBT wearers bought them on the recommendation of their doctors to help improve foot and ankle problems.
Walking was not too different from regular shoes; the distinction became more obvious when I was standing still. If I relaxed too much, I found myself pitching forward or backward a bit. The sole is also designed to wobble from side to side, but the movements are tiny and it's easy to keep yourself balanced. On flat terrain, walking was a breeze, but I could definitely feel the stretching in my legs and rear when heading uphill.
After 45 days (I liked them so much I wore them six weeks straight) I did find myself standing taller and there was a definite improvement in the muscle tone of my legs.
It was great to be able to go from work to walk without changing shoes. The MBT folks say they're made for any type of walking and are appropriate for light running, too. If you're computer-bound all day like me, take a trip to the company Web site (theantishoe.com) and click on the MBT Academy. It includes a variety of exercises you can do while wearing the shoes, including several you can do standing at your desk.
In addition to the Walking Shoe Shop at 1415 Timberlane Road, MBT shoes are available on several Web sites, including zappos.com and dillards.com.