Extend the Wedding Festivities With a Destination or a Hometown Welcome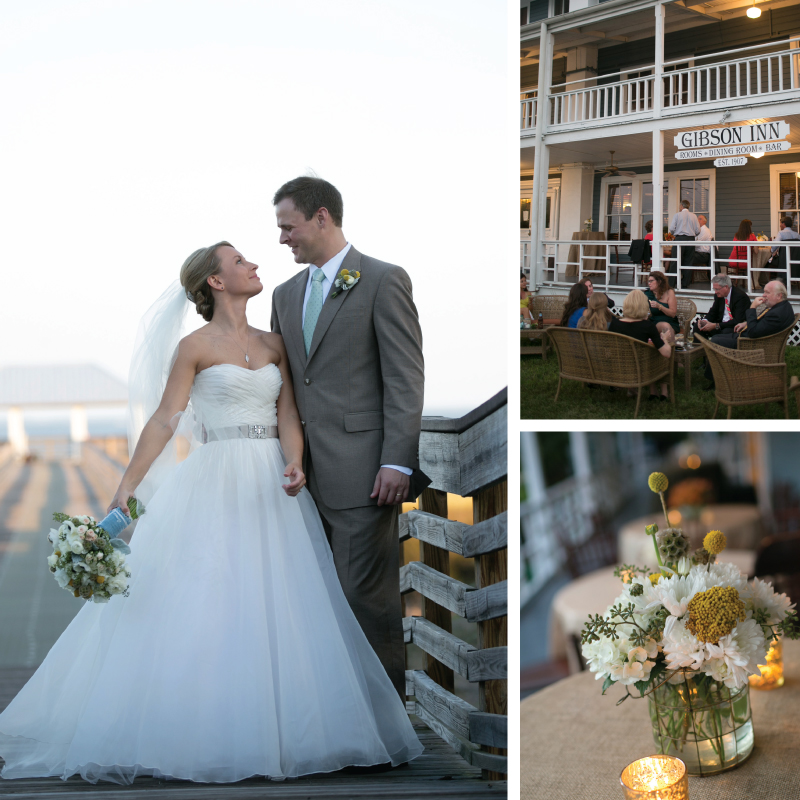 More and more couples are opting to extend their nuptial celebrations through a weekend, giving family and close friends more time together, more fun and more memories. Weekend wedding celebrations can be arranged at home or even a nearby destination. Tallahassee is perfectly situated — near a wide variety of coastal and plantation-style resorts that can be reached in a short drive, but far enough to offer a wedding "getaway" to guests.
Whatever you choose, the important thing to ensure is that your guests have enough entertainment (both structured and independent) to stay busy and have a great time all weekend long.
Local wedding and event planner John Gandy observes that many couples are opting for weekend-long celebrations, sometimes at nearby destinations, as a way to focus on those closest to them. "I think it's a way for people to trim their guest lists … When it's a destination, it's easier to have a cut list … without hurting feelings," he explained.
Whether your wedding weekend will be spent at home or at a nearby getaway destination, there are certain structural elements to consider. Wedding planners come in especially handy for these celebrations, Gandy said, noting, "When you're working with a great planner … they'll take care of your needs for you and help you keep on track and on time."
An Apalachicola Affair to Remember
Such was the case with Michelle Weidner and Tyler Augusty's nuptials — a weekend wedding in Apalachicola, and a destination for many of the guests, who were traveling from Georgia and Tennessee. The couple wanted the wedding to feel warm and welcoming and for the location to shine as many of the guests got their first taste of Apalachicola. To achieve this, they kept the color scheme neutral—the bridesmaids dresses, by Shoshanna, were champagne with a hint of gold, and flowers and décor were white and browns with pops of mustard yellow and rust orange.
To ensure their guests experienced the best the area had to offer, the bride and groom picked up the accommodations for their wedding party. The groomsmen stayed on the riverfront at the beautiful Water Street hotel, while the bridesmaids stayed in the stunning Consulate Suites, located above Grady Market. Staying there allowed Michelle to be accessible to visiting family and friends, and the Consulate Suites provided large living rooms where everyone could stop by and say hello, and where the wedding party could enjoy a beautiful view of Apalachicola during their downtime — not to mention, the exposed brick walls provided a gorgeous backdrop for those precious "before" shots of the bridal party.
Welcome bags were full of personal touches that spoke to all of the couple's favorite places: cookies from Tasty Pastry Bakery in Tallahassee (Michelle's high school workplace), honey from Tyler's grandmother's farm store in Kentucky, GooGoo clusters from Nashville, Georgia peanuts and a Lacey Tiffin print of Apalachicola. In addition, there was a welcome letter from the bride and groom and an agenda for weekend activities to make everyone at home.
The couple's favorite local restaurant, The Owl Café, hosted the rehearsal dinner with a menu highlighting local seafood with fresh local oysters, grouper and shrimp. After the traditional rehearsal dinner, they opened up the restaurant's Wine Room, which Gandy had transformed into a karaoke bar, to all of the out-of-town guests for a karaoke party — which was the groom's one request.
On Saturday before the wedding, guests enjoyed shopping in downtown Apalachicola, eating oysters at the Grady Market, beach time at St. George Island and fishing. The ceremony in Lafayette Park was beautiful, and full of local flavor, with the gazebo overlooking Apalachicola Bay and old oak trees all around. To complement the natural beauty, flower designer Missy Gunnels kept the arrangements and décor simple: The centerpiece was a stunning arrangement hanging in the middle of the gazebo, under which Michelle and Tyler said their vows.
While the bride loved the idea of an outdoor wedding, she wanted a "doors opening" moment with her father. With a little creativity, Gandy was able to provide "the reveal" by building and installing beautiful doors at the park entrance. This architectural piece provided just the moment Michelle wanted, and served as a centerpiece of the ceremony.
The reception at the historic Gibson Inn was full of personal touches. A table on the wrap-around porch featured wedding pictures of the couple's parents, grandparents and great-grandparents. To further showcase local seafood, as guests arrived, Shells Oyster Bar had a station on the porch, shucking oysters for guests as they strolled in from the ceremony. As for the rest of the menu, Tallahassee's Catering Capers brought their best with bacon-wrapped dates, cocktail crab cakes with cocktail and key lime remoulade sauces, sweet tea chicken tenders on buttermilk biscuits with spicy peach salsa, Chef Justin's Gulf shrimp and gouda grits served in stemless martini glasses, a chef-carved herb-crusted roasted whole tenderloin of beef, espresso shots with miniature donuts and more.
One of Michelle's bridesmaids drew a "reception map" to help people navigate through all of the areas of the event. While the couple's first dance was to the Talking Heads' "This Must be the Place" (the song they first danced to in college), the bride's first dance with her father was a tribute to the coast: Jimmy Buffet's "A Pirate Looks at Forty."
On Sunday, the bride's parents held a closing brunch for everyone at the Gibson Inn to say goodbye, putting the perfect close on a perfect wedding weekend.
Hosting a Wedding Weekend Here at Home
When bringing family and friends from far and wide into town for your nuptials, it's crucial to be your guests' guide through town. Making everyone feel welcome and at home in the new city is easy with some thoughtful, personal touches.
"I always suggest to do a welcome bag," said Amy Forman, owner of Papaya Wedding Planning. Forman explained that local items and a clear itinerary (with even clearer directions) will have your guests feeling comfortable in no time. When stocking the welcome bags, above all Forman stressed it is important to be considerate.
"You want to give them things that they're going to actually use, like a bag of M&Ms, some gum, some peanuts and almonds — things you think you would want … Act like you're the guest. What would you want to know if you're coming into town for an out-of-town wedding? What kind of information would you want? You want to make it pleasurable for them," she explained.
For Josh Kuch and Shannon O'Donnell's weekend wedding here in town, Forman filled the welcome bags with just those sorts of things: an itinerary, restaurant ideas, local activities, postcards of Tallahassee, bottled water and snacks, and a copy of Tallahassee Magazine.
The rehearsal dinner was held at the Cabot Lodge, where guests were staying — making the event accessible and easy for newcomers to Tallahassee. The Wharf Express catered grilled delicious coastal comfort food: mahi-mahi with Mediterranean topping, shrimp and cheese grits, coleslaw, and hush puppies.
The next day, the bride and her leading ladies went out for brunch — a move Forman suggests more brides should try. While grooms often get a chance to play golf or unwind before the wedding, many brides and their parties jump right into getting ready. In this case, the bride's grandmother "insisted" on a wedding day brunch for the girls, and it paid off by keeping the bride and her party (relatively) relaxed and happy throughout the big day. Little outings like these also give you another chance to show loved ones some of your favorite local eateries and shops.
The wedding was an elegant affair at Goodwood, with deep, dark purple bridesmaids' dresses and flowers providing a beautiful contrast against the lush green setting. The reception followed the wedding at the same location, with plenty of delicious local (and universal) favorites catered by Mockingbird Café, which also did the cakes: a hummingbird and red velvet cake with vegan red velvet topper, and German chocolate groomsmen cupcakes. A Country Rose provided elegant floral accents to a fun, exciting evening of dancing and dining. The couple made a contribution to the reception, too, Forman recalled.
"One really cool thing about this wedding is that the groom made all the beer. He homebrewed all the beer that everyone drank," she said.
The next morning, the couple held a Sunday brunch at the bride's mother's house — a calmer close to an exciting wedding weekend.
"The brunch is wonderful to have after the wedding because it's low-key, it's a little more casual than the wedding itself, and it's typically held at someone's house. Usually it's at the parents of the bride's house," explained Forman.
One unique idea for weekend weddings Forman suggested is to open gifts at the Sunday brunch, rather than at home or at the reception. The calm, intimate setting is the perfect place to look at all the meaningful gifts from loved ones — and to thank them in person.
---
Wedding and event planner extraordinaire John Gandy gave us some tips to make sure your celebration is as successful as these weddings. Keep them in mind as you plan your (or your favorite bride-to-be's) weekend wedding festivities.
Planning is everything
Structure and scheduling are at the core of weekend wedding planning. When picking the date, make sure you are not competing with any major holidays or events (such as home football games or graduations). This will make your guests happy — and your wallet, too, as hotel and venue rates are lower during slower weekends.
Give your guests some guidance
As guests arrive and check in on Friday afternoon or evening, make sure they receive an itinerary (or even a welcome basket) with your event schedule, and also some local activities they can do on their own during down time. This will keep everyone busy and happy, even as you and the wedding party make the final wedding preparations.
Keep a relaxed — but eventful — schedule
Sometimes couples have welcome receptions on Friday during their rehearsals so everyone can settle in. If not, you can always plan to meet your guests after rehearsing, at the rehearsal dinner. Usually Saturday is wedding day; your guests can work their way through some of the local activities on their welcome itinerary during the set-up before the wedding. After the wedding, the reception gets everyone together to celebrate the couple's nuptial bliss. On Sunday, make sure everyone gets a good send-off with delicious a delicious brunch or lunch.