Expressing Thanks After A Terribly Cold Ride Up North
Managing Editor Pete Reinwald shares a few anecdotes about his beloved bike and community.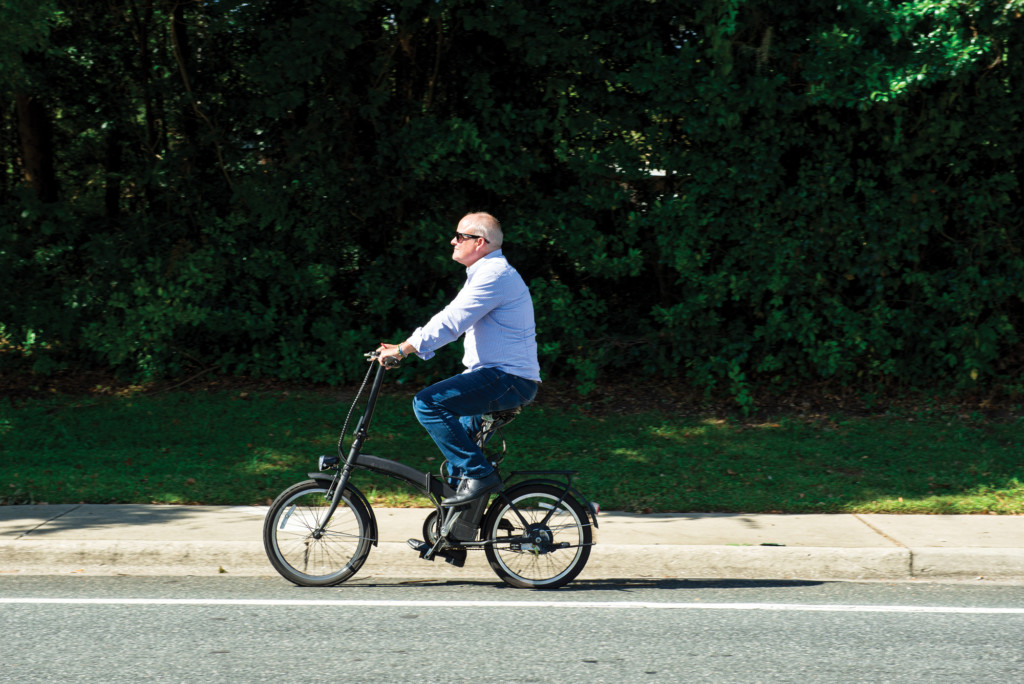 Please call her ed.
That's ed with a little "e."
You might say in an email: "Hey, I saw you and Ed on Tuesday over by Uptown Café."
I might reply: "Hey! I think we were on our way to lunch!!! Her name's ed, by the way."
Ed already puzzles you, I know. She's weird that way.
If you regularly drive a stretch of Miccosukee Road that includes Kate Sullivan Elementary School and Tallahassee Memorial HealthCare, you might have seen her going to and from Rowland Publishing on her way from and to her home in Lafayette Park.
A couple of people tell me she looks kind of odd, and I'm like, how dare you?. I think she looks terrific. Plus she's strong and sturdy, and she's got good handlebars on her shoulders.
She's my electric bike, and I love her.
Ed came into my life in July, shortly after I moved back to Tallahassee with my wife of 31 years, whom I call Rado. That's Rado with a capital "r."
Rado and I worked as journalists here for most of the '90s. One of our three kids was born at TMH, and the five of us did what Tallahassee people do.
We drove to the Gulf and surfed on canopy roads. We watched football and rooted for another Publix. We busted out the sweaters in January and warmed up to shorts in March.
We loved it here, at least I did. Rado liked it here just fine but yearned to move to the Midwest and next to her family in Cleveland. So in summer 2001, we both landed jobs in Chicago.
I loved Chicago, for 5 ½ months. Then came the middle of December, and the novelty froze.
The snow was cool and everything, but zero degrees? No shorts until June? No sun until noon? No trees? No tropics? No green? No Publix?
I wanted out of there, and fortunately, it took only 17 years.
I told Rado that, when we got back to Tallahassee, I wanted to ride a bike to work. I wanted to bask in the sun, which I hadn't regularly seen in the new millennium.
To avoid sweating and offending my new colleagues, I opted for a bike that wouldn't require pedaling, and that means I get to talk more now about ed.
Ed is a rock star with a kickstand. As she carries me, she draws smiles and stares, comments and queries:

"You mean you don't have to pedal?"
No. I can if I want to. But I don't want to.
"How far on a charge?"
About 20 miles!
"How fast does it go?"
About 20 miles per hour!
"How much for one of those?"
How dare you.
Ed gets two things in Tallahassee that she never would have gotten in fast and furious Chicago: love and respect.
Love? We get caught in the rain sometimes, and one day in late August, we really got caught.
We were waiting desperately at the corner of Miccosukee and Magnolia when the deluge suddenly, miraculously, stopped.
I turned my watery gaze away from the fuzzy red traffic light to see a young woman standing next to me, holding an umbrella over my head and ed.
"Just thought I'd help," she said, smiling.
Respect? Drivers hold off on the horn, and they slow down as they approach from behind, in step with this city's patience, politeness and bicycle culture.
In my first week here, a tire blew on our car in front of Lake Ella, and two people stopped to help.
But back to my bike and what she and Tallahassee have given me. I love the morning sun and the breeze in my face. I love the hills, the trees and the slower pace.
I love the conversations with neighbors and the kindness of strangers.
As we embark on the holiday season, I express my thanks for ed and the city that she cruises, the city that I so dearly missed.